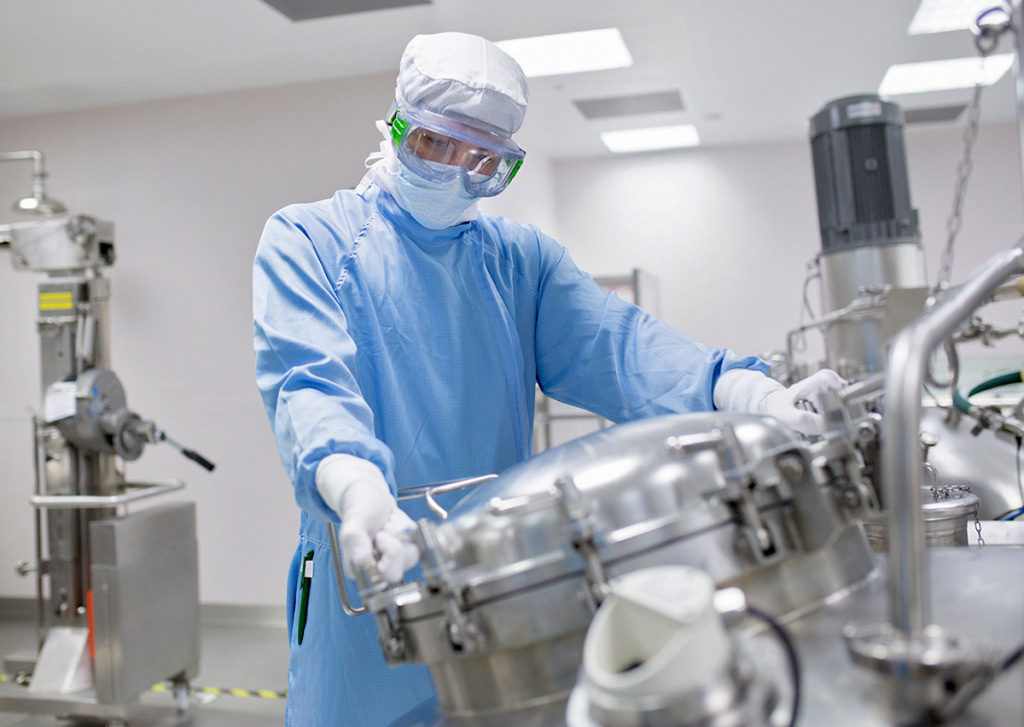 The news seemed to surprise just about everyone—and send some scurrying for superlatives.
When Eli Lilly and Co. announced on April 28 that a much-anticipated experimental drug for obesity, a weekly injection called tirzepatide, helped patients in a large clinical trial lose up to 22.5% of body weight—or more than 50 pounds—the reactions were swift.
"Wow [and a double wow!]," tweeted Dr. Sek Kathiresan, CEO of Verve Therapeutics, a biotech company in Cambridge, Massachusetts, and professor of medicine at Harvard Medical School. He predicted that drugs like Lilly's were "truly going to revolutionize the treatment of obesity."
Evan Seigerman, a pharmaceutical analyst at BMO Capital Markets, dashed off a note to clients predicting that the drug could solidify "Lilly's dominant positioning in diabetes and metabolic disease" and could potentially result in a $5-billion-a-year franchise for the company.
Not to be outdone, Peter Kolchinsky, managing partner with Boston-based RA Capital Management, a biotech investor, tweeted: "This is a weight loss equivalent of inventing nuclear fusion."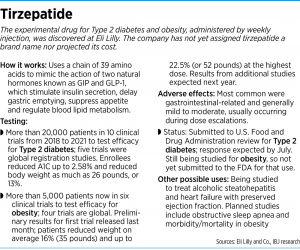 It was a huge moment for the Indianapolis-based drugmaker, which has been developing and selling diabetes medicines for a century, but now seems to have found perhaps the hottest experimental drug of the year.
Tirzepatide has been closely watched by medical professionals and is viewed by financial analysts as a possible blockbuster, with potential annual sales in the billions of dollars.
Lilly originally developed tirzepatide to treat Type 2 diabetes, to help patients keep their blood sugar levels on an even keel.
The drug is a peptide, or chain of amino acids, that works by activating the body's receptors for two hormones called GIP and GLP-1. Those hormones stimulate insulin secretion, delay gastric emptying, suppress appetite and regulate blood lipid metabolism.
Medical investigators at dozens of clinics tested the drug on more than 20,000 people for that purpose. In papers published in peer-reviewed medical journals, Lilly said tirzepatide helped the vast majority of patients keep their hemoglobin A1C levels under 7%—the recommended target for most people with diabetes, according to the American Diabetes Association.
But the multiple trials for diabetes management conducted from 2018 to 2021 consistently showed that the drug also helped patients shed weight. In late 2018, at the annual meeting of the European Association for the Study of Diabetes in Berlin, Lilly researchers presented midstage clinical trial results for tirzepatide.
"The A1C was really impressive," Dr. Laura Fernandez, Lilly's medical director for tirzepatide's Type 2 diabetes program, told IBJ. "But the findings in weight were also very robust."
She added: "And those findings in weight were a trigger to say, 'OK, we will have our Type 2 diabetes indication and program … but we may have a drug that may work on chronic weight management."
Astounded
So, in 2019, the company began setting up a series of clinical trials that would test primarily for obesity. Last month, it released the results of the first late-stage obesity trial, which enrolled 2,539 patients. It evaluated the effectiveness and safety of tirzepatide in adults with obesity, who had at least one comorbidity associated with the disease, such as hypertension or sleep apnea, but did not yet have diabetes.
The average baseline body weight of participants at the beginning of the trial was 231 pounds.
Participants in the trial taking tirzepatide instead of the placebo achieved average weight reductions of 16% (or 35 pounds) with a 5-milligram dose, 21.4% (or 49 pounds) on a 10-milligram dose, and 22.5% (or 52 pounds) on a 15-milligram dose.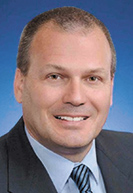 The results astounded even Lilly researchers.
"It exceeded our expectations pretty much across the board," said Dr. Jeff Emmick, Lilly's vice president of product development for diabetes. "We knew there was a possibility of reaching over 20%. But to achieve an average weight loss of 22.5% at a 15-milligram dose was certainly at the high end of any expectation we had."
That type of weight reduction is not commonly seen in obese patients taking medicines alone, but usually through operations, such as bariatric surgery.
It also surpassed the performance of a competing drug in the GLP-1 class from Danish pharmaceutical company Novo Nordisk called semaglutide. That drug showed weight loss of about 15% of body weight in people without diabetes.
Obesity is often a precursor to diabetes. Doctors warn their overweight patients to shed pounds or risk getting diabetes, a serious chronic disease that can lead to kidney disease, serious foot problems and blindness.
Even so, many patients fail to manage the disease, and lose their eyesight, lower limbs and kidney functions. That's because managing diabetes requires daily attention to diet and exercise, along with medicines that sometimes include insulin injections.
News of the tirzepatide results pleased some doctors who have hoped for a drug that could help patients manage blood sugar and shed pounds at the same time.
"I have [a few hundred] patients that will be interested!" tweeted Dr. Brent Richards, an endocrinologist in Montreal.
The World Health Organization defines obesity as abnormal or excessive fat accumulation that presents a risk to health. A body mass index (a weight-to-height ratio, calculated by dividing one's weight in kilograms by the square of one's height in meters) of over 30 is considered obese.
Diabetes costs the U.S. health system $147 billion a year, according to the U.S. Centers for Disease Control and Prevention.
The issue has grown to epidemic proportions, with more than 4 million people worldwide dying each year as a result of being overweight or obese.
A history with diabetes
Diabetes is Lilly's oldest and perhaps most famous franchise. The company was the first to mass-produce insulin nearly a century ago, when it launched Iletin, based on research from Nobel Prize-winning scientists from the University of Toronto.
Over the decades, the company launched dozens of diabetes products. One of the most significant was its 1982 introduction of Humulin, insulin identical to that produced by the human body. Humulin was a biosynthetic product, the world's first human health care product using recombinant DNA technology.
In the 1990s, Lilly launched Humalog, a fast-acting insulin. And in recent years, sometimes with partners, it has introduced other diabetes products, including Trulicity, Jardiance, Basaglar and Tradjenta.
Last year, Lilly's top five diabetes products rang up sales of $12.52 billion, or about 44% of the company's total revenue. (Other major disease areas include cancer, neurodegeneration, psoriasis, arthritis and pain.)
The potential market for tirzepatide is huge, according to several analysts, who project that it could turn into a blockbuster drug—one that rings up annual sales of $1 billion or more—in just a few years.
Clarivate, a British analytics company, in January called tirzepatide one of the industry's "drugs to watch in 2022" and predicted it could hit annual sales of $4.5 billion by 2026.
Mizuho Securities analyst Vamil Divan told clients the drug "has potential to be a multibillion-dollar product" for both diabetes and weight loss.
J.P. Morgan analyst Chris Schott said tirzepatide could hit peak sales of $20 billion for both diabetes and obesity.
"Obesity represents a major opportunity for Lilly to expand upon its leading positions in the diabetes space," he wrote to clients on April 30.
Global demand
The worldwide diabetes therapeutics market was valued at $1.2 trillion in 2020, and is estimated to reach $3.4 trillion by 2030, according to a new report published by Allied Market Research of Portland, Oregon.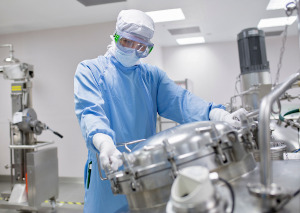 "The factors that drive the global diabetes therapeutics market growth include rise in geriatric population, increase in the prevalence of diabetes worldwide, sedentary lifestyle of people, development of affordable & effective diabetes therapeutics, growth in awareness among population about self-management of diabetes, and increase in support from the government," the report said.
Type 2 diabetes is the most common form of diabetes—it means a person's body doesn't use insulin properly, according to the American Diabetes Association. And while some people can control their blood sugar levels with healthy eating and exercise, others need medication or insulin to help manage it.
(The less common form of diabetes is Type 1, in which the body does not produce insulin.)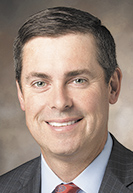 On the morning of April 28, shortly after releasing the results of tirzepatide's results on obesity patients, as well as its first-quarter earnings, Lilly held a conference call for Wall Street analysts.
Unlike most Lilly conference calls, where analysts ask questions all over the board about the company's drugs and pipeline, all 15 analysts on the call were focused on tirzepatide: When would Lilly file for an FDA review for obesity? (Answer: too soon to say.) Does Lilly expect insurers to reimburse patients for a drug whose price has not yet been announced? (Answer: Insurers are excited if the drug can "demonstrate outcomes" and save on overall medical costs.) Will Lilly market tirzepatide under two brand names—one each for diabetes and obesity? (Answer: Too early to talk about it.)
At the end, Lilly CEO David Ricks wrapped up the call with a small joke that seemed completely fitting, given all the callers' focus on what was quickly becoming seen as the company's wonder drug.
"Well," Ricks deadpanned. "Thanks for joining today's earnings and tirzepatide call, I guess."•
Please enable JavaScript to view this content.