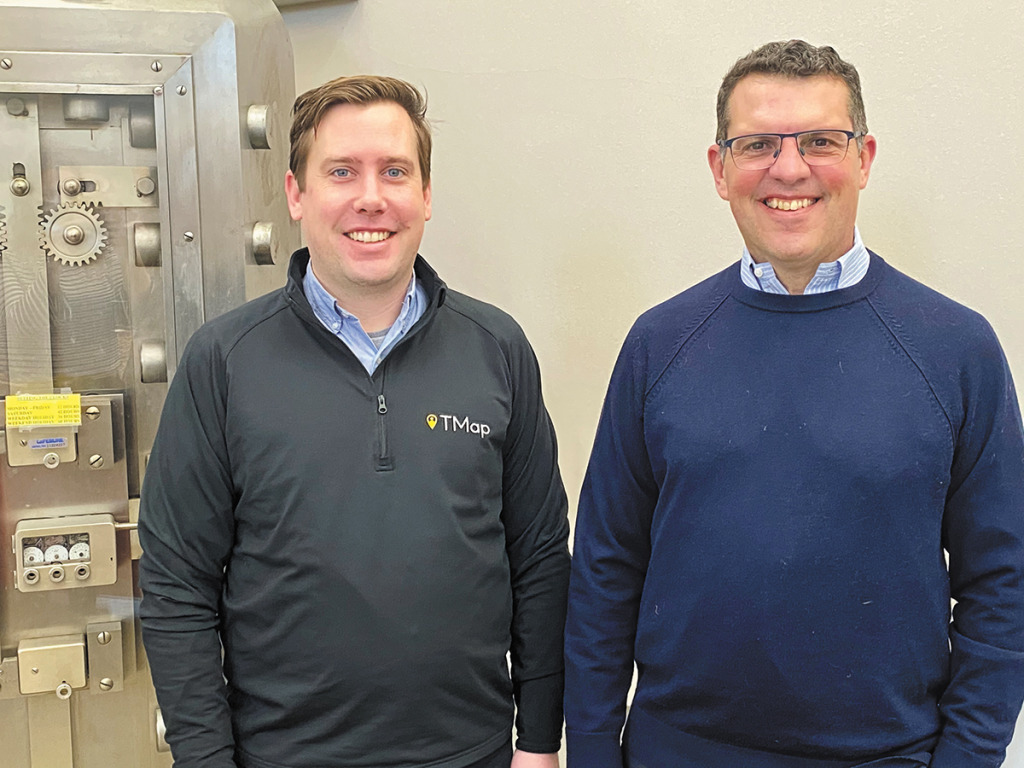 The pandemic has created a massive paradigm shift in the way cities and regions hunt for jobs.
And a local company headed by Angie's List co-founder Bill Oesterle is trying to make sure workers and communities across the country maximize the benefits of this seismic change.
Gone are the days when economic development officials merely hunted for companies to bring in scores of jobs. With the number of permanent remote workers more than quadrupling in the last year, a fast-growing number of city, county and state officials are trying to lure individuals who will bring their job—and the resulting economic impact—with them.
In the last six months, dozens of cities and regions across the country have started offering individual workers a variety of incentives, including housing enticements, moving expenses and up to $20,000 in cash, depending on the salary of the job a remote worker brings and the length of time they commit to stay.
That prompted Oesterle and his business partner, Evan Hock—previously an executive at Angie's List—to begin thinking how to turn that trend into a business. Then in December, the pair launched MakeMyMove, which is a subsidiary of TMap, a company the two started in 2018.
MakeMyMove has created a first-of-its-kind marketplace where cities, regions and states can list their incentive offers for remote workers looking for a new home and where workers can compare offers and shop for the best deals.
But MakeMyMove does much more than produce an online listing of incentives. Hock said the startup also provides data analytics, helps communities build incentive programs, works with communities to build target pools of workers in specialized fields, builds marketing campaigns to help communities engage workers, brokers introductions between communities and remote workers, and facilitates logistics of a transaction.
"It's set up to be a one-stop shop," said Hock, vice president of product for MakeMyMove and TMap. "In a couple clicks, a remote worker can register and get help navigating the incentive maze. MakeMyMove is a holistic marketplace that brings together supply and demand."
In just two months, Oesterle and Hock have secured agreements to integrate entities from two dozen states and communities—including Baltimore; Topeka, Kansas; Tulsa, Oklahoma; Chattanooga, Tennessee; Savannah, Georgia; Maine; Vermont; Alaska; and Hawaii—into the MakeMyMove platform.
In Indiana, MakeMyMove is working with the Economic Development Coalition of Southwest Indiana, which represents Gibson, Vanderburgh, Warrick and Posey counties.
"We've seen a tremendous opportunity with remote work," said Greg Wathen, CEO of the Economic Development Coalition of Southwest Indiana.
"We want to take the bull by the horns and move forward with this," he said. "MakeMyMove is bringing a real strategic approach to that initiative. MakeMyMove has the platform and the database in place, so we thought, 'Why should we try to do this on our own?' They've just done so much of the work we were thinking about."
Ahead of the curve
TMap "developed a new tool that is revolutionizing talent recruitment across all industries," said TechPoint CEO Mike Langellier.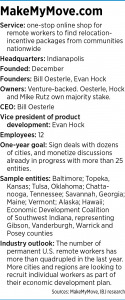 With that database and search tools in place, Oesterle and Hock set out to tackle a new problem. They wanted to create a mechanism for communities to reach out to remote workers and give remote workers a way to search individual relocation incentive deals.
While MakeMyMove has applications nationally, Oesterle created it with Indiana in mind.
"Indiana faces serious demographic challenges," said Oesterle, who added that his work over the last 25 years has in some way focused on bringing talent to Indiana.
"During the pandemic, remote work exploded, moving from 5 million workers in the U.S. to 40 million," he told IBJ. "We realized that this was causing a generational shift in how work is performed."
The task of recruiting a talented worker used to require both finding the worker and also finding them an appropriate local job, Oesterle said. "That work is cut in half when you recruit a remote worker. They carry the job with them. This means that, for the first time in history, talent-first economic development is possible."
While hunting jobs and offering incentives to workers individually—rather than attracting companies with scads of attached jobs—can be more labor- and time-intensive, there's also an upside. Even with individual relocation incentives ranging from $1,000 to $20,000, individual moves can be more cost-effective than the bevy of in-kind, infrastructure and cash incentives offered by municipalities to companies that bring a variety of low- and high-wage jobs.
Going after individual remote workers "allows us to really target the types of jobs we want," said Barbara Stapleton, vice president of business retention and talent initiatives for Greater Topeka Partnership in Kansas. "We're trying to be intentional about this."
Stapleton has been talking to MakeMyMove officials since last year, and her organization recently started using the platform.
Greater Topeka Partnership was prompted to look into attracting remote workers after it realized about 40% of its workforce making more than $40,000 annually lived outside the county. "We were looking for new ways to bring people back to the community," she said. "With the pandemic, we started to think more broadly."
Topeka is offering up to $10,000 for a full-time remote worker willing to move to town and buy a home. There are offers for renters as well.
So far, the reaction has been strong, Stapleton said. The remote workers the community has attracted earn an average salary of $82,000. That's $30,000 more than the average salary of Topeka residents.
Still, the shift doesn't mean cities and states won't still pursue companies.
"It's not an either-or situation," Stapleton said. "It's both-and. But this kind of approach to searching for individual workers and the tools needed to do so will definitely be part of the arsenal moving forward."
Helping Purdue's Discovery Park
David Broecker was attracted to MakeMyMove by the data analytics Oesterle's team first developed for TMap.
Broecker, chief innovation and collaboration officer for the Purdue Research Foundation, is tasked with attracting workers and companies to Discovery Park, a 40-acre multidisciplinary research park on Purdue's West Lafayette campus. He and his staff will undertake a project with MakeMyMove to target individuals and clusters of talented workers to locate at Discovery Park.
"COVID has changed the way we think about talent, I think for the better," Broecker said. "It changes the way you recruit, even down to the individual level. You can recruit an individual talent to the ecosystem. That's where a company like MakeMyMove comes in."
And it doesn't take much for those wins to start adding up, he said.
"If you bring back a dozen people, it's amazing what that talent can do," Broecker said. "There are all kinds of ways we can build [a region] out."
Oesterle and Hock hope to start monetizing MakeMyMove's relationships early this year and build a customer base of many dozens of cities, regions and states by year's end. While the pandemic has triggered this move to remote work, Oesterle predicted that the genie won't be put back in the bottle, even after the coronavirus wanes.
"Massive portions of the technology workforce are now up for grabs, untethered from the location of their work," he said. "Cities that understand the tremendous economic power of these workers and create innovative programs to target and attract them will benefit tremendously. For the first time, rural areas with sufficient digital access can compete for talent as well as major metropolitan areas. It will simply require focus and dedication."
MakeMyMove has raised a modest amount of capital so far but is still majority-owned by Oesterle, Hock and Mike Rutz, executive vice president at TMap.
When MakeMyMove needs capital to scale, John H. Chuang predicted, the company will have no trouble raising it.
Chuang, CEO of Boston-based global workforce services firm Aquent and an angel investor, said he put money into MakeMyMove "because it's the right company at the right time."
Chuang said Oesterle and his team have proven with Angie's List and more recently with TMap that they have "the ability to build marketplaces, build new concepts and to build realities from those new concepts."
"At the flip of a light switch, companies shut down their offices and 200 labor markets consolidated into one big market," he added. "This has had a profound impact. Ever since the Industrial Revolution, we've had people migrating to jobs. In today's technological revolution, you've had people migrating to Silicon Valley, New York or Boston.
"Now, in the blink of a moment, these people are free to work wherever they want. And Bill and Evan have stepped up with the perfect solution to help communities respond to this dramatic shift. MakeMyMove is a really big idea with tremendous potential."•
Please enable JavaScript to view this content.