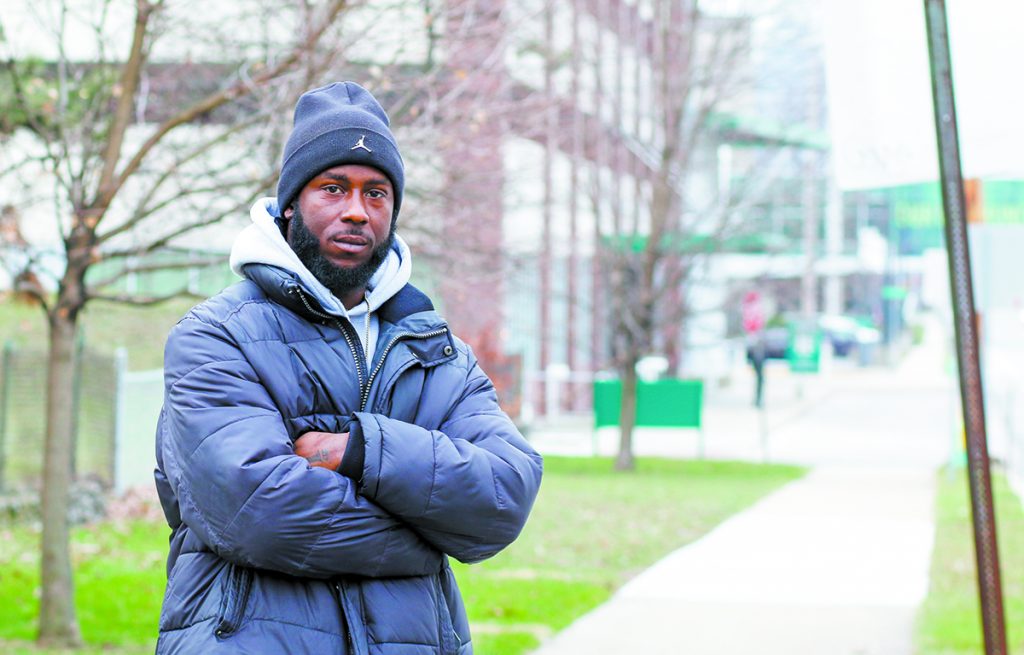 As the nation all but shutters, low-wage workers—the people who wash dishes, clean hotel rooms, wait tables and more—will be hardest hit.
And Indiana has a lot of those people.
In fact, nearly two-thirds of jobs in Indiana—about 2 million in total—are in low-wage occupations, meaning they have median pay that is less than what's needed for self-sufficiency for a family of three, according to the U.S. Bureau of Labor Statistics.
Many of those workers already live paycheck to paycheck—and a disruption in the flow of those checks could set off long-term financial problems. Foreclosures, evictions, bankruptcies, repossessions and more.
"Man, it's going to be a snowball effect," said Erin Macey, senior policy analyst for the Indiana Institute for Working Families.
In central Indiana, more than 100,000 people work in retail, food preparation and service and in hotels—industries immediately affected by recent orders from Gov. Eric Holcomb and mayors, as well as social-distancing recommendations from health officials.
Those workers aren't able to work from home, and they usually don't receive paid or family leave that allows them to earn a paycheck when they can't work.
On top of all that, many now are facing curtailed hours, following the ordered closure of movie theaters, entertainment venues, gyms and the ordered shutdown of dine-in seating at restaurants.
DeVon Ellis, the father of 2-, 4- and 6-year-olds, said business slowed to a crawl last weekend at the downtown Buca di Beppo, where he runs food and buses tables.
Employees, he said, were standing around with nothing to do.
Sunday, Bucca told him not to come in. Then Monday, the governor ordered restaurants closed, except for takeout and delivery, eliminating the need for table-busing.
Now, Ellis doesn't know what to do.
And he's not alone.
Event cancellations hurt
Edward Wilson, a father of two, has relied on temp agencies to place him in hospitality and other jobs over the years.
A couple of weeks ago, he talked with Indianapolis-based LGC Hospitality about steady work in the service industry and also was considering warehouse jobs.
He thought he might land temporary work at the men's Big Ten or NCAA basketball tournaments, but officials canceled both on March 12 because of fears of spreading COVID-19.
Now, Wilson's prospects are bleak.
"Everything has been put on hold," he said. "Since things have been put on hold, you have to go back to your little scrapbook and re-evaluate how you're going to pull some dollars up … that's where the fear is coming in."
The stress shows on his face.
"Some of us, they're just going to say, 'Well if I ain't got it, I ain't got it. I'm not going to worry about it,'" he said. "Some of us, it eats us alive if we ain't got it. We've got to find a way to go and get it. And that's me.
"At the end of the day, that's what I'm doing, chasing dollars."
Wilson is a client at the Fathers and Families Center, one of many with similar stories. The center, at 2835 N. Illinois St., provides resources and guidance to help men be involved parents and line up steady work.
Another Fathers and Families client began working at a hotel last week after searching for a job for months.
Now, his position has been indefinitely suspended.
"Under pressing financial stress, he finally gets some relief and then …," John Muhammad, family support services specialist at the Fathers and Families Center, told IBJ.
Fathers and Families officials expect to hear more of those stories in coming weeks as men attempt to figure out child care for children while school is out.
James Melton, the center's fatherhood services manager, said many clients were expecting to find sporting-event work before venues went dark.
Others found jobs with restaurants and hotels that have since unraveled.
Now, if clients are working at all, they're not getting the hours they want, Melton said. He hopes to steer men into service jobs in industries that aren't being hampered by closures, such as health care.
Tough decisions
Even those fully employed in low-wage jobs face difficult choices that affect their paycheck—including whether to stay home with their children while they are out of school or whether to report to work even if they are feeling ill.
Bureau of Labor Statistics show that about 25% of workers across the country lack paid sick leave. But for low-income workers that percentage is much higher.
For example, 51% of workers whose wages are in the lowest 25% receive the benefit, according to the BLS. And only 31% of workers who earn in the bottom 10% receive it.
Meanwhile, 92% of workers whose compensation is in the highest 25% receive paid leave.
There are disparities along racial and ethnic lines, too, Macey said. White and Asian workers are more likely to have jobs that allow working from home than black, Hispanic and Latino workers.
Nationwide, only about one-third of workers have that capability.
"The real brunt of school closings and other restrictions is going to fall on low-wage, hourly workers," Macey said.
"We know a lot of our workforce in Indiana is going to be employed in things like hospitality, the service sector, logistics, warehouse—jobs you can't do from home," she said. "They experience a double-whammy because they're already earning low wages."
Macey urges government officials to target aid for the most vulnerable.
For example, she noted that a payroll tax holiday won't benefit workers who've been laid off or had hours cut.
She recommends that the government instead issue stimulus checks to its citizens, an approach President Donald Trump favors. It's not yet clear who would receive the checks and how large they'd be.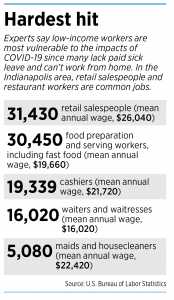 Macey said government officials also should consider relaxing unemployment eligibility, boosting SNAP benefits and putting policies in place to defer evictions.
In a new report, Michael Hicks, director of Ball State University's Center for Business and Economic Research, acknowledged tough times lie ahead for many Americans.
It found that about one in six Americans, or 17%, could be negatively affected by prolonged social distancing.
"We cannot predict the duration or share of jobs lost to prudent disease-prevention measures," he said. "However, we can predict that the amount will be significant and warrants immediate public-policy attention among federal and state policymakers."•
Please enable JavaScript to view this content.