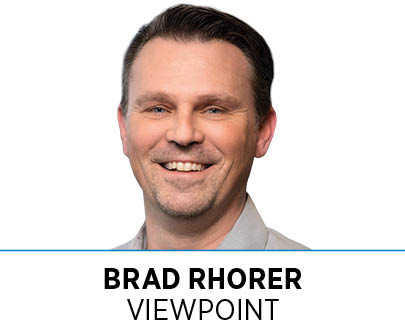 Two major challenges threatening Indiana's ongoing economic strength have an interesting relationship: They have the same solution.
Whether we're talking about the fact that our advanced manufacturing and logistics industries face a shortage of qualified workers or that thousands of Indiana students leave high school each year without a plan, one solution looms large: youth apprenticeships.
These challenges aren't new, but they are growing more severe, and the second one has increased urgency, thanks to new Indiana State Board of Education high school graduation requirements.
On the worker-shortage front, firms in the advanced manufacturing and logistics sector—which accounts for one-third of Indiana's gross domestic product—are struggling to fill thousands of positions while they also brace for the impending retirement of another 125,000 workers who are approaching or already past age 65.
Meanwhile, some 30% of Indiana young people are finishing high school without a job, college enrollment, military enlistment or other plans. Thousands of their peers join their ranks a year later by dropping out of college. And when these young people look for jobs, most of them do so with few workplace skills, a problem that has increased over the decades. In 1968, 48% of students graduated with work experience; by 2018, the level had dropped to less than 20%.
What common solution addresses both of these challenges? A modern youth apprenticeship program that gives high school students and just-graduated youth work-based learning opportunities.
In the United States, apprenticeships typically focus on unemployed and underemployed adults, with once-popular youth apprenticeships falling by the wayside over the years as more young people were guided into college-prep programs. Now, employers who increasingly recognize that education alone won't prepare students for the workplace are calling for high-school apprenticeship programs that reach kids as early as their sophomore year.
An added advantage to these programs is that they explode the either/or mindset that typically surrounds college and work-based experiences, replacing it with a both/and approach in which young people benefit from work-based experience that prepares them for careers and a college degree by allowing them to investigate career paths before investing in education. As a result, many youth apprentices go on to complete four-year degrees, often entering college having already earned credit hours.
This modern take on youth apprenticeship has gained traction with employers, industry groups, academic institutions, community organizations, government agencies and others, prompting organizations in Indiana and across the country to develop programs that combine practical experience with degree-track classes starting in high school.
In central Indiana, one such program developed by Marion County workforce development board EmployIndy and Central Indiana Corporate Partnership talent initiative Ascend Indiana has gained significant momentum. The Modern Apprenticeship program launched its pilot last summer, placing 30 apprentices from seven Indianapolis high schools at 16 local employers.
Such programs serve a timely need: The Graduation Pathways Policy approved by the Indiana State Board of Education in 2017 requires high school students graduating in or after 2023 to have documented service-based, project-based or work-based experience.
Of course, apprentices aren't the only ones benefiting from apprenticeship programs; participating employers do, too. About half of youth apprentices convert to full time at the places where they do their apprenticeships, and employers typically enjoy a 5% to 10% return on their investment in such programs.
So, I encourage all Indiana employers to commit to apprenticeship programs. With that one move, you can help resolve two challenges threatening the state's economic future—and likely some of your own.•
__________
Rhorer is chief talent programs officer at Conexus Indiana.
Please enable JavaScript to view this content.