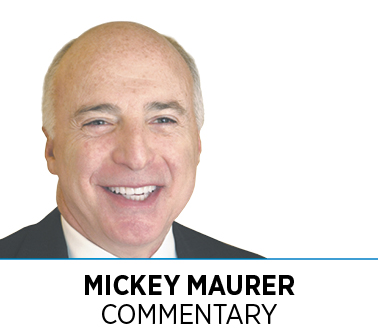 My column has been absent from the IBJ for more than two years. I hope you noticed. When our newsroom invited me to reprise the column with a frequency of one per quarter, I accepted. Here I am.
I feel like that serpent in Aesop's fable, about the tender woman and the snake. One iteration relates that she finds a half-dead snake, brings it home and nurses it back to health. The snake when taken to her bosom delivers a lethal bite. It declares to the woman in her death throes, "You shoulda known."
Well, I am back in the bosom of IBJ and this first column will take issue with our editorial of Nov. 12 [Editorial: AG Rokita is right to sue Biden administration over vaccine rules]. We endorsed Attorney General Todd Rokita's lawsuits against the Biden administration over its executive orders mandating vaccinations.
The executive orders call for mandates only as a condition of employment in specific circumstances. The Biden administration does not advocate hogtying and branding antivaxxers like helpless cattle on the western range. Our editorial stated that we don't like government mandates. Absent was a more nuanced approach.
At a press conference announcing one of his lawsuits, Rokita declared, "We are suing the president because he's got to stop running roughshod over Americans' liberties." Rokita displays a lack of understanding of the relationship of our "liberties" to an essential responsibility of government—our safety. Government must take reasonable steps to ensure the safety of our citizenry as an interest paramount and not subordinate to those who choose not to vaccinate, many of whom can be found clogging the beds of our hospitals preventing those who require care from receiving timely treatment.
There are those who tar Rokita with a darker motive, accusing the would-be governor of disregarding the adverse effect his actions have on our business community while pandering to his base of—pick one or more: ignorant, disrespectful, uninformed, misinformed, selfish— antivaxxers to promote his ambitions.
Smokers, like anti-vaxxers, cited their constitutionally guaranteed liberties to smoke when and where they pleased. The safety of our citizenry was weighed against those liberties. Smokers were cast out of restaurants, bars, public places—anywhere toxic chemicals from cigarette smoke could adversely affect our health. An anti-vaxxer, just like a cigarette smoker, has a right to go right ahead and kill himself—many have. But must he be allowed to jeopardize the rest of us? The Aussies get it. They deported Novak Djokovic over the star tennis player's refusal to be vaccinated.
Indiana has one of the worst vaccine records in America. Mandates will cause many reluctant Hoosiers to vaccinate. Lives will be saved. Rokita declared that he does not believe in the data generated by our health officials. The data so cavalierly rejected by Rokita prove that vaccinations slow the spread of the virus and reduce serious illnesses, hospitalizations and death.
The U.S. Supreme Court, while tossing the government mandate for employees with 100 or more workers, left in effect the mandate for health care workers at facilities participating in Medicare or Medicaid, delivering partial victories for both sides.
Meanwhile, a bill that has passed the Republican-controlled Indiana House would restrict how employers can mandate vaccinations. During my tenure as Indiana commerce secretary with the Mitch Daniels administration, we endeavored to build a friendly sandbox in which to play and to transact business. Speaking personally and not on behalf of the IBJ, Mr. Rokita and your ilk: Get out of our sandbox!•
__________
Maurer, a shareholder in IBJ Corp., can be reached at mmaurer@ibj.com.
Please enable JavaScript to view this content.