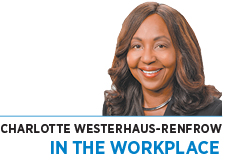 Successful and effective speakers know their audiences are often more influenced by what they see than by what they hear. According to the Mehrabian's 7-38-55 Communication Model, only 7% of what we communicate consists of the content of message; 38% is attributed to our tone, intonation and volume; and 55% consists of non-verbal communication, namely body language.
Whether you are giving a speech or presentation to a live or virtual audience, the adage is true that actions speak louder than words.
Be aware of your position
Start your speeches in an open body position. Let your arms rest naturally at your sides, relaxed and not "at attention." This open position is your home base, and you might find that your hands will begin to gesture as they would in conversation. But be careful—the moment you put your hands in your pockets or clasp your hands in front of you, you might begin to look nervous and restrict your ability to gesture naturally.
If you are behind a lectern, an open position might include resting your hands on top of the lectern. But don't lock them there or hang on for dear life! Instead, step to the side of the lectern if you don't need your notes.
If you make a mistake during your presentation, don't freeze up! Keep going past a stumble. If you make a mistake that alters the meaning of a statement—pause, take a deep breath, stand tall, restate the word or phrase correctly and continue. There is no need to apologize; instead, let it go and continue at a relaxed and steady pace.
Maintain eye contact
By maintaining eye contact with the audience, you appear more credible, relaxed and interesting while compelling the listeners to hold your gaze. Try to maintain direct eye contact with separate individuals for a compete thought, but be sure you are looking at various sections of the audience.
Whether your speech is a typed document or series of notes, avoid looking directly at them all the time. Stay in touch and engage with the audience. When you look down to check your notes, pause slightly, absorb your next thought, look up and begin speaking.
Another helpful technique to practice when you are working with text speeches is the two-step "Rhythm of Eye Contact" technique: When your eyes are up, your mouth is moving; when your eyes are down, your mouth is shut. This technique might feel a bit awkward at first, but if you practice it, you will find you are no longer reading your speech but conversing with the audience.
Use a real smile
It's normal to feel nervous before giving a big presentation. An effective way to help manage stress and anxiety is for your body to release endorphins, or natural feel-good chemicals.
One of the easiest and most stress-relieving techniques is smiling. A study conducted by psychological scientists at the University of Kansas found that "smiling during brief stressors can help to reduce the intensity of the body's stress response, regardless of whether a person actually feels happy." In terms of timing, a smile is most appropriate at the beginning or end, but certainly at other intervals as well.
An added benefit is that your audience will often smile back at you. Remember to return a smile with appreciation, which will help make you feel more comfortable. When it isn't appropriate to smile, use your eyes and eyebrows to communicate. For example, raised eyebrows are a classic facial gesture of commitment and caring.
Be mindful that, in situations where trust is important, audiences will pay close attention to your smile. A notable academic book, "Nonverbal Communication," authored by foremost scholars of nonverbal communication Judee Burgoon, Laura Guerrero and Kory Floyd, says that when your speech doesn't match your facial expressions, people will tend to trust nonverbal cues more than your words.
Audiences simply aren't impressed with a forced smile. A fake smile could convey that you aren't enjoying the experience—or worse, that you're attempting to deceive. Two easy ways to spot a genuine versus a fake smile is the absence of "crow's feet," or wrinkles, at the corners of the eyes and visible bottom teeth.
Your face is communicating, even when your lips are moving, both in person and virtually. So remember to effectively use your facial expressions to authentically communicate whenever you present to any audience.•
__________
Westerhaus-Renfrow is a clinical assistant professor of business law and management and faculty chair of the undergraduate program at the Indiana University Kelley School of Business at IUPUI.
Please enable JavaScript to view this content.