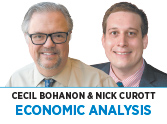 Economic analysis suggests that workers get paid their marginal revenue product. So just what is that? Think of an entertainment venue booking Jerry Seinfeld. Tickets to his show will sell for $200-plus and the place will be packed. Alternatively, consider booking Sydney Synonymous, an unknown comic. Tickets for his show sell for a pittance and the venue is sparsely attended. Obviously, Seinfeld generates more additional (or marginal) revenue for the venue. Unsurprisingly, Jerry commands a much higher fee than Sydney.
The same principle holds in professional sports. Very talented, highly productive athletes command higher salaries than their less talented teammates. However, this does not hold in college sports. Intercollegiate sports operate under the rules set up by the Indianapolis-based National Collegiate Athletic Association. Its rules are based on the assumption, most say the fiction, that college athletes are unpaid amateurs, playing for the love of the game and the glory of the school. For the bulk of students in college athletics, this is harmless enough. Most college sports competitions draw small crowds that attract little additional revenue to their school. The student athletes' scholarships more than compensate these athletes for their efforts.
However, Division I men's basketball and football are the exception. Both generate large financial benefits for schools in the top 20 rankings. The very talented players of these teams are consistently undercompensated relative to their marginal revenue product. The strict, byzantine and oft-violated NCAA recruiting rules are in place to ensure that no college or university offers a prospective basketball or football star a package that comes close to a market-based compensation.
Enter the state of California, which recently passed a law that in 2023 will allow California collegiate athletes to market their name, image or likeness. Johnny Quarterback at UCLA can endorse Big Bob's Used Cars and be compensated under California law, but he will be in violation of current NCAA rules. Some see the California law as a brave act of liberation, unchaining exploited athletes from medieval rules. Others see this as a death-knell for collegiate athletics. A very unscientific sample of Ball State NCAA players indicated no great support for Indiana to pass a law similar to California's.
As economists all we can say is that if a legally sanctioned private arrangement consistently relegates some "workers" to receive compensation that is much less than their marginal revenue product, expect major conflict. Get ready for the fireworks!•
__________
Bohanon and Curott are professors of economics at Ball State University. Send comments to [email protected]
Please enable JavaScript to view this content.