Indianapolis-based Indiana Farm Bureau Insurance Co. has joined a growing number of large, established companies embracing innovation by launching independent startup companies.
Diesel-engine maker Cummins and security-products maker Allegion Plc, which has its North American headquarters in Carmel, are among them.
And now Farm Bureau Insurance has launched its first startup—Peril Protect—with plans to develop more.
That might seem like an unusual move for a traditional insurance company like Farm Bureau, which was founded in 1934 and sells home, auto, life, farm and crop, business and renters insurance statewide, as well as financial products.
But the goal is to inspire creativity and entrepreneurship among employees who have ideas for products and services that can complement the larger company.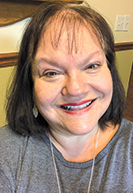 "We're really trying to get at new and innovative ideas within our company. It's something we're very in tune with," said Jo Lee Hayes, the company's executive director of enterprise architecture and application development.
"The only way to adapt quickly is to have your eye on what the future will look like," she said. "To be relevant in your space, you have to look at everything in your space, not just within your four walls."
Peril Protect makes and sells a wireless home-water-leak detection system. It combines water-leak sensors, text and email alerts when a leak is detected, a 24-hour call center, and a contractor network to fix leaks before they wreak havoc on homes and checkbooks.
The company launched late last year, brought its product to market earlier this year and has blueprints to expand nationally.
The startup is wholly owned by Farm Bureau and could be a mechanism to allow the insurer to expand beyond Indiana for the first time, company officials said.
Peril Protect's launch and Farm Bureau's push to innovate through startups has been years in the making.
In 2007, the company started its Leadership Academy, a three-year program for employees that culminates in a final project focused on innovation. Over time, the course became increasingly rigorous.
Then in 2017, Farm Bureau participated in a hack-a-thon—a competition where ideas for innovations and startups are developed and presented—sponsored by AT&T and the state of Indiana. Showing off its sharpened innovative chops, Farm Bureau placed third.
Hayes then developed an internal hack-a-thon for employees. The first event led to an idea to use drones for field inspections. Today, the company has a fleet of more than 80.
In 2018, Farm Bureau's second hack-a-thon focused on internet of things technology. Hayes was part of a four-person team that included Robert Taggart, Farm Bureau's manager of claims litigation, and spearheaded the idea for Peril Protect.
The idea was then further developed and launched through a Leadership Academy program.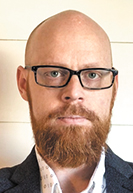 Last year, Farm Bureau decided to open its hack-a-thons to the central Indiana technology community, although the 2020 event was canceled due to the coronavirus.
Meanwhile, though, Peril Protect brought in veteran claims adjuster and e-commerce entrepreneur Isaiah Blackburn as program manager, launched its product and started working on a national expansion.
"Having come from a large carrier prior [to joining Farm Bureau] and having been in small business … I will say I was impressed with IFBI's willingness to begin to pivot into a more entrepreneurial way of thinking and to take on employee-driven ideas," Blackburn said.
"It's not easy for a 90-plus-year-old company to undertake a very significant cultural shift, but I see that the desire is there and they seem to be actively putting people in place to make that happen."
Space to innovate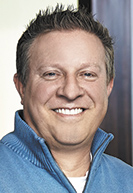 Rob Martens, Allegion senior vice president and chief innovation and design officer, said Farm Bureau's strategy makes perfect sense.
"Initiatives like this keep the water fresh," Martens said. "And it helps with employee engagement."
But there's a lot more to it.
Martens said startups like Peril Protect allow big, legacy companies to innovate, "to learn and grow—and do so quickly—without risking their brand in the marketplace."
"You need to have the opportunities to experiment with new products and also new brands," he said. "Established companies need to create space to do that."
Allegion has done so through Allegion Ventures and its Pin & Tumbler Studio.
Allegion Ventures launched in March 2018, and 18 months later rolled out Pin & Tumbler, an innovation studio bent on getting products from concept to market in 120 days or less.
Initiatives such as the ones Allegion and Farm Bureau are using help big companies "have balance," Martens said. They can "keep an eye on the outside world and disruptions coming their way without losing focus on the core of the company."
And it helps that a startup's mindset is very different from that of an established company, he added.
"A startup doesn't have anything to lose," Martens said.
The legacy company is still taking some risk, though. First, its executives are making a serious commitment in time and cash. And letting go of the reins.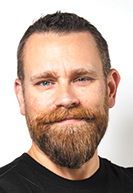 "In order to grow like a startup, it has to behave like a startup," said Kristian Andersen, a partner in locally based venture and startup studio High Alpha. "You can't just put a pinstripe suit on a baby and hand him a briefcase. Startups make mistakes. Do big companies like mistakes? No."
Hayes said Farm Bureau higher-ups are willing to take that leap, even with the chance of failure.
"This was a bold move for IFBI to step out there and take this risk," Hayes said. "It says a lot about their willingness to innovate and try something new."
Insurance is often thought of as a reactive industry. But Hayes said Farm Bureau is bent on being proactive.
"The world is changing and traditional insurance will be changing," she said. "Creating the mindset of being open to change will be paramount to the success of insurance companies in the future."
Way back
This birthing of innovative baby businesses from mega parents actually has deep roots.

In 1962, the Minneapolis-based department-store chain Dayton Hudson Co. founded Target as a discount experiment of sorts. And Target didn't turn a profit until 1965.
In 2002, Amazon discovered a wealth of opportunities in the internet-services realm with Amazon Web Services, which is now Amazon's most profitable enterprise.
In 2010, Google created software development company Niantic Inc., which birthed the wildly popular mobile games Pokemon Go, Ingress and Harry Potter: Wizards Unite.
Locally, in 2018, Cummins and High Alpha created Anvl Inc., which markets cloud-based business software to reduce and prevent injuries to maintenance workers. Anvl has already raised $2 million in capital and is experiencing steady growth.
The trend has become so hot, High Alpha decided to spin out High Alpha Innovation this year to work with big companies interested in launching startups.
"The response to High Alpha Innovation has been off the chart," Andersen said. "The best way for businesses to reinvent is to reinvent outside the business itself.
"Big companies build processes that keep [them] from getting sued, from getting bad press and all the other bad stuff," he said. "Those mechanisms are there for a reason. The problem is, when a [division within a big company] tries to do something entrepreneurial, the big company releases all its antibodies against it. It smothers it with bureaucracy and red tape, with legal, and starves it of resources."
Hayes, who is heading up Farm Bureau Insurance's startup initiative, said Peril Protect won't be the company's last startup. She's hopeful one could be launched—possibly out of the annual hack-a-thon—every year or two.
The companies Farm Bureau launches will likely be related to the insurance field in one way or another, Hayes said.
Multiple benefits
While Peril Protect might not seem directly related to insurance, Blackburn said it could have a big impact on the industry.
"I think this has the potential to be a game-changer for insurance companies," he said. "This will ease the claims process from start to finish. Getting contractors involved upfront is a big deal. And having the [24-hour] call center in place is a big deal. This solves a problem that, before, there was no solution. This can be the difference between a couple-hundred-dollar problem and a $10,000 claim.
"The ability to get somebody out there right away benefits the customer and the insurance companies," he added.
While Farm Bureau wants its startups to be profitable, Allegion's Martens said profits aren't necessary to make this endeavor successful.
"It would likely be a very low percentage of these startups that would become profitable and stand alone," Martens said. "But there are a number of ways to win with these."
The larger company can reabsorb the startup and expand it, can use the intellectual property or can absorb the talent, he said.
Another big benefit, as could be the case with Peril Protect, could be data collection, Martens said.
Peril Protect "is essentially a data platform," he said. "Think about the possibilities. Water damage is a big issue for insurance companies. Just having this system shows them something about you as a homeowner.
"Now they have an audited account of your leaks. You can gauge the quality of homes and homebuilders. You could even make a tie to the way you drive and the way you manage your home. You could create a [homeowners] insurance score the way you create a driving score."•
Please enable JavaScript to view this content.