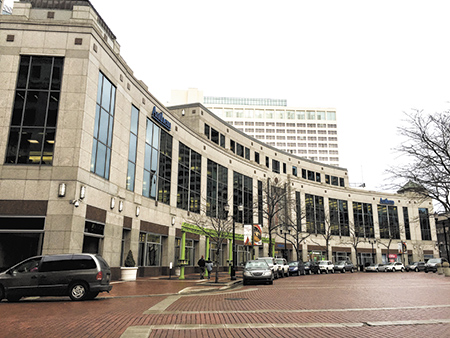 The former Anthem Inc. headquarters on Monument Circle could be divided into multiple suites, as the property's owner tries to drum up interest among prospective office and retail tenants.
The 213,600-square-foot structure at 120 Monument Circle has been without an anchor tenant since December 2018. The real estate investment firm that owns the property, Massachusetts-based Franklin Street Properties, has generally dismissed the concept of cordoning off parts of the four-story building for use by multiple tenants in favor of finding a single large user.
But over the past several months, that attitude has shifted, said John Vandenbark, an office broker with the Indianapolis office of CBRE representing Franklin Street.
"In an ideal world, it would have been one big tenant," he said. "Then it became, 'Well, we need a larger tenant to kick it off.' So, we will look at a multi-tenant scenario … whereas a year ago we wouldn't have."
Vandenbark said the minimum office lease would be about 25,000 square feet—about half a single floor plate in the building. Industry sources have previously told IBJ the asking rate for office space in the building is around $24 per square foot, on par with other prime spots in the downtown market.
Some interested parties—including co-working groups—have looked at the building but ultimately passed because there isn't enough space for an abundance of window-facing offices along the Circle. That means it might not work as well for a traditional office environment, such as a law firm where every attorney has their own office.
Vandenbark said while there are no specific parameters for offering space for retail uses, any prospective tenant would need to be "an enhancement and a value-add to help draw in a larger office user."
Those uses would likely be limited to the first floor, he said, although the idea of a high-end restaurant using part or all of the fourth-floor terrace for outdoor dining has not yet been ruled out.
There already are some storefront businesses incorporated into the building, including FedEx Office, H&R Block and Forum Credit Union, occupying a total of about 11,000 square feet. CBRE retail broker Mark Perlstein is assisting on the retail side.
But there could be challenges in wooing retailers to the building.
"There's always demand, I think, for retail on the Circle. But the issue you've got … is [that] parking becomes difficult," Vandenbark said. However, valet service could be offered for restaurants, or customers could park in garages nearby and walk to the building.
Another strain could be the continued uncertainty associated with the office market. The COVID-19 pandemic has pushed many large users of office space to allow employees to work from home.
Vandenbark said leasing part or all of the property could take months or even years. Few companies are in the market for massive amounts of office space at the moment. Even if a lease were signed soon, the building probably would remain vacant until late 2021 or early 2022.
The broker said the the owner is "patient" and has no plans to sell the building, but every potential practical use for the building is being considered.
"They have investors that would like to see (the building) filled and cash flowed—that's why they hired me," Vandenbark said.
Please enable JavaScript to view this content.