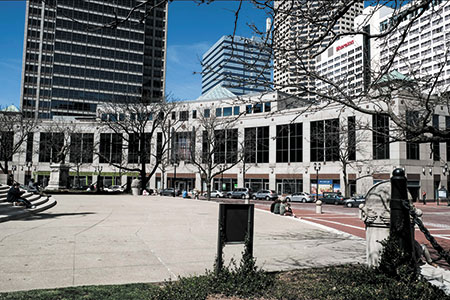 Little progress has been made in replacing Anthem Inc. in the Monument Circle building that, until the end of last year, served as headquarters for the Indianapolis-based health insurance giant.
But it's not been for a lack of trying.
Economic development officials say they have pitched the building on several occasions in bid packages aimed at attracting large companies to the site, which spans the entire northwest quadrant of the Circle.
But wooing supersized tenants to the 213,600-square-foot building—even with its prime location—is likely to be a long-term endeavor for brokers and the property's owner, Massachusetts-based Franklin Street Properties.
John Vandenbark, senior vice president of Los Angeles-based CBRE's Indianapolis office and the listing agent for the property, told IBJ he has seen "some interest" but not a lot.
He said the building is being marketed in a "selective" manner for a single user rather than divvied up for multiple tenants. CBRE's marketing materials advertise the space as a "headquarters opportunity."
The property has been mostly empty since the end of December, when Anthem's lease expired. The company early last year announced it was consolidating its headquarters staff into its operations center about five blocks southeast, at 220 Virginia Ave.
Vandenbark said he is working with the Indiana Economic Development Corp. and Develop Indy to identify potential users, including companies not currently based in the region.
But landing a single user for the entire space could prove challenging.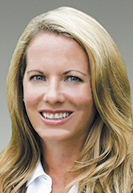 Barnett
"There are always companies looking at the market and opportunities here, but there's not very many out there," said Jenna Barnett, executive managing director of New York brokerage firm Newmark Knight Frank's Indianapolis office. "You have to be patient to land a deal that size."
She said the building has been heavily marketed since Anthem said it was leaving.
Officials of publicly traded Franklin Street Properties did not respond to requests for comment. However, in an October 2018 conference call with analysts, CEO George Carter said, "The Monument Circle property … will need some work first before we consider putting that property on the market." He did not elaborate.
Franklin Street bought the building in 2011 from an affiliate of Indianapolis-based HDG Mansur for $42 million. Anthem occupied about 90 percent of its space. Other space is leased to first-floor retail tenants on the eastern edge of the property, including FedEx Office and Forum Credit Union.
It was built in the 1950s and for decades was home to a J.C. Penney department store. Before that, the site was home to English Hotel & Opera House, which was demolished in 1948.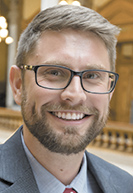 Nicolini
Ian Nicolini, director of Develop Indy, said the property might be under consideration by various companies. Develop Indy, which contracts with the city as an economic development recruitment arm, has included the building as a potential location for several companies looking for a new office or headquarters building. He declined to identify the firms.
"We've put it forward in a number of searches," he said. "It's still [too] early to know where those … end up, because there's really no definitive date on the site selection process other than what the company sets for itself."
The property has a lot going for it, from open floor plans to a floor-to-roof atrium. A wellness center and rooftop patios are also among its amenities.
Brokers say the property is move-in ready, though any tenant likely would renovate to suit its own aesthetics and functionality.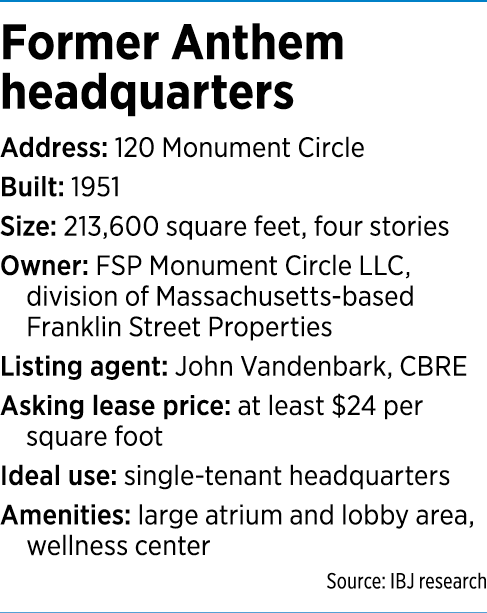 Barnett, who has worked in the Indianapolis real estate market nearly two decades, said Franklin Street likely is working with CBRE, Develop Indy and other interested parties to consider "creative solutions" that could open the property to a broader tenant base.
One scenario would be to create additional retail space on the first floor, capitalizing on the Circle's heavy foot traffic. But brokers said reconfiguring space to make that work would be tricky.
"It would be difficult to reconfigure what has been a corporate headquarters building for many years into anything different from that," said Jon Owens, a broker with the local office of Chicago-based Cushman & Wakefield. He added that any such effort "would be very expensive."
While the prestige of a Monument Circle address is a selling point, one glaring drawback is the lack of on-site parking. Brokers say a new tenant likely would seek to strike a deal with Indianapolis-based Denison Parking for spaces in the garage of adjacent Market Tower, the same arrangement Anthem had for its 300-person headquarters staff.
"That situation itself is a big challenge because the building itself doesn't control any parking," Owens said.
The presence of homeless people and panhandlers on the Circle also could hinder Franklin Properties' leasing efforts, though Owens doubts that will be a major obstacle.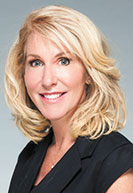 Seiwert
Another potential challenge is the slew of new office space coming online in and near downtown, including 16 Tech, Bottleworks and at the former GM stamping plant, now known as Waterside.
But Sherry Seiwert, president of the not-for-profit Downtown Indy, said the projects cater to different kinds of tenants.
"As our downtown continues to grow, it's pushing out in all directions … but they're complementary developments, more than anything else," she said.
Downtown's office-market vacancy rate has been declining for several years and was at 14.2 percent at the end of 2018, according to Cushman & Wakefield. That is lower than the rate for the Indianapolis market overall, which was 15.4 percent at the end of 2018.
"We'll get there, but it's not going to happen overnight," Nicolini said of filling the Anthem space. "We want to be intentional about finding the kind of user … that's going to sustain that site and activate it as well as Anthem did."•
Please enable JavaScript to view this content.