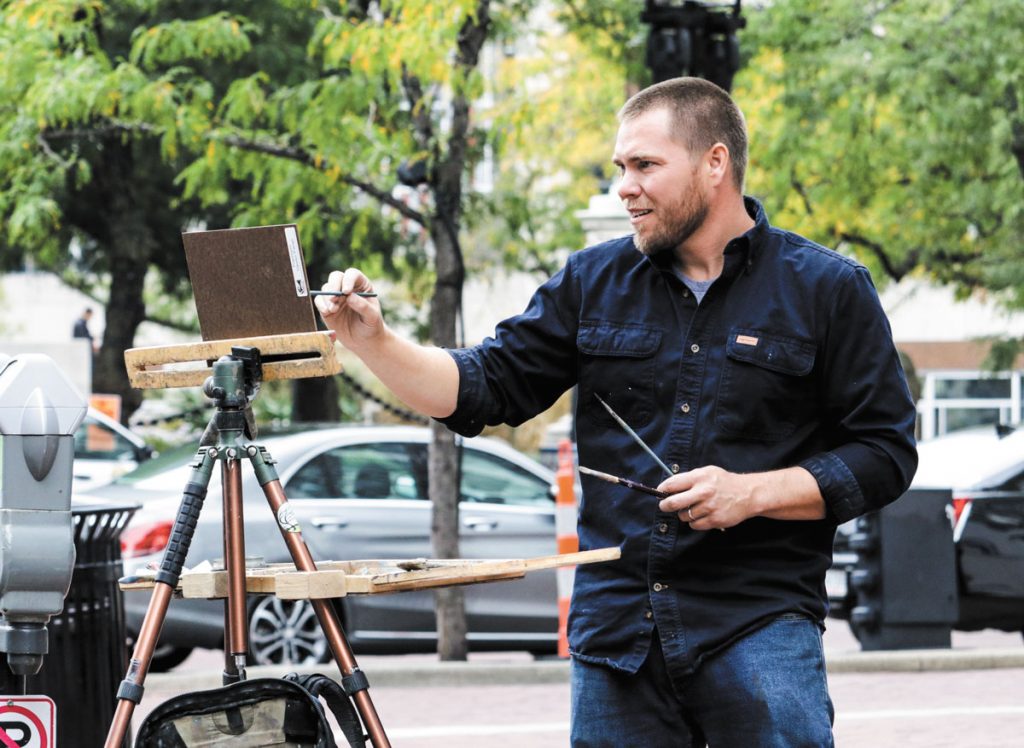 Painter Justin Vining is something of an anomaly. His realistic canvases, influenced by the techniques of American regionalist painters and Depression-era WPA art projects, have helped him make a name for himself in local and regional circles.
But what makes him unique isn't so much his art as his data-driven approach to selling it.
These days, you're as likely to find him painting the walls of his new studio space in a nondescript building on East 10th Street as poised in front of a canvas. He and his brother, attorney Nathan Vining, bought the abandoned structure last January and plan to turn it into a combination law office/studio/gallery space.
"Ten years ago, we had a vision," said Vining, 38. "What would happen if we opened a law firm/gallery space? Well 10 years later, here we are."
Had things turned out just slightly differently, they might both be practicing law. The brothers, who grew up in Warsaw, attended law school together at Valparaiso University from 2007 to 2010. However, Justin Vining, who's three years older than Nathan, had already studied art education at Purdue University and taught elementary school art for three years.
During his first semester at Valpo, he decided to get back into painting, partly as a creative release, but also to make money on the side. And make money he did.
"I ended up doing seven or eight paintings, which I sold for a hundred bucks apiece to my classmates," Vining said. "I made that money in a couple of weeks. I thought, 'This isn't so bad.'"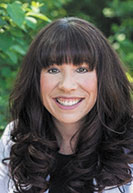 Indeed it wasn't. By his senior year, he was doing gallery shows and selling dozens of paintings each year. But he wasn't quite ready to become a full-time artist. Instead, in 2010, after graduating and passing the bar, he took a job with an executive recruiting firm that spent a great deal of time locating elite salespeople. The process was data driven and relied heavily on sales analytics, two things that fascinated Vining.
"The seven months I worked there was like a Ph.D. in data-driven and high-level sales," he said. "In law school, I learned how to sell art. But I didn't really understand the data that drove those sales."
All about the stats
Now he does. After quitting his recruiting job, he decided to give the artist's life a go. But unlike most budding painters, he understood how to use sales stats to his advantage.
It's hard to overstate just how excited Vining gets about this subject. He was able to track how long a painted canvas sat in his inventory, and how many days it typically takes to sell a painting. For instance, he currently sells 19% of his paintings in a day or less, 44% in 30 days or less, and 91% in 180 days or less.
"Right now, I'm tracking at an average of 92 days to sell a painting," he said. "Based upon that information, of all the inventory I'm building right now, predictably I'm going to realize about 90% of that revenue within 90 days. When you talk to great salespeople, this is the stuff they really understand."
So far, he's compiled something like eight years' worth of sales analytics. He even knows what size canvas sells best.
"Right now, it's a 9-by-12-inch painting," Vining said. "That's my bread and butter. I can sell them all day long at $225."
That amount has remained stable for several years, but he's expanding his prices in other areas—and using human psychology to make it work. When most artists increase prices, he says, they simply jack up their fee while keeping the size of the work the same. But Vining offers a larger painting for a larger price, giving "more for the money."
"I'm offering 11-by-14-inch paintings at $300," he said. "And it's working. It's very, very patient growth. It's teaching people how to spend a little more each time."
'Feed off each other'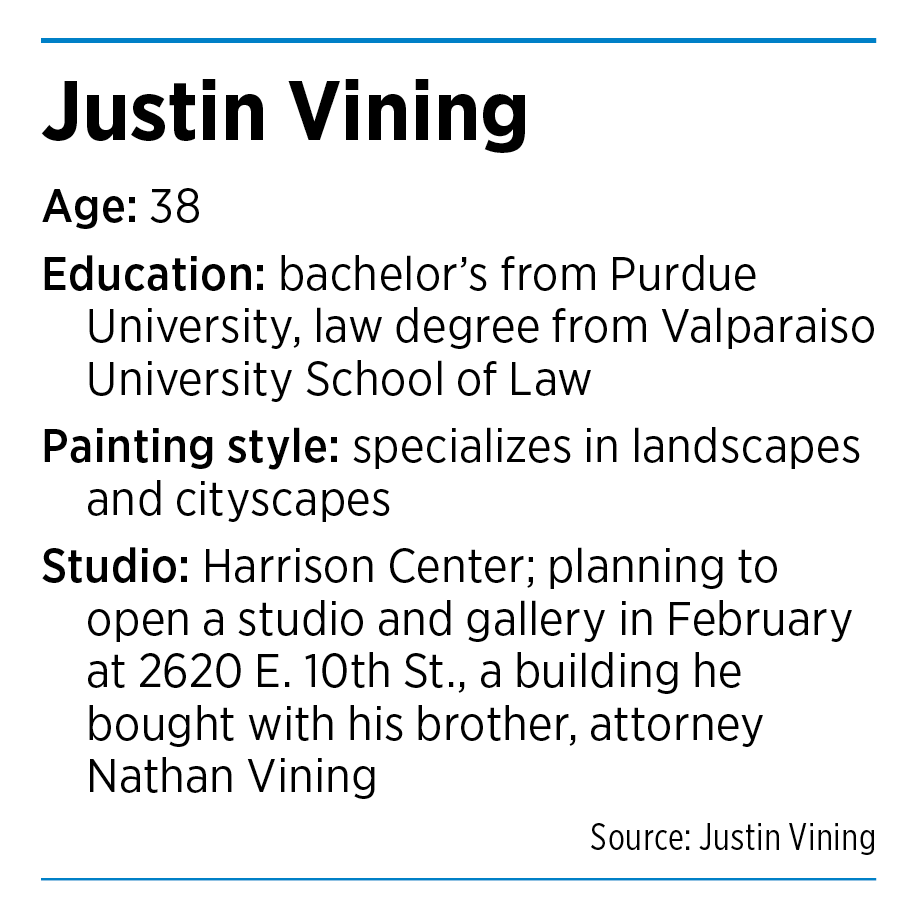 While Nathan Vining will have a storefront office for his family law practice at the brothers' new building, most of it will serve as gallery space and storage/workspace for his brother. Justin Vining wants to use much of the approximately 2,200-square-foot structure for his own gallery shows and those of guest artists. He'll also host classes taught by nationally known artists.
"I think we'll feed off each other," Nathan said of the arrangement. "Both of our businesses will benefit from being in this space. Maybe I'll even do some painting. I can de-stress from the law."
The brothers bought the space for $99,000, and are remodeling most of it themselves. And they did it just before the announcement in December 2018 that the Lilly Endowment would donate more than $4.3 million in grants to spur development along the stretch of East 10th Street between Beville Street and Sherman Drive known as the 10 East Arts + Design District. The idea is to goose the resurgence of the depressed area by building a thriving arts scene.
"It was just serendipity, not the result of [Vining] hearing an announcement about the investment from Lilly Endowment," said 10 East Art Director Joanna Nixon. "He and his brother were looking for a place to land, and it happened to be coincidental."
It also happened to be a boon for the street, which is slowly filling up with other artists. The burgeoning lineup includes the art gallery Hoy Polloy, and the print shop and gallery space Cat Head Press.
"Any time you have a business moving into the area that can lift up 10th Street, but also has an artistic focus, we get excited," Nixon said. "Justin is a great artist with a wonderful following. He's got a lot of great things happening, and we're excited to have him here."
For his part, Justin Vining reckons the brothers have a few months of work to finish the new location. As of mid-October, the interior was still stripped to the studs. So for now, Vining continues to work and exhibit at the Harrison Center for the Arts at 1505 N. Delaware St.
But he's already planning events for the new space.
"The first big event we host here will be my next big solo exhibit, which I'm already preparing for," he said. "It will be the last Friday in February, which will also be the grand opening of the building."
Empowering artists
Vining is also more than a little interested in teaching his business and marketing skills to fellow artists. Unfortunately, the ability to create interesting art and also understand (let alone take an interest in) number crunching and analytics is a skill set rarely found in creative types.
"I don't know the guy, but he's obviously completely different from most artists, who have no business acumen whatsoever," said Eric Smith, CEO and publisher of Art Business News, a national trade publication. "He could probably make a fortune trying to teach other artists, but I don't know if most of them could ever adapt to that. It's just not in their DNA."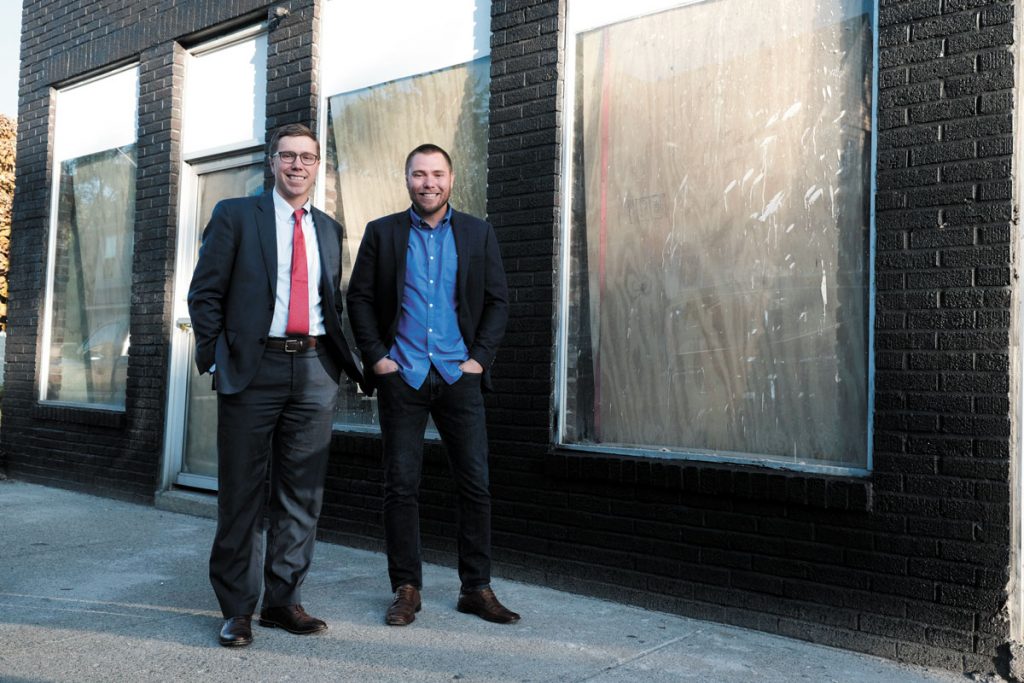 Still, Smith allowed, business skills aren't entirely foreign to artists. For instance, Andy Warhol was as much a master of marketing as of pop art. And it's not as if the art world, which racks up $16 billion in revenue annually worldwide, doesn't have room for artists with a deeper understanding of how much they can get for their work, and how to market it effectively.
"It's really not about the artist, but the experience you create for people when they buy a piece of art," Smith said. "They might like a piece of art, but you've still got to have a story behind it, and you've got to express yourself and talk about why you painted it. That's what they're going to talk about when they take it home and put it on their wall."
Vining, who's already sold 192 paintings in 2019, pretty much agrees with this view. Nevertheless, he thinks his business model is replicable and wants to teach it to other artists.
"I want to empower and enable artists by showing my math to them and giving them the necessary tools to make informed decisions about how to become more successful in the market," he said. "Most really successful businesses are data-driven. In the art world, they just wish and hope for sales, and I think that's kind of crazy."
Even if a hefty number of his colleagues either don't grasp or actively reject his approach, "In a weird way, I just don't care," Vining said. "Because they don't pay my bills. And my comfortable lifestyle may be different from what their comfortable lifestyle is."
Rate of return
He thinks his approach is not just more scientific but also much more resistant to economic downturns. While potential buyers might balk at purchasing a canvas costing thousands during a recession, they might still open their wallets for one of Vining's $225 9-by-12s.
"I see artists in this city who may sell 10 to 15 pieces a year, max," he said. "But those pieces are $3,000 to $5,000 a pop. To me, that's a really scary pool to swim in. I like predictability and sustainability over going after really big sales."
One of Vining's most predictable and sustainable traits is his personal artistic output. While a specialist in, say, abstract expressionism might spend weeks or months grieving over a single canvas, Vining's works, usually representations of real-world buildings or landscapes, come much more quickly.
"When I'm painting, I try, on average, to do about two paintings a day," he said. "Though I haven't yet had a year where I averaged two paintings during a five-day workweek. I don't know if that's something I'll actually hit, but it's something I always think about."
It also doesn't hurt that he usually paints on location, making himself a walking advertisement.
"Three weeks ago, I was painting on Monument Circle, and I had a women buy two paintings right on the street," Vining said. "She was flying back to L.A. I handed her the paintings and they made it there fine."
As for the future, he's fine being a popular Indiana artist, as opposed to a popular regional one—mostly because reaching that level would require an exponential amount of work, with no guarantee of success. Better, he thinks, to grow his reputation by bringing national artists to Indy to conduct master classes at his studio.
"If I'm not going to everyone else, I'm going to bring everyone else to me," Vining said. "I've targeted up-and-coming artists and built relationships with them, so that in 10 or 15 years, when they're the new generation of the best of the best, they don't just know who I am, they've stayed at my house for years."•
Please enable JavaScript to view this content.