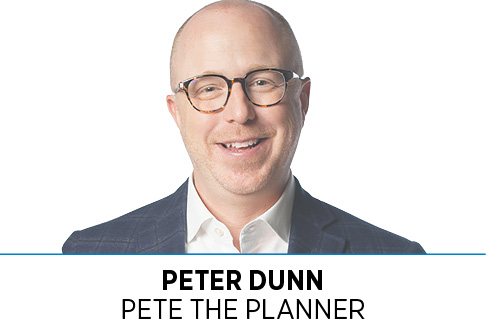 Dear Pete,
My 42-year-old son and 41-year-old daughter-in-law aren't great with money. Frankly, I assume it's because she is the more dominant personality, and her parents don't appear to have much financial stability themselves. My wife and I are concerned this will impact our grandchildren's ability to get a quality education. We're considering offering to pay for their college education, as long as my son and daughter-in-law can follow a few requirements. We view it as a way to encourage them to make better decisions with their money. What do you think? We'd like to present a plan to them soon.
—Robert, Zionsville
I once saw a decorative pillow at a tchotchke store that read "A Parent's Work Is Never Done." As the parent of a 10-year-old and 7-year-old, that pillow terrifies me a bit. At some point, I want to rest and just lay my head on that pillow, any pillow. And while I'm not 100% confident my job of parenting will be done in the next 15 years, I've never imagined a world in which I'm personally still trying to teach my middle-age children lessons.
We should tackle a few ground rules for today's discussion. A) I'm not a family counselor. B) I don't have 40-year-old children. C) I don't have grandchildren. I mention these facts because it's entirely possible that, when you reach the end of my answer, you'll conclude that I just don't get it.
But it's also worth noting that I understand money, how people handle it, and what motivates them to handle it differently. And that's why I'm not convinced your idea or the execution of the idea will bring you the results you desire.
To begin, the mechanics of your plan aren't great. I can't even begin to tell you how many "Grandma and Grandpa were supposed to pay for my school" stories I've heard. If you choose to dangle this carrot, set the money aside right now. Don't mentally set it aside.
Put it in a separate account and be specific as to what amount of money you'll be providing. Unless you have an ungodly amount of money, you need to define exactly what it means to "pay for their education." That's a much bigger and broader promise than most people know. Life has a funny way of making well-meaning checks uncashable.
And what happens when your children don't follow your edict? Do you hold the college funding over their heads and threaten to pull it? Do the grandkids instantly go into debt because their parents couldn't deliver on the promises you put upon them?
Additionally, you raised your family in a different time than your son and daughter-in-law are raising theirs. While that's not grounds for a financial free-for-all, they're playing with a different set of rules than you played with. The modern financial life is exponentially more difficult than just 30 years ago.
Another element to your scenario that warrants attention is your evaluation of your daughter-in-law's parents' financial standing. I wouldn't be so fast to classify someone else as a have-not, especially when you're likely to simply compare that person to yourself. While you might know some of the facts and circumstances surrounding their instability, you probably don't know the whole story.
I also don't understand how your offer to pay for college will lead your son and daughter-in-law to change their behavior. And how are you to verify they've made the changes you're requiring? Micromanaging other adults' financial lives is tough sledding. I know this because I've done it.
The reality is, your offer to pay for college saves your grandchildren's financial lives more than the parents' financial lives, but your plan suggests it's the parents' behavior that will save their kids' financial lives. That doesn't make sense. It's noble, it's selfless, and it's kind. But it doesn't make sense.
Watching a loved one struggle financially is a crushing experience. The mere fact that you're offering to help makes you a mensch, but I think your plan needs work. Support comes in many forms, but I'm not sure financial support is what your son and daughter-in-law need right now. If what you're saying is accurate, they need help making better decisions. Dangling money in front of their face will never make that happen.
Ask your son to lunch, or, better yet, ask your daughter-in-law to lunch and ask her how you and your wife can better understand the financial rigors of raising kids in 2020.•
__________
Dunn is CEO of Your Money Line powered by Pete the Planner, an employee-benefit organization focused on solving employees' financial challenges. Email your financial questions to askpete@petetheplanner.com.
Please enable JavaScript to view this content.