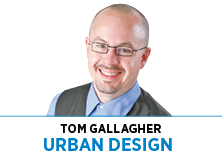 The many complex problems that weigh upon the human condition can feel overwhelming and debilitating. Rare is the solution that solves a problem without complicating a whole series of others. Rarer still is the solution that is relatively simple, cost-effective and limited in controversy.
Yet, there is one such solution to many problems: planting trees. Perhaps its simplicity is the reason we overlook it—or struggle to believe it.
Most U.S. cities are approaching a crisis state that is essentially invisible to most of us. According to the U.S. Forest Service, urban tree cover is disappearing at a rate of 175,000 acres—an area about the size of Indianapolis—each year. Not just a luxury item, trees are essential ingredients to a strong city. Below are just a few examples of what current research tells us are the benefits of a healthy urban forest:
◗ Economy. Shoppers will not only travel greater distances to and spend more time in districts with quality tree canopy, they willingly pay 9% to 12% more for the products found there.
The presence of trees is consistently listed among the factors that increase a city's urban beauty quotient—a robust measure of attraction for companies and employees.
Employees who can see trees or experience them as part of their work environment experience less illness, are more productive and cite higher job satisfaction.
◗ Ecology and climate. Air pollution costs the United States $45 million a year. Urban trees remove the equivalent of the carbon dioxide emissions of nearly 140,000 cars. Shading and evapotranspiration from trees can reduce peak summer temperatures 2 to 9 degrees. Trees improve urban rainwater runoff conditions beyond typical green infrastructure by intercepting precipitation, removing water from the soil and enhancing infiltration.
◗ Human health and happiness. Adults who regularly inhabit an environment with 30% tree cover or more are more than 30% less likely to experience psychological distress or poor health in general. Moreover, the overall sensory experience of the urban forest has been shown to reduce blood pressure, improve mental acuity, boost memory recall, and reduce feelings of anxiety.
◗ Safety and security. Tree canopy has a significant effect on traffic calming, creating a visual perception of narrower travel corridors, reducing stress and, therefore, aggressive driving, all while encouraging more people to walk to their destinations.
A 10% increase in tree canopy has been shown to be associated with reduction in crimes by as much as 15%.
◗ Equity. Low-income neighborhoods have been found to have less tree cover than average, exposing already vulnerable populations to extreme heat, air pollution and other stressors while not giving back benefits such as reduced crime, higher social capital and increased property value.
Research led by David Nowack of the U.S. Forest Service and Scott Maco of Davey Institute suggests that every square mile of tree cover provides $2.5 million of value back to the community in "ecological services." That is after accounting for costs (like maintenance) and includes only services that can be readily measured like air pollution reduction, water runoff reduction, CO2 sequestering, reduced building energy or improved economics.
It is telling that, in 2020, in a city that was founded on forest land and aspires to be a leader in sustainability, some places in downtown Indianapolis are not just devoid of street trees but are prohibited from having them. It is far past the time for us as a city to take on our diminishing urban tree cover; really, we can't afford not to. Every day that passes is value lost.
As individuals, we can plant trees or support an organization like Keep Indianapolis Beautiful, which has been planting trees and working to improve our environment since it was founded 40 years ago.
Imagine the things we can do together as a community. We can stand up for our park system, ensuring the restoration of our urban forest through the care of our old-growth trees and river corridors. We can line with trees thousands of miles of streets that reach into every neighborhood. Here's to 10 trees for every block and a more vital city for everyone.
Want to know more about the benefits of trees? Check out the research clearinghouse Vibrant Cities Lab (www.vibrantcitieslab.com).•
__________
Gallagher is a principal and urban designer with Ratio and a professor-in-practice of urban design at Ball State University. Send correspondence to TGallagher@ratiodesign.com.
Please enable JavaScript to view this content.