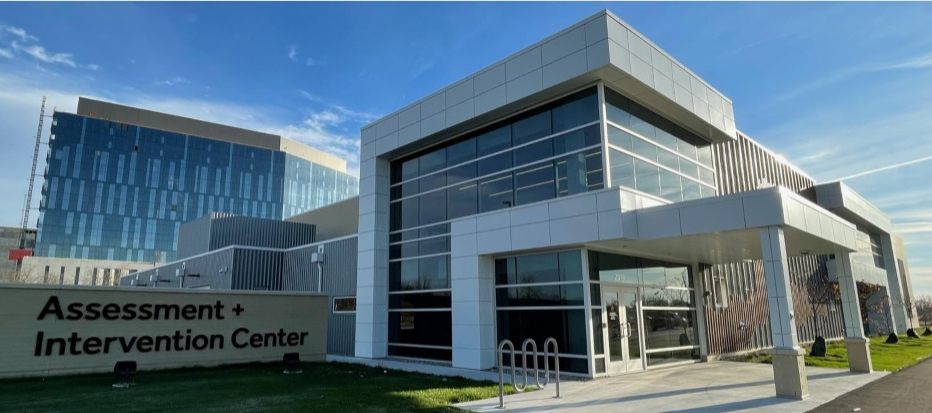 The Marion County Prosecutor's Office hasn't decided whether it will move to the city's new Community Justice Campus or remain in its downtown Indianapolis location for years to come.
Prosecutor Ryan Mears said his team is still trying to determine whether moving to the campus under development at the former Citizens Energy coke plant site in the Twin Aire neighborhood—located about three miles southeast of downtown—is preferable to staying in Two Market Square Center, an office building at 251 E. Ohio St.
The decision has greater implications than simply where the Prosecutor's Office is located. It will likely determine whether a planned second office building—which was expected to house private offices as well—will be constructed at the justice campus at all.
Mears said the hesitancy about moving arises from concerns about how much it would increase the office's operating costs, particularly since his office already signed a much less expensive 16-year lease extension in 2017.
"This has been a financially driven conversation, in terms of what's ultimately going to be the cost" of going there "and what are going to be the costs associated with moving," Mears said.
He said talks have been ongoing for nearly two years with the city and Browning Investments, which would develop and own the building alongside partner Davis & Associates, but have been stalled for several months due to municipal budget season.
"We're working towards trying to come up with an agreement that, that makes sense for both parties," Mears said. "We'd love to be a part of … the complex that's going to be out there, and we're trying to continue to work towards that end."
Mears added, however, that he doesn't think "it's definitive one way or the other" as to whether the prosecutor's office moves. He said there's been no consideration of any other option, such as going to a property adjacent to the campus or elsewhere in the downtown core.
"Certainly, we are still willing to engage in the process of having conversations and seeing if there's a deal that can be made and we can get [something] done," Mears said of talks about moving to the CJC.
The 415-person agency, which includes about 150 attorneys, occupies about 85,369 square feet at its current building, paying about $17.50 per square foot, including utilities and janitorial services.
A move to the justice campus would begin at no less than $18 per square foot for about 82,000 square feet across at least three floors, according to a copy of a proposed lease obtained by IBJ through a public records request. The cost would be more than $26 per square foot by the final year of the proposed 20-year lease. 
Multiple real estate sources said a move to the CJC would cost the Prosecutor's Office an additional $7 to $8 per foot per year after factoring in development costs, utilities and other expenses.
Brokers with the Indianapolis office of commercial real estate firm Avison Young, which represents the prosecutor's office, last year raised concerns about the lease in a memo to Aequitas LLC, the holding company for Browning and Davis on the justice campus project.
The memo, also obtained by IBJ, questioned the form of the lease, as well as its contents and considerations. Many of the items included in the document were different than what had been anticipated—or altogether missing, the firm said. Key points of contention included the absence of a buildout schedule, confusion over an allowance for tenant improvements, responsibility for repairs, the lack of extension options at the end of the lease, and missing language about a planned parking garage.
Mears cited parking as a concern for his staff, since his office pays for parking for all employees as part of the current lease. The proposed lease only sets aside 25 guaranteed parking spaces for the Prosecutor's Office.
An earlier agreement between the city and Aequitas called for a nearly 1,000-space parking garage, with several dozen spaces expected to be allotted to the agency. That project has since been put out to bid.
In addition to brokering a deal for a new space, it's likely the prosecutor will also have to negotiate an exit from its current lease. Mears said there's a mechanism in the existing lease for an exit and it has been actively discussed.
The lease, signed by then-Prosecutor Terry Curry, was transferred to new ownership when the building was bought in 2019 as part of a deal that also included the Gold Building. Indianapolis firms Gershman Properties and Citimark plan to spend at least $55 million to renovate the properties from Class B to Class A office space over the next 10 years, a designation for top-quality office space that enables a landlord to charge higher rents.
Sources said the building owners and the Prosecutor's Office were negotiating a termination of the lease prior to the pandemic, but those talks were put on hold and have not yet been revisited.
A move to the CJC by the Prosecutor's Office is integral to Aequitas LLC's plans to build a second professional building on the northern part of the site along Southeastern Avenue, said Sarah Riordan, who is Mayor Joe Hogsett's designee for project management of the campus.
The first professional building—a five-story, 135,000-square-foot, Class A office structure—is already in the works and is expected to house the Marion County Public Defender Agency and Marion County Superior Court Probation Department, along with first-floor retail and dining. That building is expected to completed by the end of 2022, with the Public Defender's Office moving there in spring 2023.
"The first building is going up now, and if we can reach an agreement on the second building, then that will go up," Riordan said. "Obviously that will be further into the future, but I don't think that Browning is going to build a building that doesn't have a government tenant in it."
Kim Reeves, vice president of development services for Browning, told IBJ that any plans for the second professional building are "in the hands of the city" and contingent upon finalizing contracts with the Prosecutor's Office as its anchor tenant.
"The trigger for building No. 2 is based on the prosecutor," she said. "We'll work with the city to see how large the second building needs to be" if it moves forward.
She said the building would likely have three to five stories with per-floor square footage that is similar to the first building. It would also include some first-floor commercial uses.
For both professional buildings, the Marion County Building Authority is expected to hold master leases and sublease space to each user, including—potentially—private firms in the second building.
Riordan said that the city is optimistic it can reach a deal with the prosecutor, but there's no firm timeline for when that might occur. She added that Ken Clark, the city's controller, will likely be involved in those talks.
"The original vision of the Community Justice Campus was that all of the agencies and user groups and participants in our local justice system would be in a centralized place—that's important," she said.
Mears said the Prosecutor's Office will still play a key role in CJC operations whether it moves or not.
"We're going to be an integral part of anything that goes on out of that campus, and we're going to have a significant presence out there, because every criminal case is initiated by the Prosecutor's Office," he said
Mears said changes to the workplace during the pandemic—including more virtual meetings—could set the tone for how the agency operates in the future.
"The last 18 months has certainly taught us that there can be flexibility in our approach, and that we can continue to serve the people of Marion County, even if we are located at our current space," he said.
Robert Hill, the county's chief public defender, said his agency—which is now based in the Gold Building—is relocating because of the expected advantages that would come with having his team located next door to the county courts. But he said he couldn't foresee any major adverse effects on the public defender's operations if the Prosecutor's Office remains downtown.
Hill said his attorneys and staff would still be able to communicate with their counterparts in the Prosecutor's Office through phone calls and emails, although they'd likely have limited opportunities to converse after court or through impromptu meetings over coffee.
"It would be nicer if they were out there because I think it makes it easier to have informal discussions," he said.
The Public Defender Agency has roughly 280 employees and the new space will be able to house more than 300, including those who currently work from the juvenile facility at 28th Street and Keystone Avenue, if and when the juvenile facility moves to the CJC.
The Prosecutor's Office didn't share what would happen with the staff of the juvenile facility because to its knowledge "there are no plans to move/close the juvenile facility at this time."
Such a facility could be built as part of a later phase of the campus, along with Animal Care Services and a Coroner's Office and crime lab.
Hill said the rent for the new Public Defender's Office will  be higher than the agency is currently paying but "not as much as feared." He did not have specific figures available. He added he had numerous meetings with the Mayor's Office, but the decision to move was ultimately made by the agency itself.
Another advantage to moving, Hill pointed out, would be not having to drive from downtown to the CJC. 
Hill said he has never made the commute in less than 15 minutes and has heard others say their drive was much longer The drive time does not include the time the attorneys would need to walk from their office in the Gold Building to the parking garages to get their cars.
In addition, Hill noted the commute will become more crowded as the new justice center opens. Judges, court staff, Sheriff Department personnel and others will all be funneling onto the roads surrounding the campus.
"Maybe keep the focus on what I think is the advantages to being on campus are: proximity, convenience, efficiency," Hill said. "Those things are paramount. Having everybody under one roof, these things are extremely important. Why have an agency if you're going to be split up, why have an agency if people are going to be spending quite a bit of time in their cars as opposed to spending time with each other."
Bob Hammerle, an of-counsel attorney at Hackman Hulett LLP who handles criminal defense and other matters, said is opposed to the campus' location given its distance from downtown, the cohesiveness of the existing facilities, and extensive environmental concerns.
But he added, if the city is moving ahead with the project, it would generally make sense for the prosecutor to locate there.
"I don't think the Prosecutor's Office moving down there hurts," he said, adding that if the office doesn't, deputy prosecutors will have to constantly be driving between their office and the campus. "I think that's the biggest consideration that Mr. Mears has to decide on."
Please enable JavaScript to view this content.