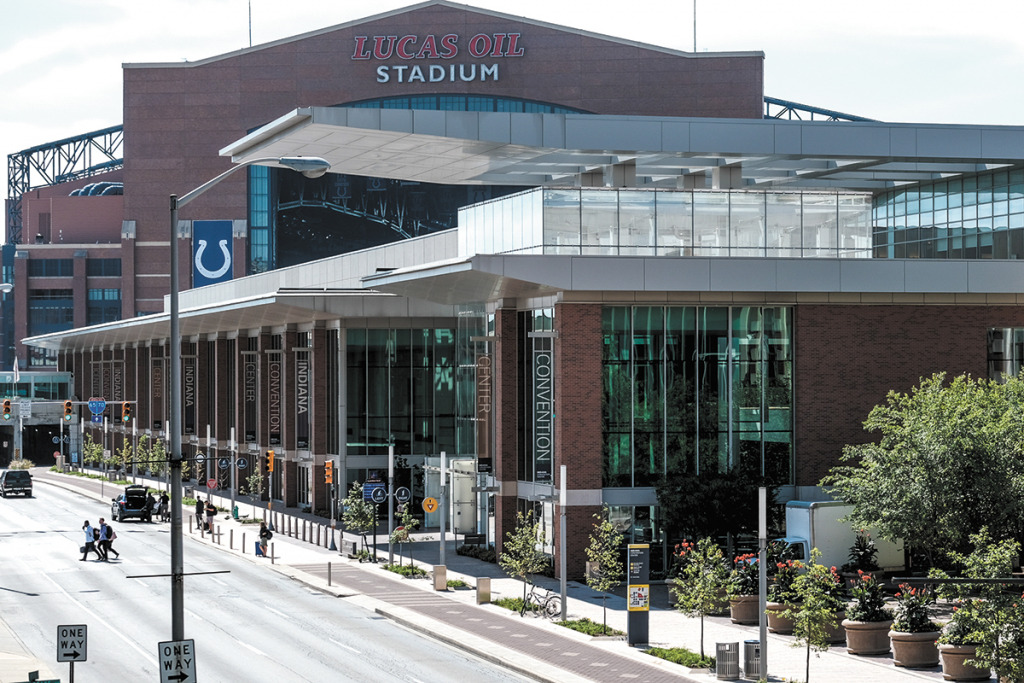 The owner of the Indiana Convention Center and Indianapolis sports facilities is bracing for a challenging 2021, as tourism struggles to mount a recovery from six months—so far—of the pandemic's grip.
The budget for the Capital Improvement Board of Marion County, approved in September by the City-County Council, calls for $132.3 million in spending next year, including more than $30 million in debt payments. A $41.6 million deficit is projected.
The CIB expects to draw only about two-thirds of its revenue from operational fees and various tourism-related tax streams. It will pay the rest of its bills by dipping into its reserve, which totaled $145 million on June 30.
This will be the second straight year the CIB has had to use reserve funds to make ends meet. The move to make ends meet for this year alone is expected to reduce the fund to $111 million by Dec. 31.
Even with the reserve money, the budget forces the CIB to make tough decisions and big cuts.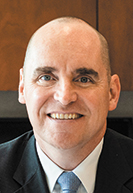 "The budget is a plan," CIB Executive Director Andy Mallon told IBJ. "It's not a prediction or a forecast. This is what we're planning on, and our activities and our maneuvers are all based [on] that."
On Oct. 2, IBJ reported the CIB furloughed eight employees—the first job cuts for the operator in more than a decade—and established a policy that will lower pay for workers, including executives, well into next year.
In a statement at the time, Mallon said the move was intended to balance the organization's needs with those of its employees.
"Unfortunately, based on the projections for the next few months, we now have to make some hard decisions about our staffing," he said.
The pay cuts will reduce expenses 32%, or $5 million. Other sweeping cuts include operating costs like travel, advertising, postage and computer maintenance, 39%, or $1.5 million; and repair and maintenance work, 31%, or $2.2 million.
The CIB is also reducing its contributions to Visit Indy—which acts as the main tourism-attraction arm for the city—20%, or $2.7 million, along with a $1 million cut to funding for other partner organizations.
Some capital projects will be deferred to future years, but those still on track will include long-overdue improvements to convention center carpeting and Wi-Fi, upgrades to lighting at Lucas Oil Stadium, and repairs at Victory Field and the Virginia Avenue Garage across from Bankers Life Fieldhouse. Some of that work was expected to occur this year, but was later deferred.
The CIB hasn't had a deficit greater than $5 million since 2010, when it was short $17 million. It's had smaller deficits twice since then, first in 2017 ($4.94 million) and again in 2019 ($390,000). In fact, the CIB has been rather frugal in the last 10 years, cutting expenses an average of 13.2% each year. Over the past decade, the CIB's surplus has totaled $68.3 million.
A silver lining for the CIB is that it is not expected to take on new debt in 2021 and, in fact, plans to reduce its bond commitments to near pre-2020 levels (it had more than $7 million in bond payments due this year, compared to just over $2.5 million in 2018 and 2019). New bonds for the planned convention center expansion will not dampen the organization's long-term financial health, as they will be paid off through a separate, self-funded mechanism.
Mallon said debt service for outstanding CIB debt, like that associated with Bankers Life Fieldhouse, Lucas Oil Stadium and the previous convention center expansion, won't be affected by the strains on next year's budget.
But it's too soon to know what long-term impact—if any—the pandemic will have the CIB's ability to pay its bills.

A waiting game
Despite the expected 2021 deficit, Mallon said he's "very confident" the board will recover from not only the pandemic but also the spending cuts and financial hits over the next 18 months.
"We're in a really good spot," he said. "I am confident because we are already beginning our recovery in the middle of this pandemic. We've had almost 50,000 people [since July] visiting the convention center, visiting the city."
Very few U.S. convention centers have been open at all since March, but the Indianapolis Convention Center has hosted several small to mid-sized events, including youth-sports tournaments.
Rejuvenating Indianapolis' tourism industry, however, will depend on visitors' coming back in droves for conventions and as fans of sporting events—not just as participants. That's something experts and industry insiders aren't sure will happen anytime soon.
Mallon, for his part, said he's optimistic next year will bring extensive tourism business.
The number of people willing to travel continues to rise, he said, so hotel and restaurant tax revenue will climb also—especially if a vaccine or proven treatment for COVID-19 comes to market.
But most weekends on the convention center calendar through next March still sit empty. Nearly a dozen events have canceled or postponed their first-quarter 2021 reservations, waiting to see if gathering in large groups will be safe. That's on top of a few hundred that canceled in 2020, causing the city to miss out on more than $500 million in economic impact.
Heywood Sanders, a convention center expert and a professor at the University of Texas at San Antonio who has studied the CIB's operations for decades, isn't so sure people's trepidation will go away soon.
"[There] are folks who haven't canceled; they just keep pushing things back," Sanders said. "But even if those events happen at their rescheduled time, the probability is that they will see dramatically fewer attendees."
Any continued reluctance about large gatherings, coupled with the recession, might create a seismic shift in the convention landscape, he said—away from large groups toward more virtual activity.
"Let's see how good a job [the CIB does] guessing. It's useful to see month-by-month or certainly quarter-by-quarter, how good a job they're doing at guessing" their income and expenses, said Sanders, a longtime critic of the CIB. "I have a serious concern that the impacts will be far longer-term and persistent … on hotel demand and [revenue] related to car rental and restaurant demand."
Chris Gahl, vice president of Visit Indy, has told IBJ the group is booking conventions as far out as 2030, and that 2021 is expected to be a "strong year" for central Indiana tourism.
While those projections were set well before the pandemic, most plans, particularly later in the year, are still intact. Several major sporting events—like the NCAA Final Four and the NBA All-Star Game—are on the docket, although no one knows yet whether fans will be permitted.
Everyone's headache
All that uncertainty is causing problems not just for Indianapolis but for many cities that depend on tourism, sports and convention business.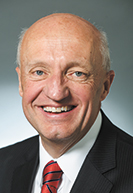 Charles Starks, CEO of Music City Center in Nashville, Tennessee, said dozens of events have canceled at his venue through the end of this year, but the city remains bullish on the industry's long-term health.
"Our advance bookings out into the future have never been stronger—it's an amazing amount of business we're closing for out-years now," he said. "I certainly wouldn't surmise what specifically is going on with business in Indianapolis, but I think we're going to see similar results across the country in some of these major tourism cities when things finally get reopened."
Like Indianapolis, Nashville's convention center is projecting losses for its 2021 fiscal year, which began in July.
"We certainly are not forecasting profit for this year—actually, quite the opposite; we have a pretty significant operating loss," Starks said. "We've turned a profit every year we've been open [since 2013], but we won't have one this year."
Maria Mercurio, chief financial officer for the Franklin County Convention Facilities Authority, which owns the Greater Columbus Convention Center in Ohio, said the facility is riding out the storm much the same as other venues. There, leaders don't anticipate a full recovery before 2024.
The facility is expecting a $5 million deficit at the end of 2020 but is projected to break even in 2021, running at a far-reduced level of operation.
The projection assumes the venue will continue to have the limited, small-crowd events it's hosting now through the middle of next year, before gradual improvement in the third quarter. Mercurio said the convention center has the financial wherewithal to sustain its operations at current levels for at least five years.
She said Indianapolis' efforts to host events during the pandemic and begin its own recovery quickly aren't unusual. Columbus has also hosted several small events, she said, including banquets, traffic court for the Franklin County Municipal Courts system and The Basketball Tournament, a professional sports "bubble" that became the first widely followed U.S. sporting event during the pandemic.
"As convention centers manage through this pandemic, all will be looking for creative ways to utilize the facility," she said. It's "good news that events are happening."
Orlando, Florida, is also making strides in bringing back major events. The Orange County Convention Center had 61 events worth $1.37 billion in economic impact cancel because of the pandemic, but managed to reschedule another 36 worth $366 million.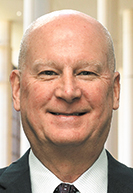 Mark Tester, executive director of the Orlando convention center, said in written remarks that there's "pent-up demand and the need for face-to-face meetings" everywhere.
"I am laser-focused on the economic recovery of the convention center and keeping our morale up," he said. "Many employees have been asked to step out of their comfort zones and take on responsibilities outside of their job descriptions, all while managing the unknowns of this global pandemic. Our strategy is putting our people first, so they, in turn, put our clients and guests first."
To Sanders, the longevity of the Indiana Convention Center and the CIB will depend on how long the board can keep reserves intact—particularly if the pandemic lasts longer than city officials anticipate.
He said the CIB should maintain its long-standing approach of conservative spending—tucking away every free dollar it can—something Mallon told IBJ he expects will continue.
"When we began this journey in mid-March, I think most folks assumed that this would be a relatively temporary situation that might last three or four weeks," Sanders said. "The reality we face is, it's not a three- or four-week situation. It is not even a three- or four-month situation. We're past that now."•
Please enable JavaScript to view this content.