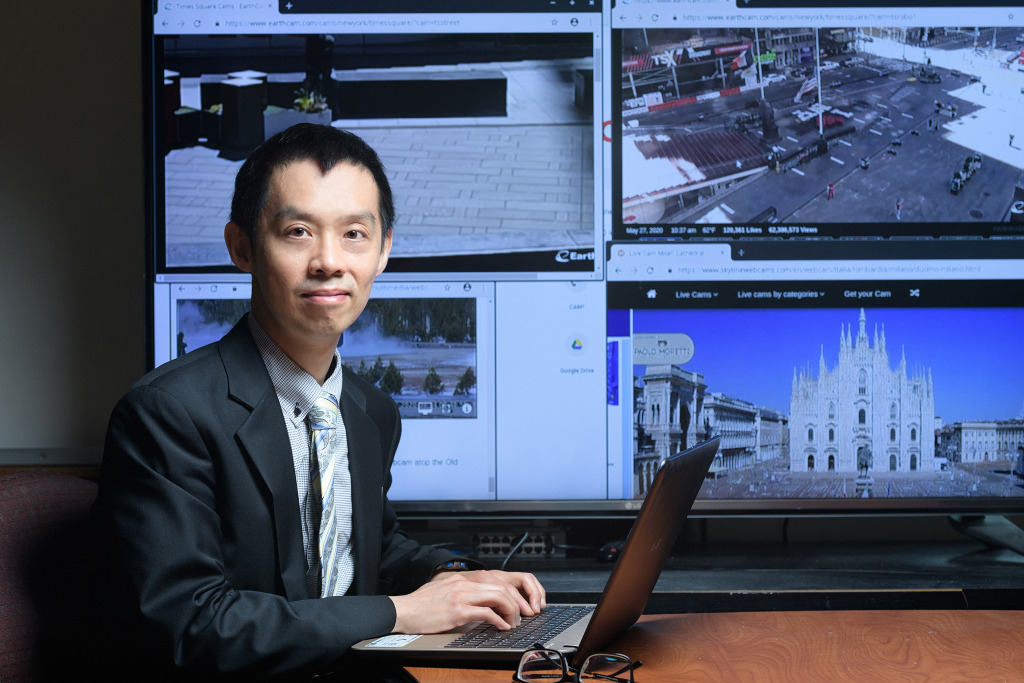 We all know that as the COVID-19 pandemic swept across the world, public places once crowded with people emptied out—whether from fear or government mandate.
But how empty these places actually became and how many people have returned is tough to measure. And that data could be increasingly important as scientists determine how best to battle future pandemics and government leaders consider future policies.
Enter Purdue University professor Yung-Hsiang Lu and a team that includes students and other researchers at Purdue as well as the University of Illinois, Loyola University and Cairo University in Egypt. They have developed technology to harness the power of thousands of public video streams around the world, with the goal of using artificial intelligence to measure the crowd size in those videos and calculate how it changed during the pandemic.
"How have people responded to policy changes? Were there sudden increases of crowds when the restrictions lifted, or were there gradual increases? Are there obvious patterns by countries or regions? These are the types of questions we hope to answer," Lu said in a statement about the project.
The system searches the web for cameras that have been posted online and then saves image data and downloads videos roughly every 10 minutes. The program sends the data to cloud data centers to be analyzed through artificial intelligence with a high level of accuracy, Lu said.

The U.S. Department of Energy's Argonne National Laboratory has provided computational power and storage for the project.
The project is part of a larger system that Lu's lab developed in 2016, called the Continuous Analysis of Many Cameras—known as CAM2. The system accesses and analyzes cameras across the world that are found in public parking garages, along highways, at tourist attractions, in parks, on college campuses and more.
Much of the cameras footage is already accessible to the public and posted online—in fact the team has discovered more than 30,000 cameras in more than 100 countries to analyze for the pandemic project.
The original goal was to make information available for public safety, such as during natural disasters, or for research purposes. The pandemic has provided another use for the data.
"COVID-19 is a great example of how network cameras can help," said Loyola University computer science professor George Thiruvathukal, in a video about the project. "People are staying at home during the pandemic, so we really can't send camera crews all over the place. We really need technologies that can see the world without needing to leave our homes. That's where network cameras come in."
The system does not identify the people in the video and images it captures and does not use facial recognition technology.
"Of course, we have to be very careful. Privacy is an important topic," Lu said. "We follow the guidelines set by Purdue University. We do not identify any individuals"
And he added, "anyone with access to the internet can have access to this data."
Please enable JavaScript to view this content.