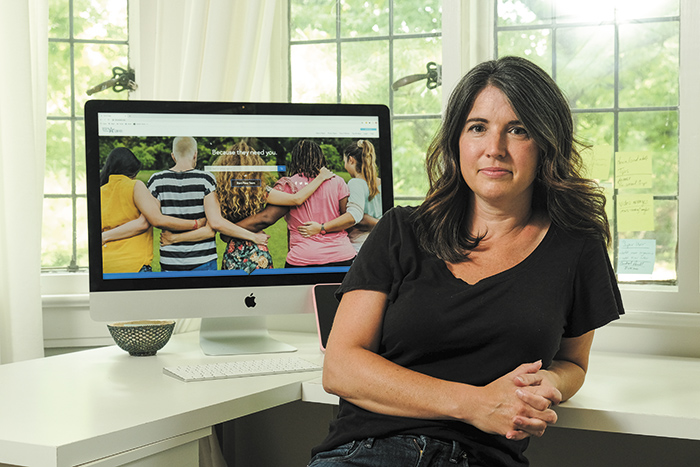 Eighteen months ago, Aimee Kandrac was close to folding the company she had worked a decade to grow.
She founded WhatFriendsDo in 2008 and, in 2015, became the first female CEO in Indiana to raise at least $500,000 in venture capital.
But by last year, Kandrac had burned though the money. And despite the countless hours she and her small staff put into the company, she just couldn't get revenue to grow. Not enough, anyway.
WhatFriendsDo is a platform designed to rally support around people who are sick or otherwise in need. It is not just a noble cause; it's a personal one. And it was difficult for Kandrac to let it die.
But a sequence of decisions—and a pandemic that has forced a separation that requires new ways to communicate—now has WhatFriendsDo on a path to expansion.
Kandrac, 41, and her mom, Fran, started WhatFriendsDo after her sister's close friend was diagnosed with brain cancer at age 25.
The company's online portal allows a patient to connect with family, friends and supporters in a unique way, because Kandrac worked tirelessly to add features that other connectivity platforms—such as Facebook—didn't have.
WhatFriendsDo lets users post real-time updates, photos and videos, and offers a way for the patient to request help. It features a calendar that specifies patient needs and provides a way for family, friends and other supporters to sign up to help—anything from preparing meals and cleaning the house to driving the patient to a doctor's appointment or walking the dog.
It also features a donation section and is integrated with Amazon Wish List, so supporters can buy items the person in need has requested—or even ones he or she hasn't. It even has a place to sell team gear to show support.
But WhatFriendsDo just wasn't catching fire.
In 2015, the company switched its primary focus from a business-to-consumer model to business-to-business, hoping to sell its service to hospitals and other organizations that serve people in need. But that wasn't enough.
"We had steady users and traffic coming to the site. We had users in all 50 states and all over the world, but we weren't growing at all," Kandrac said. "We were at a point we were trying to decide if it was worth going on."
A call for help
Then something—or, rather, several things—happened. Kandrac said no one key moment, but a number of seemingly small occurrences, changed her company's trajectory.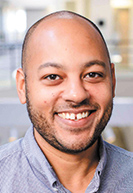 First, Kandrac called an old high school classmate, Ade Olonoh, a local serial entrepreneur who most notably founded Formstack, a successful Fishers-based tech firm that helps customers build online forms and automate workflow.
"Aimee and I went to lunch, and we had a long conversation," said Olonoh, who has a track record of growing startups and scaleups. "Aimee had been working on this project for many years and put a lot of blood, sweat and tears into it. She was at a point that a lot of entrepreneurs go through."
That point is when a founder feels burned out dealing with the day-to-day business operations while also trying to be the company's creative force and sales engine, Olonoh said.
"She was asking pointed questions of herself about what she wanted from the business and what she wanted to spend her time on," he said.
It would have been easy for Olonoh to agree it was time to fold the company. But something struck him.
"She had a passion for the business, and that was still burning brightly," he said.
So Olonoh pulled a name out of his super-size Rolodex. A name from both of their pasts.
He recommended she ring fellow North Central High School classmate Duane Hunt, who had worked with Olonoh at several tech firms and was former vice president and general manager at Formstack.
"Duane is great at business operations and has a lot of experience with fast-growing companies," Olonoh said. "He's been over customer support and success and sales. He's been in roles where he has created enterprise sales structures from scratch.
"Aimee is great at the heart of the business: speaking and community outreach. Duane is good at combing leads, finance and operations. I thought they could be the perfect match," he added.
Olonoh was right. Hunt started at WhatFriendsDo in January as chief operating officer, and the move has breathed new life into the firm. Kandrac said he's been critical in growing the company through new customers and expanding relationships with current customers.
In addition, the company added features to its platform—including one that proved to be key for dealing with COVID-19.
In January, WhatFriendsDo started planning to integrate live video. That feature launched in April and allows a person in a hospital or otherwise isolated to video-chat live with one or more supporters. It also allows the sick person or a supporter to post a video message.
Users say the platform is now a one-stop shop for communicating during illnesses or other crises—combining all the function of Facebook, a Go Fund Me page, Zoom and more. Kandrac said the key is that users can access WhatFriendsDo without getting mired down in all the other content on a social media platform such as Facebook.
"Duane has been an incredible help," Kandrac said. "He helped set us on the right course."
Pandemic push
Still, like a lot of companies, WhatFriendsDo didn't quite know what to expect when the coronavirus hit the United States in March.
It turned out to be a catalyst for growth—a big one—when medical patients of all types suddenly became isolated because hospital visitation was severely limited and many pregnant women, elderly and those with compromised health hunkered down at home.
The platform's new features—the integrated videoconferencing in particular—have been "really amazing for patients who are in the hospital for testing or treatment and are isolated," Kandrac said. "During COVID, it's been a game-changer."
Her first priority now, she said, is the users. And several users told IBJ Kandrac is often personally available to help with problems.
"For [the users of the platform], life hasn't stopped. Things are still happening in life and people still need support and to share information," Kandrac said. "It has forced people online and we have this great opportunity to support people in this online world, even from a distance.
"Feeling support from loved ones when you're alone in the hospital is really hard. We can help with that."
Caregivers, too, get a boost from the platform.
"Caregivers tend to be the benefactors more than the patient," Kandrac said. "The burden of life tends to fall on them. They still have to go to the grocery, take the trash out and keep the household running. And they have to deal with helping the patient get through this journey. If they know they have the support that's needed, they can spend more time helping the patient heal. This is something we've seen in quite a few scenarios."
Kandrac said the company's revenue curve has looked like an "inverted bell." WhatFriendsDo is experiencing double-digit percentage year-over-year growth, she said, and is projected to become profitable.
"Right now, we're in a better position than we've been in a really long time," Kandrac said. "I feel guilty saying it, but for us, COVID has not been bad. … I feel so fortunate. I see so many people that are hurting right now, that it's difficult in a way to enjoy this success," she added. "But we have to embrace this opportunity to get out and help people."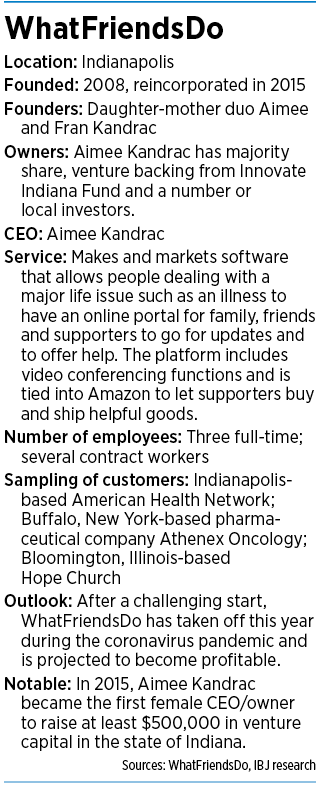 B-to-B focus
WhatFriendsDo still has a business-to-consumer component, in which people can go online and start a team in support of a person in need. The platform is free for users. The company makes money on commissions from Amazon and gift card purchases made through the platform, as well as on advertising revenue.
But by far the fastest-growing part of the company is the business-to-business segment, in which WhatFriendsDo runs a platform for an organization that is often labeled with the customer's branding.
The company runs white-labeled sites for customers such as Carmel-based physicians group American Health Network; Buffalo, New York-based pharmaceutical company Athenex Oncology; and Bloomington, Illinois-based Hope Church. WhatFriendsDo is working on deals with other—as yet undisclosed—corporate customers that will launch later this year, Kandrac said.
Those customers use the sites for a variety of reasons.
Hope Church, for instance, uses it to keep church members apprised of members who are expecting babies or who are sick or recently deceased.
"It's a great way to let members know how they can help and to keep them connected," Kandrac said. "And since church members' neighbors and co-workers can check in, it's a great outreach for the church."
Athenex Oncology was seeking a platform that addressed isolation for patients with metastatic breast cancer—an incurable, but treatable form of cancer that often affects the patient for years. Then the pandemic hit.
"We knew we wanted to introduce ourselves to the [MBC] community but didn't know where we could make a positive impact," said Kristen Schriver, Athenex's director of customer marketing. "We decided to create a campaign, Facing MBC Together."
At the heart of that campaign is the WhatFriendsDo platform personalized for the MBC cause.
"The platform fit so well with what we were trying to do. It was serendipity. It was meant to be," Schriver said.
The platform's features give users "power to ask for what they need," she added. "And it gives supporters the power to form a true team."
Stephanie Walker, a 61-year-old retired nurse from North Carolina, has been dealing with MBC since 2015 and started using the platform WhatFriendsDo developed for Athenex this summer. She said it's "been a lifeline."
Before using the platform, she had a Team Stephanie page on Facebook. But the WhatFriendsDo site made for Athenex "has many more useful features," she said. "It's made a huge difference for me and my team."
"This past week, I had a scare that possibly my cancer has progressed," Walker said. "With this [platform], I can let my team know exactly what is going on and what I might need without individual emails or text messages or people showing up on my doorstep. … It's all-encompassing. It's hard to put into words what it's meant to me and my supporters."
Business is so good for WhatFriendsDo, Kandrac said, that she's looking to hire additional sales and marketing employees.
The pharmaceutical and oncology sector is a focus for Kandrac and her small sales team, but she also sees expansion opportunity with not-for-profits.
Kandrac said corporate customers use the platform as not only a public service but also marketing. "It's a good way for these organizations to show they're caring and compassionate. And a great way to extend the brand."•
Please enable JavaScript to view this content.