The John H. Boner Community Center might appear closed to anyone who visits the not-for-profit on the near-east side.
But just because the building on East 10th Street near Rural Street is closed to walk-in traffic doesn't mean the organization isn't operating.
"There's the perception that we are closed and we're not providing services," CEO James Taylor said. "That's not true across the board for all the community centers. We're just doing it remotely."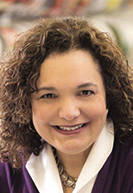 The Boner Center isn't alone. As the spread of COVID-19 has led to stay-at-home orders and limited face-to-face contact, social service not-for-profits are working to quickly adapt to a new way of serving the community.
A big challenge has been that some fundamental assistance to those in need—like providing food to low-income or aging individuals and families—doesn't easily transition to a work-from-home model.
"This is unlike any other disaster, recovery or relief scenario that most of us have prepared for," said Second Helpings CEO Jennifer Vigran.
And some organizations that heavily rely on volunteers to serve the community no longer have a large base of help available. Companies have temporarily suspended programs that provide volunteers; schools have closed until May 1 and are no longer providing young manpower; and retirees, who are in the age group particularly vulnerable to the disease, are staying home.
Some organizations have canceled or postponed programs, but more often than not, services have shifted to virtual platforms or adjusted to abide by social distancing rules.
"Where we used to bring people together to provide them with food or services, we're having to find other ways to reach them," United Way of Central Indiana CEO and President Ann Murtlow said.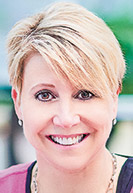 Local leaders of these social services agencies say the demand for their help hasn't wavered—in some cases, it's increased—so they are determined to find ways to stay "open."
"We will remain open, no matter what," Taylor said. "We will be your trusted partner in this journey."
The latest federal guidelines suggest gatherings should be limited to no more than 10 people, and Gov. Eric Holcomb has ordered Hoosiers to stay home until April 7, except for essential travel and activities.
Tackling the challenge
Second Helpings—which collects unused prepared and perishable food from restaurants, wholesalers and grocery stores—started planning weeks ago for how it would continue to prepare 4,000 meals a day despite the effects of the virus.
Vigran said the organization has several new measures in place to protect its volunteers and staff, including limiting volunteers to one day per week (and they cannot switch days) and having half the staff in the building on Mondays, Wednesdays and Fridays and the other half on Tuesdays, Thursdays and Saturdays.
The goal, she said, is to make the organization more resilient.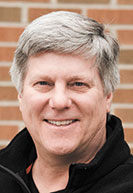 "Should we have an exposure in one of those days, it doesn't take the whole organization down," she said.
Meals have been changed to grab-and-go options in either individual or family-size servings, and drivers delivering or picking up food are limiting contact as much as possible.
For example, food donors are loading the truck alone, as opposed to the driver and the donor doing it together. And agencies expecting a drop-off from Second Helpings are leaving tables outside so the driver can drop the food off without having to interact with anyone.
Meals on Wheels, which delivers food to 1,000 homebound clients in central Indiana, has also been tackling food delivery challenges.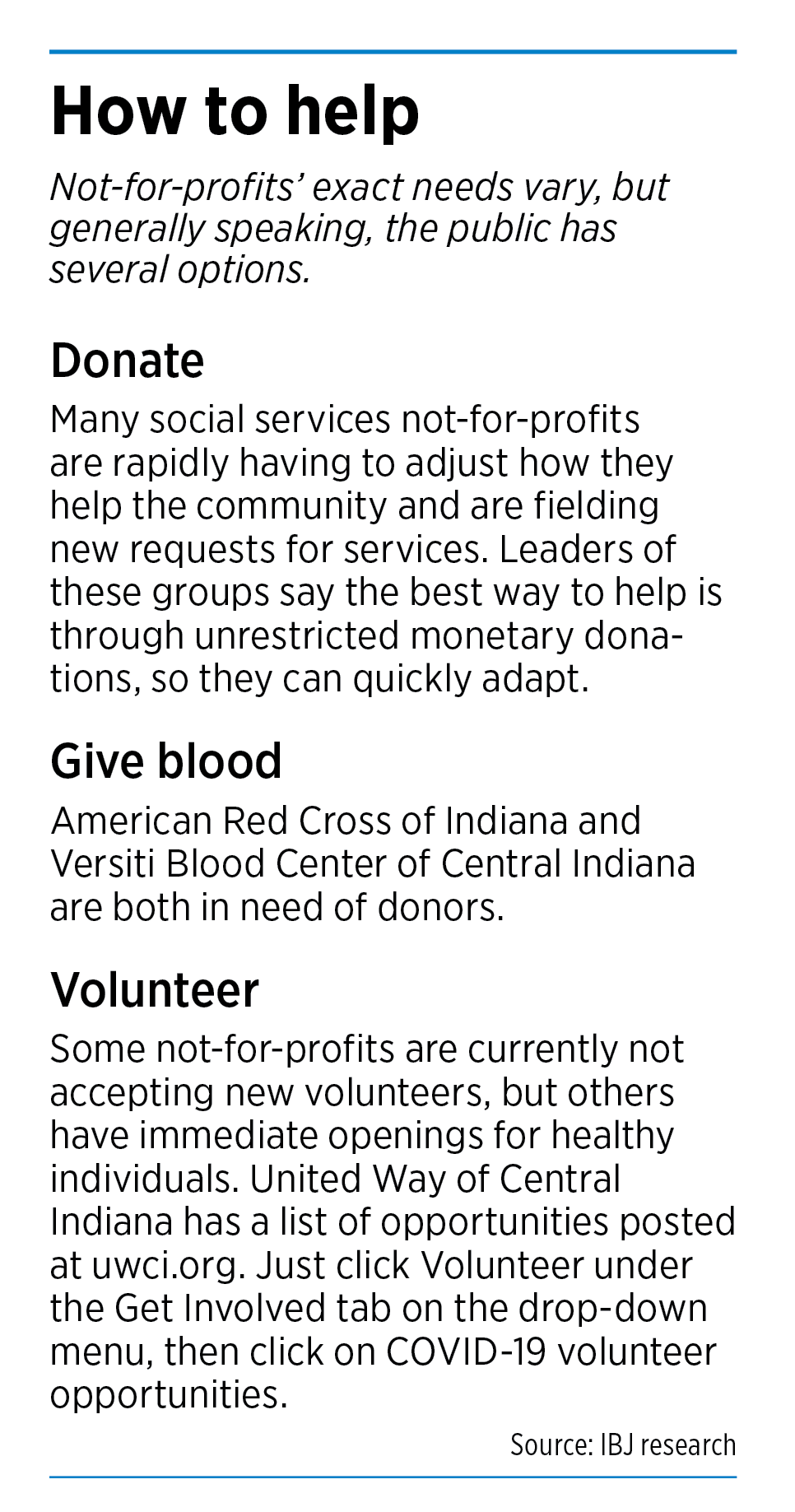 Brandi Sasore, spokeswoman for Meals on Wheels, said volunteers usually deliver meals daily. But the group has switched to weekly frozen meals and is shipping them when possible, rather than hand delivery. That's to keep volunteers and clients safe, because many are in high-risk categories.
However, some clients are unable to lift or carry the boxes of frozen meals, so some deliveries are still occurring.
Sasore said volunteers delivering those meals are using a new set of gloves at every home. They are limiting time inside clients' houses and have been advised to keep their distance from the clients.
"We're taking as many precautions as possible to limit the exposure," she said.
To complicate the situation even further, Meals on Wheels has seen a "sharp decline" in volunteers available due to business partners no longer sending employees to help and older volunteers staying home to limit their exposure.
Sasore said staff delivers meals when necessary to adjust to the drop in available volunteers.
"We've been able to get by," she said. "We've been able to still serve all of our clients."
Vigran, of Second Helpings, said she has told volunteers in high-risk categories to stay home. And so far, she hasn't accepted new volunteers—mostly to mitigate the risk for the existing group—but she is considering doing so because demand has increased.
One way the group is addressing the need is by opening a satellite kitchen. Through a partnership with Sahm's, Second Helpings is preparing meals in the restaurant group's cafeteria in the OneAmerica tower, in addition to its normal kitchen.
"We very quickly found the demand for our assistance in this new world that we're in outpaced our capacity," Vigran said.
Sahm's employees who otherwise wouldn't be able to work because the cafeteria is closed are cooking the food for Second Helpings.
Vigran said the partnership is funded through a grant from OneAmerica.
"This is a model we intend to scale up," she said. "This isn't our only satellite site. There will be others in central Indiana."
Virtual shift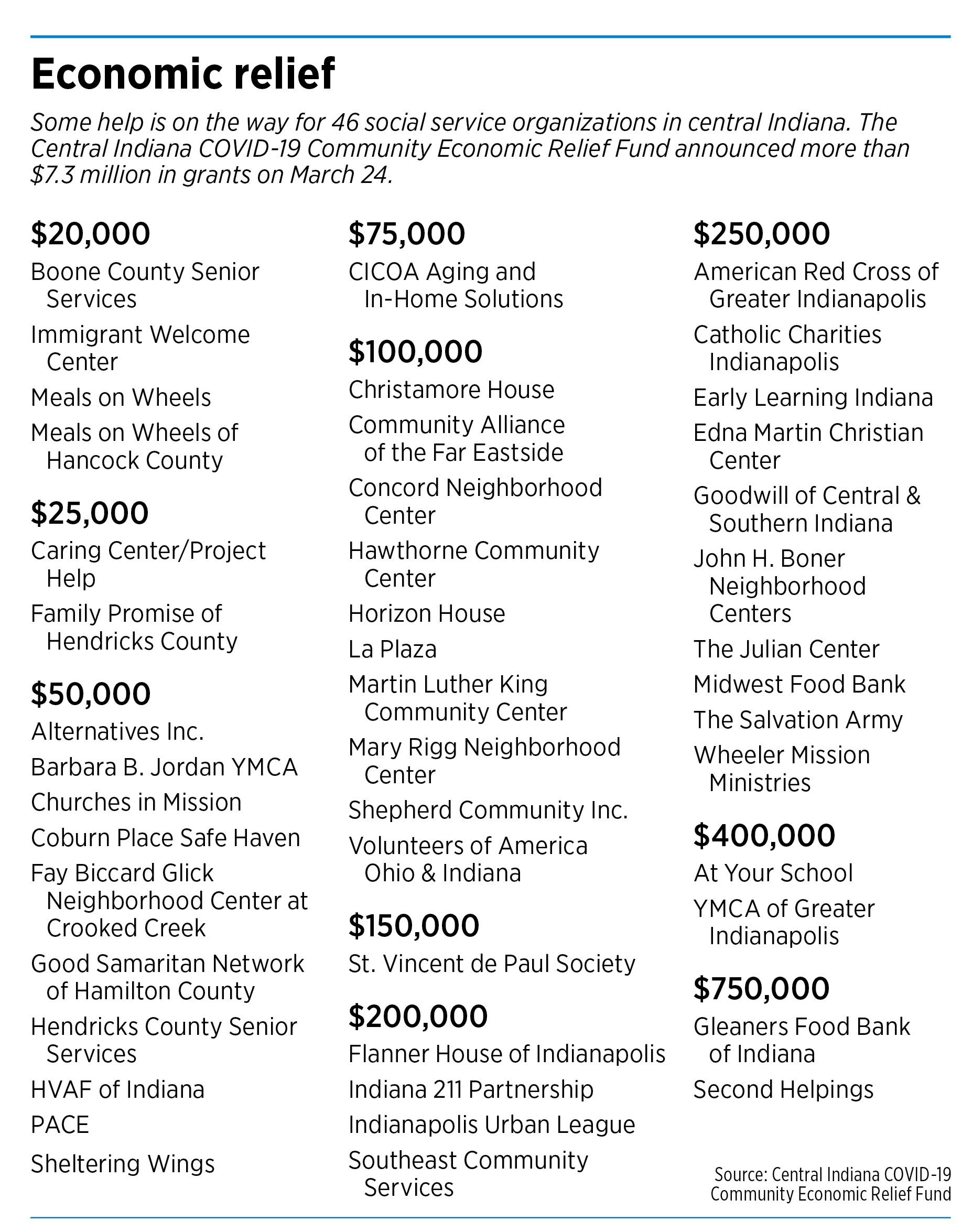 Outside of hunger relief, other social service programs have been easier to administer remotely.
Taylor said the Boner Center is still helping residents with energy and rental assistance, for example, just not in person. Clients who call the center are transferred to staff members working remotely who can help.
The center created a drop box where clients who need to provide documentation can safely leave the documents.
The Indiana division of the Salvation Army is also helping individuals as much as possible by phone and only allows documents to be dropped off by appointment.
"We are practicing social distancing while trying to meet those basic needs that people have," said Susan Solmon, social services director of the Indiana division of the Salvation Army.
Taylor said other programs the Boner Center used to offer, like senior bingo night, have stopped, but he is optimistic about creating more virtual opportunities soon. That could include a Facebook Live educational program for kids or a financial coaching session.
And to keep the community connected, the center is working to create a mass texting system so staff can easily share information with people.
Disaster-relief organization American Red Cross Indiana Region is no longer sending volunteers out to meet face-to-face with those in need. Instead, communication is happening through FaceTime and phone calls.
"Our ability to deliver services to those impacted by disaster has not changed," said spokeswoman Duchess Adjei.
But the Red Cross is struggling with a drop in the number of scheduled blood drives. Adjei said 190 blood drives have been canceled throughout the state as a result of the coronavirus, which means the organization collected 6,330 fewer blood donations.
"It's a huge problem," she said. "We still have to make sure we have a solid blood supply."
Long-term need
As these not-for-profits struggle to address the immediate, short-term needs in the populations they serve, leaders acknowledge a bigger problem on the horizon.
The economic collapse the coronavirus has caused—with restaurants, hotels, retailers and entertainment venues all temporarily shutting down—is expected to increase demand for the types of services these not-for-profits offer.
The worry is that, at a time demand is high, the funding sources will dry up.
"There's going to be a significant impact to the sector overall," Taylor said.
Murtlow said she's hoping the not-for-profit sector will benefit from some federal financial aid, but it's uncertain if or when that will come.
In the meantime, United Way has partnered with Lilly Endowment Inc., the Central Indiana Community Foundation (through the Glick Fund and the Indianapolis Foundation), Nina Mason Pulliam Charitable Trust, Richard M. Fairbanks Foundation, and Eli Lilly and Company Foundation to establish the Central Indiana COVID-19 Community Economic Relief Fund. The first round of grants, totaling more than $7.3 million, was announced Tuesday.
"Human services organizations are going to need to be around to meet the longer-term needs," Murtlow said. "I think the demand for services is really in large part yet to come."
Second Helpings is also preparing to face a resource shortage. Vigran said its supply of unused perishable food is already depleting because it typically receives so much from places like the Indiana Convention Center, hotels, schools and restaurants, which have either shut down or significantly cut back.
Contributions from grocery stores and other retailers have also decreased as shoppers have emptied shelves.
That means Second Helpings will have to buy food to supplement what it can still collect, which it rarely has to do now. The budget for purchasing food is typically only $10,000 for the entire year, Vigran said.
"We work almost entirely with donated food," she said. "This is just a time when there isn't much there for them to be able to offer."•
Please enable JavaScript to view this content.