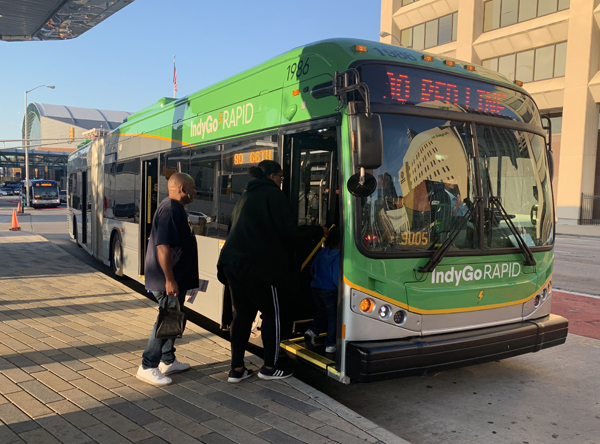 IndyGo is extending free service on the Red Line through the end of the month because of delays in installing a new agency-wide ticketing process. It's the second time the city's public transportation agency has extended toll-free service.
IndyGo now plans to start collecting Red Line fares on Dec. 1, not Nov. 11 as previously announced, the transit agency said Wednesday morning.
The 13.1-mile Red Line has been free since it went into service Sept. 1. Originally, IndyGo had planned to begin collecting fares Oct. 1, but it extended the free period until Nov. 11 because of delays caused by Paris-based technology firm Flowbird Group.
IndyGo decided to extend the free-fare period because the new ticket-vending machines still aren't ready for use, said IndyGo spokesman Bryan Luellen.
The agency contracted with Flowbird to modernize its fare system, including adding a mobile payment app, reloadable fare cards, ticket-vending machines, fare enforcement and citation management.
But that system isn't working yet, so as a temporary fix the ticket vending machines are being retrofitted with hardware and software that dispenses paper tickets, said IndyGo spokesman Bryan Luellen.
When the Red Line's free-fare period ends, all riders will use the paper tickets, Luellen said. He could not offer an estimate as to when Flowbird will have the originally planned system up and running.
The Red Line runs between College Avenue at 66th Street and the University of Indianapolis at Hannah Avenue.
IndyGo reported that riders boarded the Red Line 230,651 times in September, an average of 7,700 boardings daily. October ridership numbers haven't been released.
Please enable JavaScript to view this content.