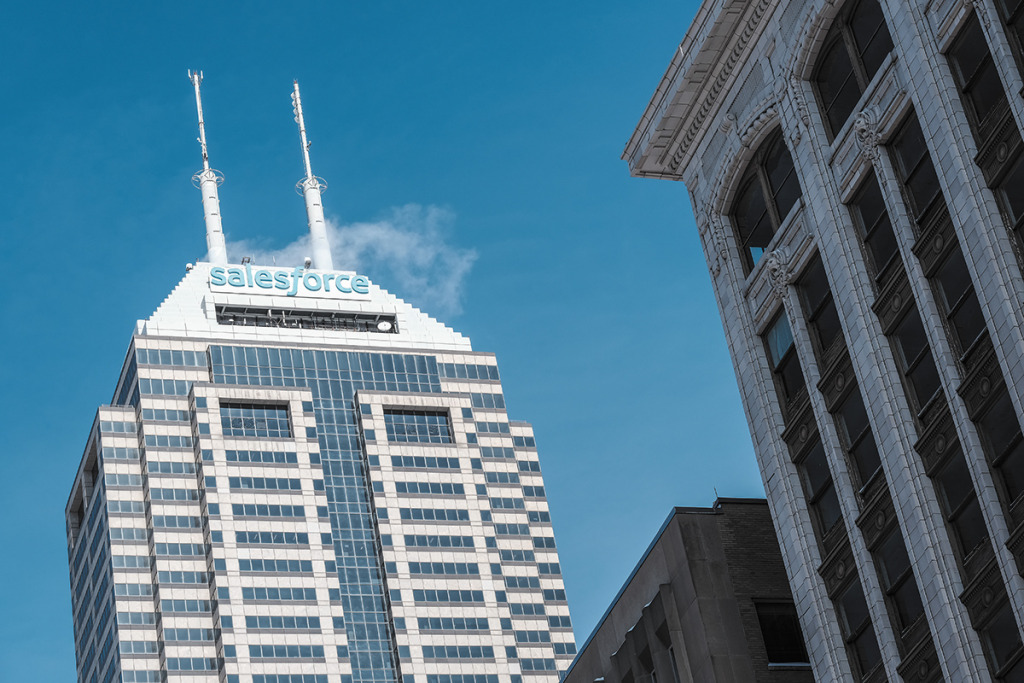 Global cloud-computing powerhouse Salesforce Inc. was mum on Wednesday morning about the effect on its Indianapolis operations of a major restructuring plan that will eliminate about 10% of its workforce companywide and shrink its real estate footprint.
San Francisco-based Salesforce is the signature tenant in downtown Indianapolis' 48-story Salesforce Tower, where it leases a significant chunk of space over multiple floors. The company employs nearly 80,000 people worldwide—about 2,300 of which work in Indianapolis.
On Wednesday morning, Salesforce filed paperwork with the U.S. Securities and Exchange Commission outlining the plan to lay off about 10% of its workforce and scale back on its office space to reduce costs. It was short on details about how specific divisions and bases of operation would be affected.
CEO Marc Benioff also sent a letter to employees briefly explaining the cuts.
"As our revenue accelerated through the pandemic, we hired too many people leading into this economic downturn we're now facing, and I take responsibility for that," Benioff wrote.
Asked for more detail by IBJ about Indianapolis operations, Salesforce officials referred reporters back to the SEC filing.
Salesforce leases about 250,000 square feet of space over 13 floors in the 1.1 million-square-foot Salesforce Tower downtown. It formerly occupied space in the five-story OneAmerica Gibson Building at 433 N. Capitol Ave. but has since vacated the building and subleased much of the space to other users.
Salesforce entered the Indianapolis market in 2013 by acquiring locally based cloud marketing firm ExactTarget for $2.5 billion. In 2016, it announced a plan to relocate much of its local operations into what was then called the Chase Tower at at 111 Monument Circle. It secured naming rights for the building, which added Salesforce signage in 2017.
The tower is owned by Oklahoma City-based Square Deal Investment Management, which bought it for $192.5 million in early 2021.
The software maker, whose tools for sales and customer service have made it one of the most high-profile cloud computing companies, is the latest in a growing list of big tech companies that have slashed their workforces in the past several months as huge sales booms experienced during the pandemic waned and a possible recession looms.
The company's headquarters are in the tallest building in San Francisco, also called Salesforce Tower. It did not specify whether the tower would be affected by the reduction plans, and representatives declined to provide further details beyond what was mentioned in the filing and Benioff's email.
In addition to Indianapolis and San Francisco, Salesforce leases office space in various locations throughout the United States, as well as office space in a number of countries in Europe, North America, Asia, South America, Africa and Australia.
Salesforce said some employees who were being laid off would get an email Wednesday morning and would hear from company leadership. Employees in the United States would get nearly five months of severance pay and benefits, Benioff wrote in his email.
The company anticipates $1.4 billion to $2.1 billion in charges related to its plan. That includes $1 billion to $1.4 billion in charges tied to employee transition, severance payments, employee benefits, and stock-based compensation. There will be $450 million to $650 million in charges for office closings. Approximately $800 million to $1 billion in charges are expected to occur in its fiscal fourth quarter.
Employee restructuring efforts are expected to be mostly complete by the end of Salesforce's fiscal 2024. Actions related to its office closings are anticipated to be fully complete in fiscal 2026.
Tech companies hired aggressively during the pandemic to keep up with soaring demand, but Salesforce had been growing rapidly since at least 2018. Its workforce more than doubled between then and 2021.
Salesforce is not alone in its plans significantly cut staff. Facebook parent Meta announced it would lay off 11,000 people last fall, and Amazon is in the process of cutting about 10,000 people. Other big tech companies have instituted hiring freezes—all a dramatic turnabout from the past decade of explosive growth.
Shares in publicly traded Salesforce were up 3.49% to $139.48 in early afternoon trading Wednesday.
"This is a smart poker move by Benioff to preserve margins in an uncertain backdrop as the company clearly overbuilt out its organization over the past few years along with the rest of the tech sector with a slowdown now on the horizon," Wedbush analyst Dan Ives wrote in a client note.
Please enable JavaScript to view this content.