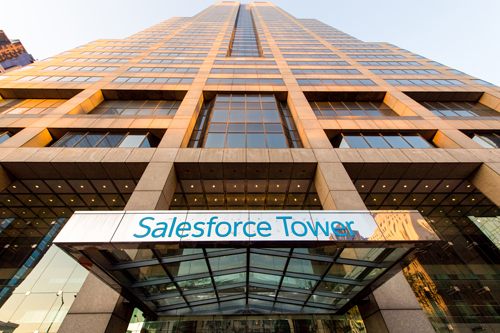 An Oklahoma City-based real estate investor has acquired the 48-story Salesforce Tower—the tallest building in downtown Indianapolis and the state of Indiana—for $192.5 million, the firm announced Friday.
It's the second major purchase downtown for Square Deal Investment Management, which bought the 32-story Market Tower building in 2017. It acquired the 30-year-old Salesforce Tower from California-based Hertz Investment Group in a deal that closed at the beginning of the year.
The 1.1 million-square-foot Salesforce Tower at 111 Monument Circle is arguably the most prestigious office address in the city and commands rents at the top of scale for local Class A office buildings, at $28.50 to $30 per square foot, according to IBJ research.
As of late September, it was 82% occupied and featured solid tenants such as Salesforce, Chase Bank and the law firm Bose McKinney & Evans.
"Expanding our footprint in Indianapolis has been our firm's priority for several years, so we are thrilled and honored to acquire the city's trophy asset and are fortunate to have this rare opportunity," said Andy Ridley, Square Deal's director of asset management for commercial real estate, in a media release.
However, the pandemic has exacerbated already-pressing questions about the future of traditional office space. Many tenants are reevaluating the need for the expense after 10 months of coordinating work from home-bound employees.
"While we recognize that the pandemic has created an evolving office market, we have a long-term outlook that the highest quality assets will maintain relevancy in the market," said Mark Beffort, COO of Square Deal. "We look forward to elevating the Salesforce Tower and the tenant experience that has represented decades of hard work in Indiana for decades to come."
Hertz bought the Salesforce Tower for $162 million in 2016 as part of a four-building, $416.9 million acquisition from Chicago-based Equity Commonwealth. Equity Commonwealth paid $201 million for the tower in 2012.
The edifice debuted in 1990 as the Bank One Tower. The moniker changed to Chase Tower in 2004 after J.P. Morgan Chase & Co. bought Bank One Corp. The building was rebranded in 2017 when San Francisco-based tech giant Salesforce consolidated its local offices from several locations across downtown and moved in as a major tenant.
There are no plans under the new ownership to change the name of the building, a representative of Square Deal told IBJ.
Please enable JavaScript to view this content.