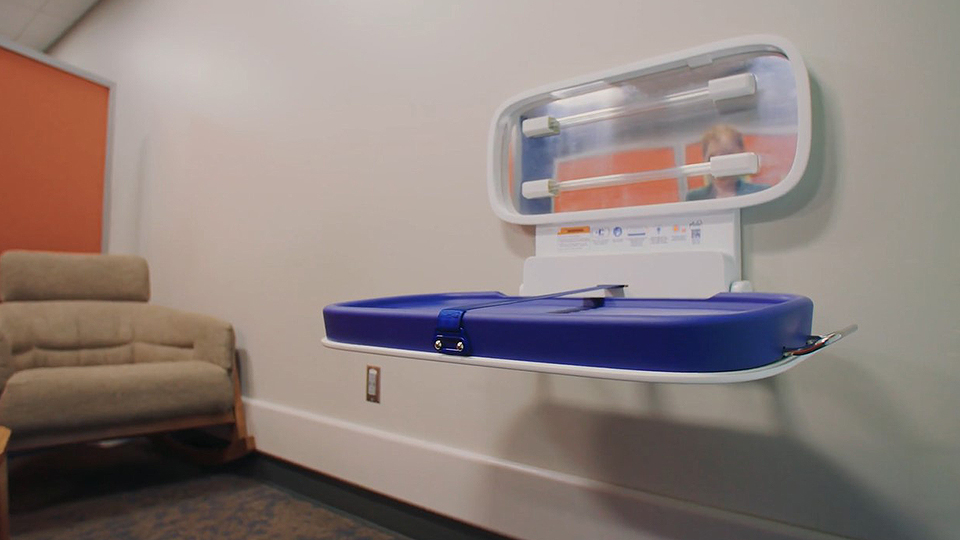 A Chicago-based startup co-founded by an Indiana native is about to get a big boost in exposure. Pluie Inc. announced Wednesday that dozens of its self-sanitizing diaper changing tables are being installed in multiple locations at Indianapolis International Airport, where they can be used by thousands of travelers from destinations all over the world.
The company said more than 40 changing tables will located in the men's, women's, and family restrooms throughout the airport, in addition to the ones already in the nursing mothers lounges.
Pluie uses a patented germicidal ultraviolet light system that the company says kills 99.9% of germs. The UV-C system is activated when the table is closed and is designed to sanitize the changing surface in 60 seconds after each use.
Pluie said the partnership will make the Indy airport the largest single public facility in the nation to include the changing tables.
"Pluie is on a mission to improve health, cleanliness, comfort, and convenience for all families on the go, which aligns perfectly with the Indianapolis airport leadership's commitment to providing the best possible passenger experience for travelers of all ages," Pluie CEO Addie Gundry said in written remarks.
The company was co-founded by Gundry and Chief Operating Officer Brittany Hizer, a graduate of Cathedral High School in Indianapolis and DePauw University. The company received the patent for its technology in 2019.
The company has seen its tables installed in other major facilities across more than 20 states, including the Indianapolis Zoo, the Fashion Mall at Keystone, Guaranteed Rate Field in Chicago, and Legoland in Florida.
Gundry and Hizer will showcase their product on an upcoming episode of "Shark Tank," which is set to air Friday.
Hizer will appear on this weekend's edition of Inside INdiana Business with Gerry Dick to talk more about the partnership at Indianapolis International Airport.
Please enable JavaScript to view this content.