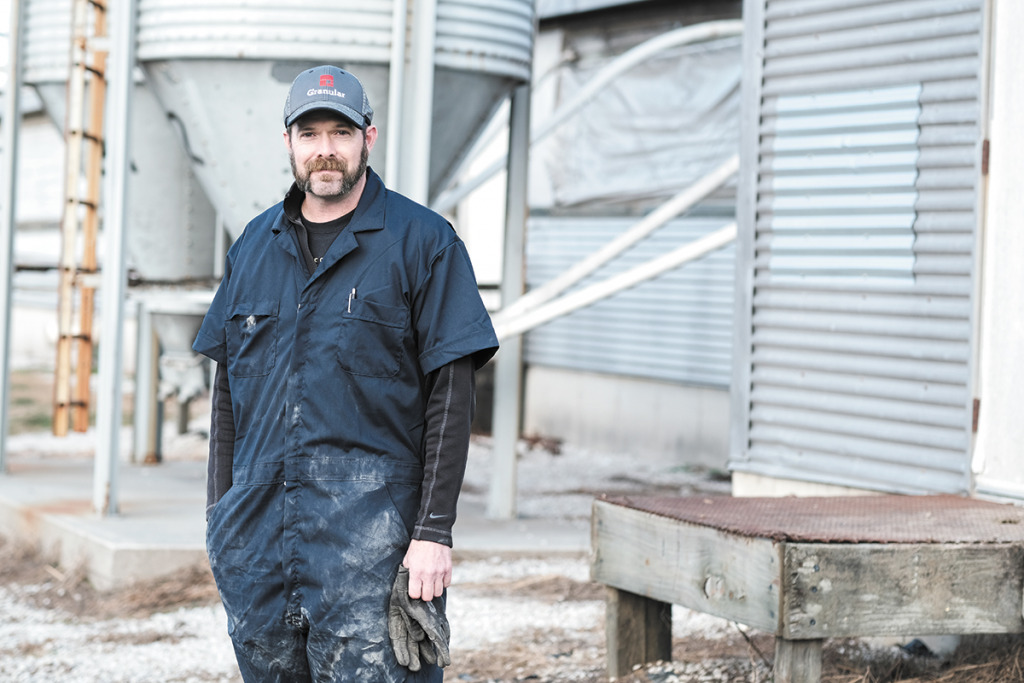 The incoming Biden administration is widely expected to embrace a more multinational approach to U.S. trade policy, moving away from the "America first" strategy embraced by President Donald Trump.
"We know there will be changes under a Biden administration. He's more of an internationalist," said David Hardin, a farmer who raises pigs, corn and soybeans on his Danville farm in Hendricks County.
Everything Hardin produces has been affected by the back-and-forth tariffs that the United States and China imposed on each other's exports beginning in 2018.
Hardin, who saw pork prices plummet after China imposed a 25% tariff on U.S. pork in April 2018, said trade has "somewhat normalized" since then. In part, that came from a deal the United States and China reached early this year in which China agreed to increase its purchase of U.S. goods and services in 2020 and 2021.
The approval this spring of the U.S. Mexico Canada Agreement, the replacement for NAFTA, also helped, Hardin said.
But, observers say, Trump's trade policies altered international trade in ways that might endure long after Joe Biden takes office.
In particular, the tariffs pushed some Hoosier manufacturers to rethink and diversify their supply chains, moving them out of China and into relationships with other countries—relationships that will likely stick.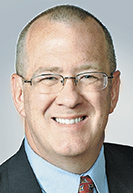 "We shifted a lot of our supply chains away from China," said economist Michael Hicks, director of Ball State University's Center for Business and Economic Research.
Starting in 2018, the Trump administration imposed tariffs on a host of Chinese imports, ranging from steel and aluminum to machinery to electronics components. In response, China imposed its own tariffs on a variety of U.S. goods, including pork, soybeans and other agricultural products; aluminum; and motor vehicles.
The tariffs were especially relevant to Indiana, which is the nation's top steel producer. It's also the state most dependent on manufacturing, which relies on steel.
Tariffs, essentially a tax, are paid by the party that buys the item. So, for instance, a Hoosier manufacturer that gets components from China will end up paying any tariffs associated with those components. The manufacturer might pass along part or all of those costs to its customers.
Having a pandemic follow so closely on the heels of the trade war has only made manufacturers more skittish about doing business with China.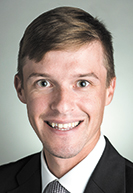 "The reality of it is, businesses don't like uncertainty," said Andrew Butters, an assistant professor of business economics and public policy at Indiana University's Kelley School of Business.
As companies shifted out of China, production moved to a host of other countries, including Thailand, Vietnam and Korea, Hicks said.
Moving to a new supplier represents a significant undertaking, he said, because it involves traveling to meet with the company and with local officials, securing necessary approvals and other steps. Because of all that effort, a company that has established new ties isn't necessarily going to abandon that supplier even if the Biden administration abolishes Trump-era tariffs.
"Those relationships aren't going away," Hicks said.
Doris Anne Sadler, president of the World Trade Center Indianapolis, said the trade war has pushed Hoosier companies to explore trade with nations that might not have been on their radar screens.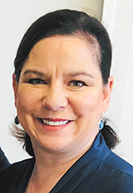 "It has given us the opportunity to open up new markets," Sadler said.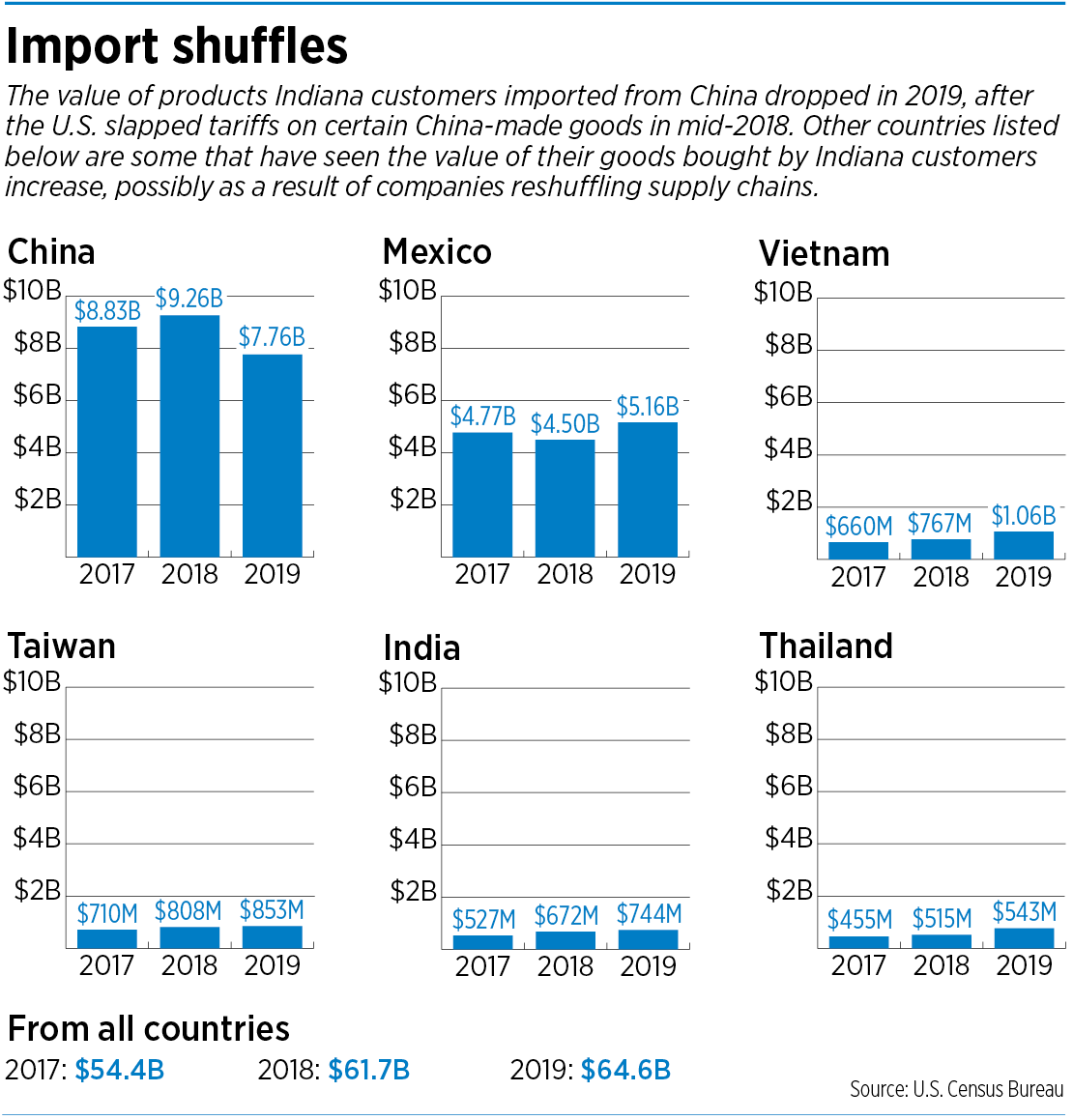 The World Trade Center Indianapolis works with small and medium-size businesses that want to buy and sell goods internationally.
As an example, Sadler cited India as a good trading partner for Indiana companies. India has expertise in certain industries represented in Indiana, including tech and pharmaceuticals. It is also a fast-growing economy, and companies there are eager to do business with the United States, Sadler said. "India's an easier place to do business, frankly, than China."
Thailand is another promising market, she said, because the country is working to build up its medical-device manufacturing industry.
So how exactly will the Biden administration approach trade policy?
On the www.joebiden.com campaign website, Biden's "Made in America" plan pledges to work with U.S. allies "in a coordinated effort to pressure the Chinese government and other trade abusers to follow the rules and hold them to account when they do not."
The lengthy plan does not mention tariffs at all. On Tuesday, Biden New York Times columnist Thomas Friedman that he doesn't plan to remove existing China tariffs right away.
Instead, Friedman wrote, Biden plans to first review the existing agreement with China and consult with allies in Asia and Europe. "I'm not going to make any immediate moves, and the same applies to the tariffs," Biden told Friedman.
Biden's multinational approach differs from Trump's go-it-alone strategy in which the United States withdrew from international trade agreements such as the Trans-Pacific Partnership.
Returning to a multinational strategy should create more stability for Hoosier companies engaged in foreign trade, Sadler said. "It's much more stable in the long run to have multiple countries agree to something because it's harder to change [the agreement]."
Joining with allies will also give the United States a greater chance of success in forcing China to adopt new trade practices, Hicks said. "I would imagine Joe Biden would go back slowly to something that mimics the benefits of the Trans-Pacific Partnership."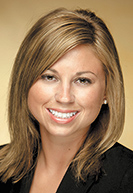 Shannon Kiely-Heider, the director of international government relations at Columbus-based Cummins Inc., said the company supports the multilateral approach to trade that it expects Biden to adopt.
Cummins has more than 60,000 employees and does business in more than 190 countries and territories around the world, including China.
Even after making changes to its supply chain, passing along some costs and sharing other costs with suppliers, Cummins told IBJ in September 2019 that it expected to see $100 million in annual costs associated with the China tariffs.
"Access to the best supply chains globally is critical to our ability to make the most technologically competitive products," Kiely-Heider told IBJ via email. "Free trade agreements allow us tariff-free access to supply chains and the markets in which we compete."
Butters, the IU professor, said he expects the Biden administration to take a "fairly strong stance" against China with regard to that country's trade practices.
Biden's Made in America plan includes pledges to confront China on specific trade practices, including "state-sponsored cyber espionage against U.S. companies," currency manipulation and other efforts to undercut U.S. manufacturing.
Trump frequently described China's trade practices as unfair, using words like "ripped off" and "theft."
Hicks said this is one area in which he agrees with Trump's views on trade. "Virtually every country that trades with China has a legitimate beef about how it conducts its business."•
Please enable JavaScript to view this content.