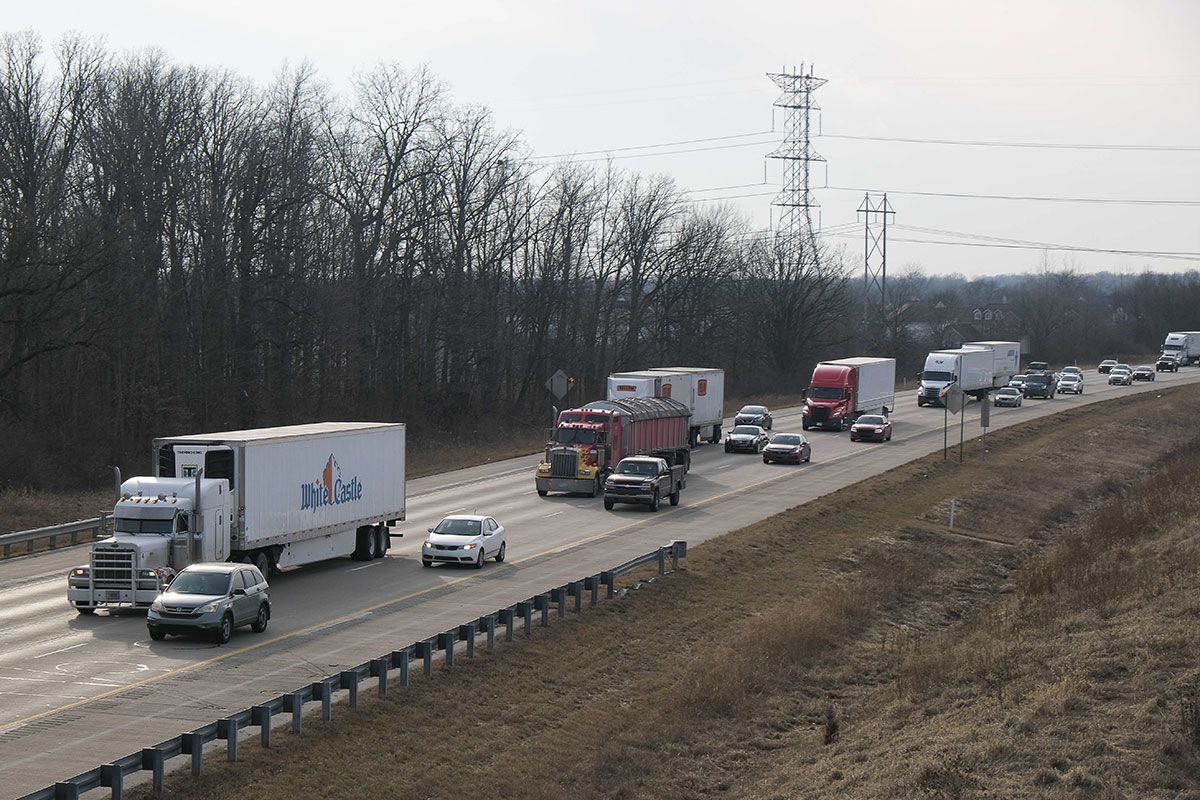 Two Hoosier lawmakers are seeking to eliminate the lower speed limit for heavy trucks on rural interstates and highways, but their proposals appear to be another chapter in more than 30 years of fruitless efforts on behalf of independent truckers.
Similar legislation has had no success since the Legislature first imposed lower speed limits on trucks in 1988, a move that was met with trucker protest convoys that snarled Indiana interstate traffic for weeks and deepened lawmakers' resolve not to be coerced.
But that history, long forgotten by many of his legislative colleagues, hasn't deterred Rep. Mike Aylesworth, a Republican from northwestern Indiana. Since 2017, he has filed bills to allow heavy trucks to travel the same speed as other vehicles, and 2023 is no different.
Under current Indiana law, vehicles with a declared gross weight greater than 26,000 pounds are subject to a 65-mph speed limit on rural interstates. Other vehicles have a 70-mph speed limit.
"I'm bringing [the legislation] back again because I live in eternal hope that someday, somehow, it will be accepted by the people who oppose it and don't want it to have a hearing," Aylesworth said.
A frequent traveler, Aylesworth said he has found driving on interstates in North Carolina, Minnesota and Texas to be "much smoother" due to their congruent speed limits.
In conversations with Indiana State Police and the Indiana Department of Transportation, he said, his legislation has received little pushback. Spokespersons for both agencies declined to comment on the proposal, saying they do not take positions on proposed or pending legislation.
Rep. Jim Pressel of La Porte, who chairs the House Roads and Transportation Committee, said he does not intend to hear Aylesworth's bill this year because he's not sure it fixes a problem.
Sen. Jim Tomes, a Republican from the Evansville area and a former Teamster who drove a truck for 33 years, has filed an identical bill in the Senate chamber. He said he filed the legislation in response to concerns from a truck driver in his Senate district.
Tomes, R-Wadesville, argues the impact of the increase would be negligible. "I don't think there will be any noticeable effect," he said.
Sen. Michael Crider, who chairs the Senate Homeland Security and Transportation Committee, said he is reluctant to give Tomes' bill a hearing, citing concerns from state police.
"Any time you start talking about changing the speed limit, there's some level of associated risk," Crider said. "I'm not comfortable yet with the discussion."
In the spring of 1988, Indiana joined 39 other states to take advantage of federal legislation allowing states to raise the speed limit on rural interstates from 55 to 65 mph. While most of those states raised the limit to 65 mph for all vehicles, Indiana passed legislation that kept the speed limit for large trucks at 55 mph while also increasing the gasoline tax 1 cent per gallon.
Truckers responded by boycotting Indiana truck stops, gas stations and restaurants, and organizing convoys of truckers to drive 40-55 mph along Interstate 70, snarling traffic for weeks. The protest lasted for months, and the trucking industry carried that momentum into the 1989 legislative session.
Undeterred by the truckers' actions, Indiana lawmakers voted against increasing the speed limit for large trucks to 65 mph, saying they could not be coerced by embargoes and protests. They did, however, concede to increasing the limit for large trucks to 60 mph.
In later years, Indiana increased the speed limit on rural interstates to 70 mph with a 65 mph speed limit for trucks.
Save for a handful of retired lawmakers and veteran Hoosier haulers, the 1988 boycott is mostly forgotten, but the events had a lasting impact: Indiana remains one of only eight states with a lower speed limit for trucks, according to the Insurance Institute for Highway Safety.
The Indiana Motor Truck Association, which represents trucking companies in Indiana, presents a major roadblock for independent truckers trying to get the law changed. The group has consistently opposed legislation to increase the speed limit for trucks, citing safety concerns.
The motor truck association did not respond to IBJ's request for comment.

The Owner-Operator Independent Drivers Association, a trade organization representing independent truck drivers, supports uniform speed limits.
Forcing semitrucks to drive at a slower pace than cars increases the possibility of a crash, according to Doug Morris, the independent driver group's director of safety and security operations.
"Trucks should be traveling at the same speed as everyone else," Morris said.
He cited a 2006 study by the University of Arkansas that found different speed limits for cars and large trucks on rural, interstate highways result in greater speed variation and a higher number of vehicles passing one another, "thus compromising safety."
A former Maryland State Police officer who worked in commercial vehicle enforcement, Morris said the motor truck association is opposed to the change not out of safety concerns but because many of its members use speed limiters on trucks to save on fuel. Increasing the speed limit would give independent truckers a competitive edge, he said.
Trucking continues to be a booming business in Indiana. Each year, 724 million tons of freight travel through the "Crossroads of America," making it the fifth-busiest state for commercial freight traffic, according to INDOT.
There were 153 people killed in fatal collisions involving large trucks in Indiana in 2020, according to Indiana State Police, but only 26 of those crashes involved speeding.
In addition to the University of Arkansas study, a 2019 study from INDOT's Joint Transportation Research Program and Purdue University found that replacing the 70/65 mph speed limit on rural highways with a uniform speed limit of 70 mph would increase car speeds 1.4 mph, increase truck speeds 0.6 mph and reduce crashes involving injury or death 20%. The researchers did not recommend increasing speed limits on urban interstates.•
Please enable JavaScript to view this content.