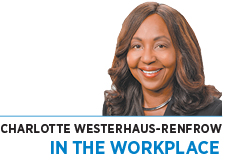 Have you ever worked with someone whose behavior reminds you of the classic R&B song "Smiling Faces Sometimes" by The Undisputed Truth?
"Smiling faces sometimes/Pretend to be your friend/Smiling faces show no traces/Of the evil that lurks within (Can you dig it?)"
Signe Whitson, a licensed social worker and co-author of "The Angry Smile: The Psychology of Passive-Aggressive Behavior in Families, Schools and Workplaces," defines passive aggression as "a deliberate and masked way of expressing hidden or covert feelings of anger. The passive-aggressive person is motivated by their fear of expressing their anger directly."
Passive aggression can be much more than a mere nuisance or annoyance. It can wreak havoc on work relationships, leading to marginalizing and taking advantage of people, productivity interference and a breakdown in workplace morale. Worse yet, unproductive expressions of emotions can lead to an influx of harmful, extreme and entirely unprofessional and unethical behaviors, such as gossip, sabotage and retaliation.
Passive-aggressive people use a variety of behaviors to retaliate against colleagues who might not even be aware of their anger. The following are some common characteristics of passive-aggressive employees:
◗ They are consistently unreliable, late and/or non-responsive.
◗ They procrastinate when you ask them to do something.
◗ They ignore proper channels for addressing workplace issues and instead gossip, spread rumors and complain.
◗ They resist suggestions and reject criticism.
◗ They claim to be the victim and shift blame.
◗ They use psychological manipulation through the "silent treatment."
◗ They enjoy and encourage office drama.
According to Idealist Careers website, the best way to deal with this behavior in a subordinate or co-worker is through positive tactics. For example, calmly identify the specific behavior with the worker and avoid using general language. Have these conversations in private where you can't be overheard by colleagues.
Employees might also face passive aggression from supervisors and managers, which can look like this:
◗ They take full credit for the team's work, thus sabotaging employee advancement and morale.
◗ They keep complete control over the project and may change their minds frequently about the direction or the process to be followed.
◗ They withhold information workers need to do a good job.
◗ They plan meetings with employees and show up late or never.
◗ They override workers' authority.
◗ They criticize employees in public, making them feel worthless.
◗ They give unclear feedback and seldom explain anything.
◗ They withhold recognition and praise from employees.
◗ They play new employees against more tenured employees.
◗ They micromanage decisions that are within the employees' power to make.
Certainly, passive-aggressive colleagues can be frustrating and obnoxious. Managers and supervisors might find dealing with angry—yet smiling—passive-aggressive employees harder than nailing jelly to a wall.
However, it can be done. In his book, "Closing the Passive Aggressive Defiance Gap," psychologist Neil Warner offers the following tactics when working with passive-aggressive co-workers:
◗ Refer to one or more occasions where their behavior has derailed a project and discuss why it's an ongoing problem.
◗ Try to address the root of the behavior by asking questions about their motivations in a friendly but firm way. Try to find out why they are feeling hostile or angry.
◗ Attempt to remove anger and emotions from the conversation by making every attempt to create a safe space for them to talk about their problems and resolve the matter.
◗ Recommend better future solutions to problems, such as discussing them with the parties involved or reaching out to human resources.
While it might be tempting to ignore genuine passive-aggressive behavior, keep in mind that it sows fertile ground for hostilities or resentments that will most likely not go away. As W.G. Wills wrote, "The wounds of the mind fester in silence."
Remember, a healthy work environment does not necessarily promise a conflict-free environment. However, by providing constructive and healthy outlets for the airing of frustrations, passive-aggressive behavior can be transformed into constructive conduct, productive action and genuinely "happy faces" in the workplace.•
__________
Westerhaus-Renfrow is a clinical assistant professor of business law and management and faculty chair of the undergraduate program at the Indiana University Kelley School of Business at IUPUI.
Please enable JavaScript to view this content.