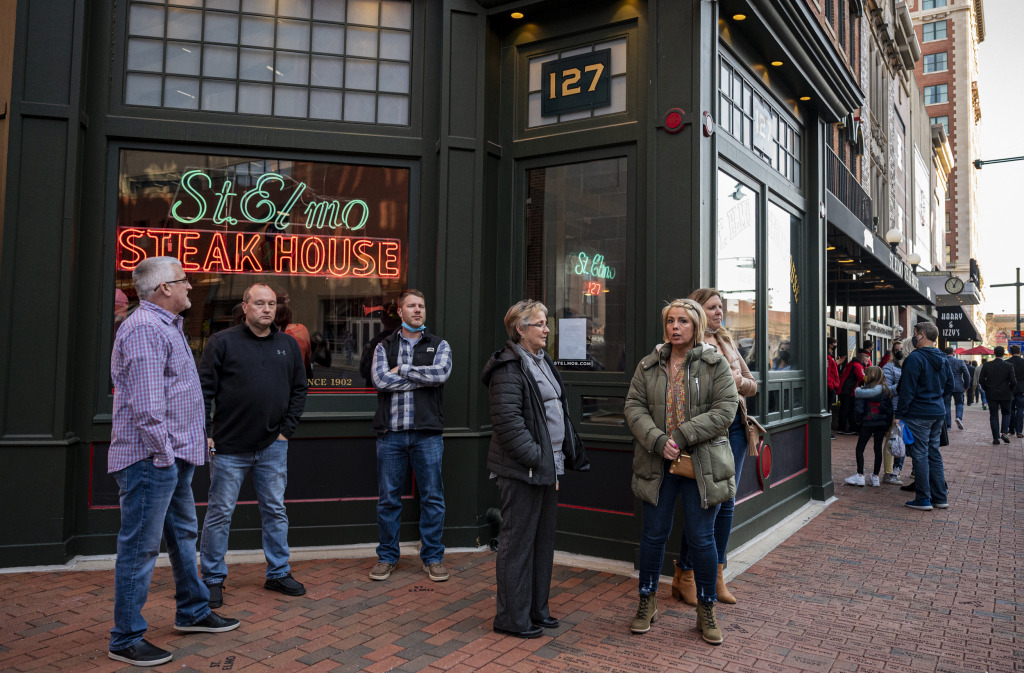 St. Elmo Steak House, which closed for deep cleaning last weekend after learning nine employees had tested positive for COVID-19, was found in late August to be in violation of a COVID-19 public health order that mandated all bar areas be closed, Marion County Public Health Department records show.
The restaurant immediately corrected the problem and passed subsequent inspections in September and March, according to county records.
There's no indication that the reported violation in August is related to the current closure.
According to county health records, a health inspector performing a routine inspection on Aug. 31 found a violation of the health order mandating closure of bar areas. At the time, Marion County health restrictions prohibited restaurants from offering any bar seating or bar service. Those restrictions changed effective Sept. 8, when restaurants were again allowed to offer table service in their bar areas, although bar-top seating remained prohibited.
Department officials did not immediately respond Monday morning to IBJ's request for more detail on the violation.
According to the Aug. 31 inspection report, St. Elmo corrected the violation immediately. A follow-up inspection on Sept. 10 found no violations.
The health department did another routine check at St. Elmo on March 4. During that visit an inspector reviewed several areas of operations including the restaurant's employee health and COVID-19 procedures, and found no violations, the inspection report said.
Details about the recent staff outbreak remain scarce.
Late Saturday night, St. Elmo released a statement about the closure from Craig Huse, president of Indianapolis-based Huse Culinary, which operates St. Elmo along with related eatery and nightlife concepts including Harry & Izzy's. Craig Huse also is a co-owner of St. Elmo.
"We recently learned that nine employees have tested positive for COVID," Huse said in a media release. "Out of an abundance of caution, St. Elmo's has made the decision to close the establishment and conduct a thorough, deep cleaning of the restaurant.
"While we regret not being able to serve our visitors, the safety and well-being of our employees and our guests is our top priority."
The media release also said no interviews would be conducted. Craig Huse has not responded to a request for comment about the August violation.
Over the weekend, the health department told IBJ that it had received a "courtesy notice" from the steak house about its decision to close early on Saturday, and that St. Elmo had "voluntarily and temporarily" closed because of its employees' positive COVID-19 tests.
"We are working closely with the establishment to contact trace the reported cases and assess any possible exposures to other employees or customers, as well as provide guidance on sanitizing and safety measures for reopening," the health department said Sunday.
On Monday afternoon, Craig Huse released a statement confirming that the restaurant was working with the health department to determine "how and when it will be safe to reopen St. Elmo Steak House."
"We would like to thank Dr. Virginia Caine and the Marion County Public Health Department for providing us with invaluable guidance and best practices to safely reopen," Huse said. "With Dr. Caine's direction and plan, we have conducted a professional deep cleaning and sanitization of the restaurant and provided employees with the highest and most accurate level of testing."
All employees must have negative PCR tests for COVID-19, conducted by a MCPHD facility, or be fully vaccinated in order to return to work, Huse said.
St. Elmo will not identify any of the nine employees who tested positive, Huse said.
Please enable JavaScript to view this content.