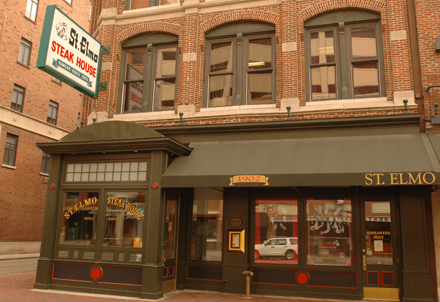 The operator of St. Elmo Steak House, one of downtown's oldest restaurants and a top draw for tourists, announced late Saturday night that nine employees have tested positive for COVID-19, leading to closure of the restaurant for deep cleaning.
"We recently learned that nine employees have tested positive for COVID," Craig Huse, president of Huse Culinary, said in a media release. "Out of an abundance of caution, St. Elmo's has made the decision to close the establishment and conduct a thorough, deep cleaning of the restaurant.
"While we regret not being able to serve our visitors, the safety and well-being of our employees and our guests is our top priority."
It wasn't immediately clear when Huse Culinary closed the restaurant or when it found out about the positive tests.
The media release said Huse would not conduct interviews. A spokeswoman for the restaurant said Sunday morning that the original statement would be its only response for the time being.
A spokesman for the Marion County Public Health Department said in a statement to IBJ that it was "given a courtesy notice from St. Elmo Steak House regarding its decision to close early on Saturday, April 3."
"MCPHD is working very closely with the establishment to provide contact tracing efforts for any reported COVID-19 cases to help assess any exposure to employees or customers. Normal contact tracing procedures will be followed," the spokesman said in the statement.
On Sunday afternoon, the department updated its statement as follows: "Last night, April 3, the Marion County Public Health Department was notified that St. Elmo Steak House was voluntarily and temporarily closing in response to multiple employees testing positive for COVID-19. We are working closely with the establishment to contact trace the reported cases and assess any possible exposures to other employees or customers, as well as provide guidance on sanitizing and safety measures for reopening."
Based in Indianapolis, Huse Culinary operates the hallowed St. Elmo Steak House and sister eateries Harry & Izzy's and Burger Study.
Craig Huse is a co-owner of all of the aforementioned restaurants, as well as 1933 Lounge, a cocktail spot with a retro look that opened above St. Elmo several years ago.
Founded by Joe Stahr in 1902 in the Braden building at 127 S. Illinois St., the eatery originally was known as Joe Stahr's Tavern and operated at street level and entirely in what now is considered St. Elmo's barroom.
A series of renovations and expansions beginning in the 1970s has swelled the restaurant's capacity to 360 seats in the barroom, four more distinct dining areas on the first floor (made possible with the purchase of two neighboring buildings to the south), and three more enclaves on a lower level that can double as private dining rooms.
The restaurant has a national reputation and was the subject of a lengthy feature on Saturday on "CBS This Morning: Saturday."
Indianapolis restaurants are currently operating under restrictions from the Marion County Public Health Department that limit capacity to 75%.
A sign was posted in the front window of St. Elmo late on Saturday about the closure but not mentioning the positive COVID cases.
Leah and B.J. Dines, who are in town from Phoenix to cheer on Gonzaga in the Final Four, saw the sign in the window late Saturday. It was an unpleasant surprise, given that they had eaten in the restaurant recently, they told an IBJ reporter.
However, Leah Dines added she was not overly concerned.
"When we were here, everyone had their mask on. They were good," she said. "Some places they'll, you know, take it off to talk to you, but here they were good."
The Dines both were diagnosed with COVID-19 in January and since have been vaccinated.
""I'm not super-worried," Leah said. "We were always wearing our masks unless we were sitting down."
This story will be updated.
Please enable JavaScript to view this content.