An Indianapolis startup with a unique back story is introducing a high-tech solution to a very old—and expensive—problem.
Peril Protect this spring rolled out its in-home water-loss monitoring system that company officials say can save homeowners and home insurance companies thousands or tens of thousands of dollars.
Peril Protect, which was founded last year, is owned by Indianapolis-based Indiana Farm Bureau Insurance Co. It was born out of Farm Bureau's effort to become more entrepreneurial in its thinking and launch a startup, the first time it has undertaken such an endeavor.
Isaiah Blackburn, a veteran insurance claims specialist who had experience running his own baby goods manufacturing startup, was tapped last year to lead the new company. Blackburn was told to get the company up and running quickly.
"This has been very aggressive," Blackburn told IBJ. "They want this to be very much like a startup; agile and fast-moving."
Peril Protect is fully funded by its parent company, and Blackburn said the startup is not looking for additional funding.
Peril Protect has drawn the attention of several tech publications including PC World, Wirecutter, PC Magazine, TechSpective and TechHive. NBC's Today television show and Good Housekeeping Magazine have made inquiries.
Peril Protect's proprietary system combines smart water leak sensors, text and email alerts when a leak is detected, a 24-hour call center, and an expert contractor network to fix leaks before they wreak havoc on homeowners' homes and checkbooks. Blackburn said it's the only system of its kind that has an around-the-clock call center monitoring homeowners' sensors.
Peril Protect designed the system in-house and hired a Florida company to make the pre-programmed hardware.
The simplicity of the system—from the end user's perspective—is a selling point, Blackburn said. Users simply place the small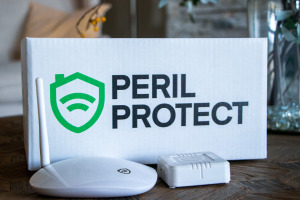 leak detectors below appliances, toilets, tubs, pipes and other water sources homeowners want monitored and plug in the main unit, which communicates with the sensors wirelessly.
"It takes five minutes to set this system up in your home, tops," Blackburn said.
When a sensor gets wet, the homeowner immediately receives a text or email about the leak and where it is. Peril Protect sends a second message shortly after the first, asking if the homeowner needs help. If the homeowner responds 'yes' or does not reply, Peril Protect calls the homeowner immediately—and if necessary, makes arrangements for a pre-vetted contractor to come to the homeowner's house.
In many cases, Blackburn said, Peril Protect can have a contractor on the scene within an hour. Meanwhile, homeowners—alerted of the problem—can shut off the water.
Peril Protect offers three packages: with four sensors, seven sensors and 10 sensors.
The company doesn't make money selling the hardware, Blackburn said. In fact, a $74 onboarding fee and $25 shipping and handling fee are waived if a customer buys a monitoring subscription and stays with the company for a year.
Subscription fees—which are based on the number of monitors a homeowner has—run from $23.99 to $31.99 a month. All sales are made through the firm's web site.
"The idea behind Peril Protest was to create a proactive product," Blackburn said. "Insurance companies are usually reactive. By the time an insurance company gets involved with something like a [water] leak in the home, tens of thousands of dollars of damage have been done and it can take weeks or even months to get it dealt with."
Blackburn knows. He's had four major water leaks at his home over the years.
"Water damage is the No. 2 cause of property damage," Blackburn said. "The average cost of water damage is $10,234. It's not a small amount, and those numbers are on the rise."
Blackburn said being at home when your plumbing springs a leak is no guarantee you'll catch it before damage is done.
"I was home for three of four of my water damage leaks," he said. "There's not a boom and most of the time there's nothing you're going to hear. Water is just pouring out.
"Once, the leak happened one room away from where I was, but it was silent. One pipe burst in our garage. It was spraying everywhere and going under the walls. It's a misconception that you'll catch it if you're home."
Indiana Farm Bureau is issuing its homeowner policy holders who have the Peril Protect system a 5% discount on premiums, and Blackburn said he is communicating with other insurance companies in hopes they will follow suit.
Peril Protect is advertises the system through Facebook, direct email and Google Ads. The company also markets on its Instagram account.
The company plans to grow its footprint locally, then spread out nationally, Blackburn said.
The pandemic has slowed Peril Protects growth. Still the company projects selling 5,000 of its systems this year and 20,000 within three years. "We're in this for the long haul," Blackburn said.
With attention about Peril Project growing, Blackburn said the company is ready to expand.
"We wanted to start small and build out, but we think real soon we'll be nationwide and we're ready to go that direction," Blackburn said. "We want to be very much like a startup—agile, nimble, fast-moving and ready to pivot if needed."
Blackburn is convinced Peril Protect's unique system can help insurance companies as much as homeowners.
"I think this has the potential to be a game-changer for insurance companies," he said. "This will ease the claims process from start to finish. Getting contractors involved up front is a big deal. And having the call center in place is a big deal. This solves a problem that before, there was no solution. This can be the difference between a couple hundred dollar problem and a $10,000 claim.
"The ability to get somebody out there right away benefits the customer and the insurance companies," he added. "Our approach benefits all parties involved."
Please enable JavaScript to view this content.