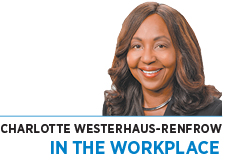 Email has been around for decades, but that doesn't mean all business professionals have been trained in the art of crafting a high-quality message. When a poorly written email lands in your inbox, it could be the result of a hastily typed message, an inadequate substitute for verbal communication, or an author who has not learned or considered proper email etiquette.
Unlike a verbal conversation, emails create perpetual, written records of business messaging. If executed well, email is an effective and expedient form of business communication, but confusing messaging can leave a lasting bad impression.
As we begin 2021, the numbers indicate that much of the workforce will continue to work remotely while employing digital tools such as email. For example, the average professional sends 40 emails per day and receives 121, according to DMR digital marketing.
Beyond the office, the pandemic has increased email use as businesses relied on it to update customers about reopening, and adjusted business operations and new services. As we look to the next year in business communications, below are tips for composing and sending professional and well-received emails.
Time zones are important.
Remember, the recipient of your email might not reside in your time zone. Since research suggests the best time to send emails is 10 a.m. to 11 a.m., aim for this window in your recipient's time zone.
Avoid sending large and unexpected attachments.
You don't want your message to clog up a recipient's inbox or require a lengthy download. Thus, when sending a file over 500KB, use file compression software to minimize its size. Stick to universal file types such as PDF and JPG to avoid compatibility problems for the recipient.
Also keep in mind that, in order to avoid viruses and malware threats, many people don't open unexpected attachments. If you must send an attachment, mention it within the message or ask permission to do so.
Limit questions to one.
Research conducted by Yesware found that posing only one question per email resulted in higher open-and-reply rates. Regardless of how many questions were asked, respondents tended to answer only one. For that reason, communicate effectively with your recipient by limiting questions to one per message.
Write a clear and concise subject line.
Your prospective recipients are inundated with dozens of emails every day. A recent email study conducted by SendGrid revealed that people subscribe to and receive email from around 50 brands and businesses. To rise above the clutter, fill your subject line with a simple, direct and succinct sentence that consists of fewer than 50 characters and conveys a clear message about the email.
The message: Get to the point.
An email with content that fits into the preview pane without any scrolling has a much higher chance of gaining a reader's attention. Why?
The average attention span of an internet user is just eight seconds. Thus, your business email must get to the point and grab your reader's attention immediately. Since the average person can read at 300 words per minute, eight seconds gives you about 40 words in which to pique readers' interest and engage them in your message. If you bury your call to action two paragraphs deep, there is a good chance your readers will hit delete before they even discover your intended message.
Watch the tone.
Strive for a balance between professional and relatable. Avoid sounding cold and self-serving; infuse emails with empathy and genuine problem-solving takeaways. At the same time, remain professional by avoiding artificial enthusiasm created by multiple exclamation points or all caps. Keep your punctuation professional, and consider how the recipient might misinterpret even the most well-intended attempts to convey positive or negative emotion.
Final professional email tips
◗ Always proofread for typos and grammatical mistakes.
◗ Lead with a professional and concise greeting.
◗ Send business messages through your work email address.
◗ Use classic fonts.
◗ Use proper punctuation.
◗ Avoid abbreviations or confusing acronyms.
Digital communications will remain a critical business communication tool for the foreseeable future, particularly throughout this pandemic. Keep these steps in mind as you craft your next message so that it is heard and well received.•
__________
Westerhaus-Renfrow is a clinical assistant professor of business law and management at the Indiana University Kelley School of Business at IUPUI.
Please enable JavaScript to view this content.