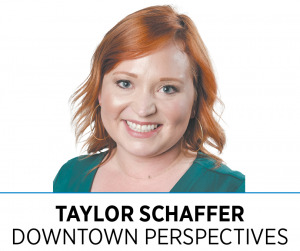 It can be all too easy to think that the downtown Indianapolis of today happened organically over the last 30 years—that market conditions and the simple passage of time created the hospitality, business, residential and cultural environment we now enjoy.
But it didn't.
Everything about downtown was engineered with intentionality. Further, it required investment, not just by city and state leaders, but by a coalition of philanthropic partners, as well as leadership from the corporate and private sectors. Together, we have addressed challenges and bridged gaps that each sector was ill-equipped to tackle on its own.
In 1977, Gov. Otis Bowen and Mayor Bill Hudnut announced the creation of a commission for downtown—a collaborative partnership between the city, state and area-merchants association that would evolve into the organization known as Downtown Indy Inc. This group's focus? Beautification and cleanliness efforts in the Mile Square. Its first major task? Garnering private-sector investment and long-term maintenance dollars for the bricking of Monument Circle.
By the 1990s, the skyline was undergoing a seismic transformation with projects like White River State Park, the Hoosier Dome and Circle Centre Mall defining a new era of development and vibrancy for downtown. But an analysis of downtown's needs, conducted at the request of Mayor Steve Goldsmith and other city leaders, made it clear that the biggest challenge facing downtown was not tied to facilities, but instead to perception. Marketing and communications leaders were pulled together from across business and civic sectors to form Indianapolis Downtown Marketing Inc., a sister organization of Downtown Indy Inc., to help lead the effort and tell the story of a clean, safe and beautiful downtown.
This year marks Downtown Indy Inc.'s 30th anniversary—a milestone that could not come at a more opportune time as we plan for the next chapter ofour downtown.
As an organization, we are refocusing on our core mission, but we aren't doing it alone.
In partnership with Mayor Joe Hogsett, we are leveraging one-time federal funds from the city of Indianapolis to expand our cleanliness and beautification efforts across all four quadrants of the Mile Square. We are working with the Indianapolis Metropolitan Police Department to connect more businesses and properties to new crime-fighting technology to make downtown safer and more connected.
Also, we are focusing on the greater activation of Monument Circle—the true center of our city and the heart of our community—with programming that increases engagement and inclusivity and creates arts and cultural opportunities that ensure residents and visitors keep coming back. And later this year, we will launch our organization's comprehensive paid marketing campaign, using social and digital platforms to encourage central Indiana residents who are already coming downtown to spend more time, spend more money and enjoy more of our downtown ecosystem.
With the philanthropy sector, we are in the final year of a five-year Lilly Endowment grant that brought forth new lighting, video projection and audio amplification to make Monument Circle and the Soldiers and Sailors Monument a daily and evening attraction 365 days a year. This new technology has become a beacon of opportunity to salute Indiana veterans, celebrate signature events and draw attention to not-for-profit causes in our community.
Soon, these important initiatives will end, but the pivotal role downtown plays in the long-term health of our region will remain. Downtown drives tax revenue and business activity, serves as host for a concentration of resources, amenities and social infrastructure, and is a catalyst for talent and attraction. We need private-sector partners to identify new ways of investing in our downtown and strategies for successful programming and operations.
Just like in the '90s, we need talented individuals, willing to offer up their time and expertise, to help tell the story of the new developments and exciting projects in our downtown. We need a return to the type of civic responsibility and corporate investment that rebuilt Monument Circle, re-envisioned Circle Centre, and empowered employees to get involved in the downtown civic ecosystem.
Indianapolis was built with the investment and leadership of our business community. Now, more than ever, downtown needs the private sector as a champion. Its next chapter must follow in this tradition of Indianapolis collaboration, and Downtown Indy Inc. stands ready to be your partner.•
__________
Schaffer is CEO and president of Downtown Indy Inc.
Please enable JavaScript to view this content.