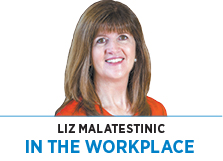 Is it time for a review of your hiring practices?
My students are generally taken aback when I tell them I was not permitted to apply for a commercial lending position at the bank where I worked many years ago, despite the fact that I had the same degree as many of the young men in that position. The reason given to me was that "our customers don't like to talk to women."
I am happy to say that a career built on my experience in human resources worked out quite well for me, but that conversation still bothers me. And while my former employer developed a more inclusive approach soon thereafter, there are still employers who believe "customer preference" is a legitimate reason for excluding qualified employees. Those employers do so at their own risk.
The use of customer preference in selection—whether based on gender, race, age or any other protected characteristic—is one of a number of examples of possible systemic discrimination outlined by the Equal Employment Opportunity Commission recently. In a new web page published in January, the EEOC defines systemic discrimination as "bias that is built into systems" and "patterns of behavior … that disadvantage certain employees." The website is a great resource for those companies that want to make their workplaces more inclusive by identifying and removing any unintended barriers to diversity.
An excellent example of an employment practice that has potential for systemic discrimination is the use of employee referrals in hiring. That might sound surprising because it is commonly known that employee referrals tend to be an excellent source for hiring. Benefits of hiring referred applicants include lower recruiting costs, better retention and better-quality hires—because, let's face it, most people are not going to refer friends or family who will make them look bad to their employer.
The potential problem with employee referrals arises because people tend to refer people who are similar to themselves. Employees don't necessarily do this on purpose, but rather they do so because the people who are close to them tend to be friends and family who share many of the same characteristics. If you already have a diverse workforce, relying on referrals should not cause a problem. If you do not have a diverse workforce, however, an employee referral system can unfortunately perpetuate your lack of diversity and lead to claims of systemic discrimination.
Interestingly, the EEOC site also mentions the use of big data, or algorithms, to evaluate applications as a potential source for systemic discrimination. There are plenty of software firms that market programs to assist employers in selecting the best employees, but care must be taken in how hiring algorithms are created. The formulas used in these programs are usually specific to each organization, taking into account the characteristics of successful vs. non-successful past and current employees. Problems can arise for companies that already struggle with diversity, because the algorithm might direct companies to hire people who are just like those they already employ.
Another practice mentioned by the EEOC is "tap-on-the-shoulder" promotion policies. While you might not have heard the term before, you have likely seen the practice in action. In many organizations, especially smaller ones, promotions are not advertised but rather offered to people management deems best qualified.
"Best" is often subjective, however, and those in power will many times unconsciously promote people like themselves. Adopting a practice of posting job openings and ensuring that all potential candidates have the opportunity for consideration can be a major step to avoid systemic discrimination. Taking it a step further by formalizing a mentorship program that is inclusive can help bring to light qualified individuals who might otherwise have been overlooked.
Systemic bias can also occur through hiring practices that mandate recruiters consider only currently employed individuals. The reasoning for this requirement seems practical on its face: It is understandable that companies would want to hire people who are hard-working and who have not been terminated for poor performance. The flaw in this hiring premise is obvious, though, because we all know terrific people who are or have been out of work through no fault of their own.
More important for this discussion, such a requirement disproportionately affects women, minorities and older workers because they are typically the groups most hurt by economic downturns. The pandemic is only the most recent example of this problem.
Due to events of the past year or two, many companies have committed to reflect on what they can do to become more inclusive. Looking at the "Systemic Enforcement at the EEOC" web page can provide examples of areas to review and consider.
Just because a company has "always done things this way" doesn't mean it's the best way.•
__________
Malatestinic is a senior lecturer in human resource management at the Indiana University Kelley School of Business at IUPUI.
Please enable JavaScript to view this content.