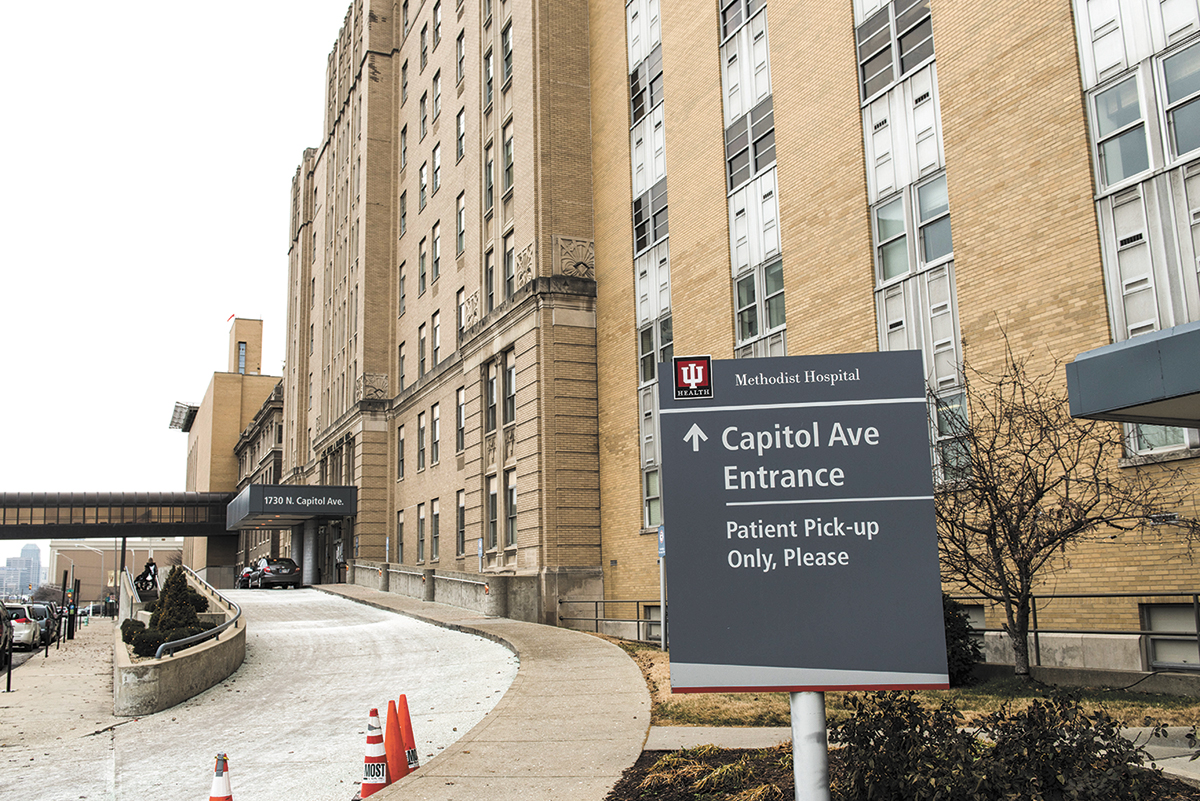 Federal officials are sending a 23-person U.S. Navy team to Methodist Hospital in Indianapolis to help relieve overwhelmed staffers at Indiana's largest hospital.
The U.S. Army North in San Antonio announced Monday that medical personnel from the Navy team will include physicians, nurses and respiratory therapists. The move comes at the request of the Federal Emergency Management Agency.
Responding to an inquiry by IBJ, the Indiana Department of Health specified that Methodist would receive four doctors, 14 nurses and two registered technicians, along with three administrative staffers.
Indiana University Health, the parent of Methodist Hospital, requested staffing assistance from FEMA, according to an IU Health spokeswoman. The team is set to work with the hospital for 30 days, beginning this week.
"[The team will] be integrated into medical units at IU Health Methodist in areas of greatest need," said public relations manager Lisa Tellus. "IU Health leadership continues to meet with U.S. military leadership to navigate the operations plan and ensure optimal utilization of this support team."
The Indiana Hospital Association said Tuesday morning it was grateful for the assistance and for the work of the Indiana Department of Health in coordinating federal help as COVID-19 hospitalizations continue to climb.
"There has never been this much strain on Indiana's health care system, and it does not look like it will let up any time soon," said Brian Tabor, IHA's president.
The Navy is also sending a 20-person team to a hospital in Wisconsin.
"Since COVID began, our military medical personnel have been committed to fighting the pandemic and supporting our local, state and federal partners and communities in need," Lt. Gen. John R. Evans, Jr., U.S. Army North commander, said in a media release.
"As we look ahead to the holiday season and 2022, we must remain vigilant in our fight, especially now as Indiana and Wisconsin are added to our supported states and we must keep in our thoughts the service members and healthcare professionals on the front lines," Evans said.
The move comes as Indiana hospitals are warning that they are running out of beds, the situation is getting critical, and patient-care workers are exhausted.
Several hospital systems, including Indiana Health and Ascension St. Vincent, have enlisted the Indiana National Guard to help during the latest surge. Hospitals are also dealing with a severe shortage of nurses and other patient-care professionals, many of whom have retired, quit or taken administrative jobs.
On Sunday, three large hospital systems, including Indiana University Health, placed a full-page ad in the Indianapolis Star pleading with Hoosiers to get vaccinated, boosted, tested and wear masks.
"The situation is dire," the ad said.  "We have more patients in our hospitals than we have beds. We're converting available units into critical care wards, just to make room. And as you know, healthcare workers across the country are exhausted and running out of steam."
The ad coincided with news that Indiana health officials identified the first case of the omicron variant of COVID-19 in an unvaccinated Hoosier. The specimen was collected on Dec. 9 and confirmed as an omicron variant by lab tests this past weekend.
Hospitalizations from COVID-19 tripled in recent weeks to 3,029 on Wednesday. By Sunday, the total had slipped a bit to 2,971. The pandemic high was 3,460 on Nov. 20, 2020.
On Monday, state health officials reported that only 16% of intensive care unit beds were available statewide.
Please enable JavaScript to view this content.