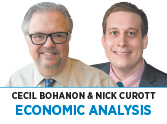 It was recently announced that the United States intends to restore $235 million in aid to the Palestinians. None of the funds are to be directed as military aid but rather channeled to U.S. and United Nations humanitarian relief efforts. In 2019, the United States granted $3.3 billion to Israel, almost all in the form of military aid. However, before one draws a conclusion on the impact of U.S. policy on any regime, it is important to recall the economic concept of the fungibility of funds.
To illustrate fungibility, consider Edgar, a 21-year-old college student who allocates the $120 a month he earns to two activities: going out to bars with his friends and escaping the monotony of dorm food by eating at local restaurants. Meticulously eccentric, Edgar has two jars where he keeps his funds, in cash, for both activities. Half of his income, $60, goes to jar B for bar-hopping; the other half, $60, goes to jar R for restaurant excursions. Activities B and R both cost $20 per event, so he visits bars with his pals three times a month, and enjoys three restaurant meals per month.
Edgar's Grandma heartily approves of his restaurant jaunts but is not so enthused about his bar-hopping. At the end of the month, she sends Edgar $40 with strict instructions "not to spend it on carousing with your friends, but rather use it for your restaurant visits."
So, what does Edgar do? He fastidiously places the $40 from Grandma into the R jar. He then reallocates his own income, putting $80 of his next paycheck into the B jar and the other $40 in the R jar. Although he technically does not spend Grandma's gift on bar-hopping, her gift allows him to expand his consumption of both activities. Grandma's money is fungible. It frees up spending power Edgar would otherwise allocate to restaurant visits to support additional bar visits.
The same goes for U.S. foreign aid. To the extent Hamas spends some of its resources on providing humanitarian aid, an expansion of the United States' humanitarian aid enables Hamas to divert some of its resources to expand militarization. Correspondingly, a reduction in U.S. military aid to Israel won't reduce Israeli access to military resources by the full amount of the cutback.
This is simple reality and not necessarily an indictment of any particular U.S. policy. But reality, as economist Thomas Sowell reminds us, is not optional.•
__________
Bohanon and Curott are professors of economics at Ball State University. Send comments to ibjedit@ibj.com.
Please enable JavaScript to view this content.