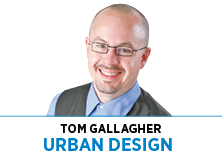 The transit-oriented development overlay recently approved by the city has the potential to be the most transformative decision for Indy since Unigov.
The TOD overlay, which goes into effect at the end of the year, is an amendment to the city's Consolidated Zoning and Subdivision Ordinance. In this case, TOD is much more than popular urban design lingo. And the benefits the overlay amendment can offer go far beyond specific transit vehicles, lanes or operations.
Transit is absolutely an important component of successful, livable places. But it's all the things that surround transit that the new zoning overlay addresses.
Truthfully, we could more aptly call it "people-oriented development," as it is primarily concerned with providing opportunities for walkable urban neighborhoods and reducing automobile dependence and the sprawling environments that such dependence creates.
It enables a synergy between seemingly discordant land uses and can unlock the true benefits of mixed-use environments that cities were built upon.
As an "overlay," the new TOD zoning tool does not change the underlying zoning ordinance and its associated land uses, but it does make possible urban, mixed-use and human-scaled conditions otherwise outlawed by the ordinance.
Understandably, some aren't convinced a contemporary transit system will be beneficial to Indy. What is not in question, however, is that, during the decades that Indy had one of the most extensive transit systems in the country, the population grew more than 30% per year, the streets downtown were full of life, and neighborhoods were connected to workplaces and recreation.
In contrast, after interstates arrived and car-dominant development became the norm, Indy became India-no-place and the city has struggled to hold onto people and maintain its tax base. Today, the resultant sprawling infrastructure—in a city physically almost twice the size of other cities of similar population—makes it nearly impossible for the city to keep up with basic maintenance, let alone advance quality-of-life issues.
It is not hard to see throughout the city, even after our previous system of rapid transit was decimated, neighborhoods that have stayed solid, maintained their desirability and held onto the relationships that make for walkable, human-scaled, fine-grained urban places. In contrast, neighborhoods forced to acquiesce to car dominance have declined.
Another aspect the new overlay can help us address is our fear of density. As a community genuinely known for its hospitality to visitors, it is astonishing how uninterested we are in having new or more neighbors. We need to be clear that there is a significant difference between being overcrowded and having a critical mass of people.
Without a doubt, transit works best when connected to a concentrated collection of people. It is that same critical mass that drives energy and opportunity within a walkable urban neighborhood. Raising the population of an area does not mean edge-to-edge high-rises. As is promoted by the new overlay, it does mean providing for a wider variety of housing types beyond the typical apartment building, occasional town house or free-standing single-family house.
The wider variety includes everything from accessory dwelling units (think above-garage apartment or in-laws' cottage), to doubles, three- and four-flats, and small apartment flats that integrate into the neighborhood scale. All of these provide more people with the opportunity to build wealth through homeownership.
In our city's 201st year, we can, with optimism and the "can-do" attitude we are known for, pair the city's sprawling nature with the walkable urban goals of the new ordinance. Let's call it "decentralized cool."
Economic studies, like the Cool Streets Report by Cushman Wakefield, are showing us that the most desirable places to live and duplicate are not the central business districts of a city but their humanly scaled neighborhood and district "main streets."
Spreading desirable places and quality of life throughout the city rather than simply concentrating them downtown can provide opportunities for ownership and wealth-building on the commercial side, too, while maintaining one of Indy's great assets: its favorable cost of living
Wouldn't it be fantastic, then, coming full circle, if all these cool places throughout the city were interlinked by ways to get around that don't require a car? A contemporary rapid transit system, perhaps.•
__________
Gallagher is a principal and urban designer with Ratio and a professor-in-practice of urban design at Ball State University. Send correspondence to TGallagher@ratiodesign.com.
Please enable JavaScript to view this content.