As coronavirus-related business closures and layoffs continue, economists say the state's unemployment rate could soar higher than it's been in decades.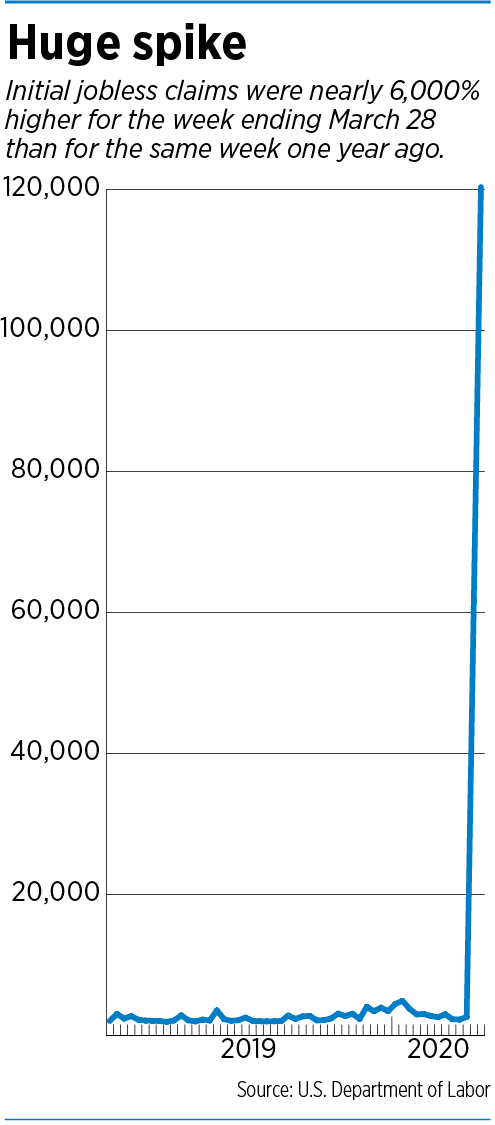 Indiana's unemployment rate has been below 4% since January 2017. In February—the most recent month available—the rate was 3.1%. But the wave of temporary and permanent business closures in recent weeks suggests it's about to spike.
The number of Hoosiers filing for unemployment benefits has skyrocketed over the past two weeks. For the week ending March 28, the Indiana Department of Workforce Development received 130,331 unemployment claims, up from 53,608 the week before and 2,312 the week before that.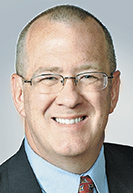 "That's really shocking," said Michael Hicks, director of the Center for Business and Economic
Research at Ball State University.
The number of filings is different from the unemployment rate, which measures the number of people who are out of work and have looked for a job within the past four weeks. It does, however, give a strong indication of how many people have recently lost their jobs.
Hicks said he expects unemployment to climb to at least 10% to 15% over the next few months—and maybe higher.
"A 20% wouldn't shock me. A 25% wouldn't shock me. Thirty percent would shock me," Hicks said.
But Hicks and other economists also say it's hard to be precise about how bad things might get and how long it might take to recover. Unlike previous downturns, this one happened suddenly and was precipitated by a health crisis instead of underlying economic factors.
"It's very hard to make a prediction about what's going to happen here because we've never seen anything like it," said Tim Bond, an associate professor of economics at Purdue University's Krannert School of Management.
Bond said he believes unemployment could rise to between 13% and 15%, though he calls that "an educated guess based on what we know about previous really deep recessions."
For perspective: During the Great Recession in 2008-2009, Indiana's unemployment rate peaked at 11% in January and February of 2010. During a recession in the early 1980s, the state's unemployment rate reached 12.6% in December 1982. During the Great Depression of the 1930s, unemployment was thought to have reached as high as 25% nationally, though data collection from that era was not as accurate as it is today.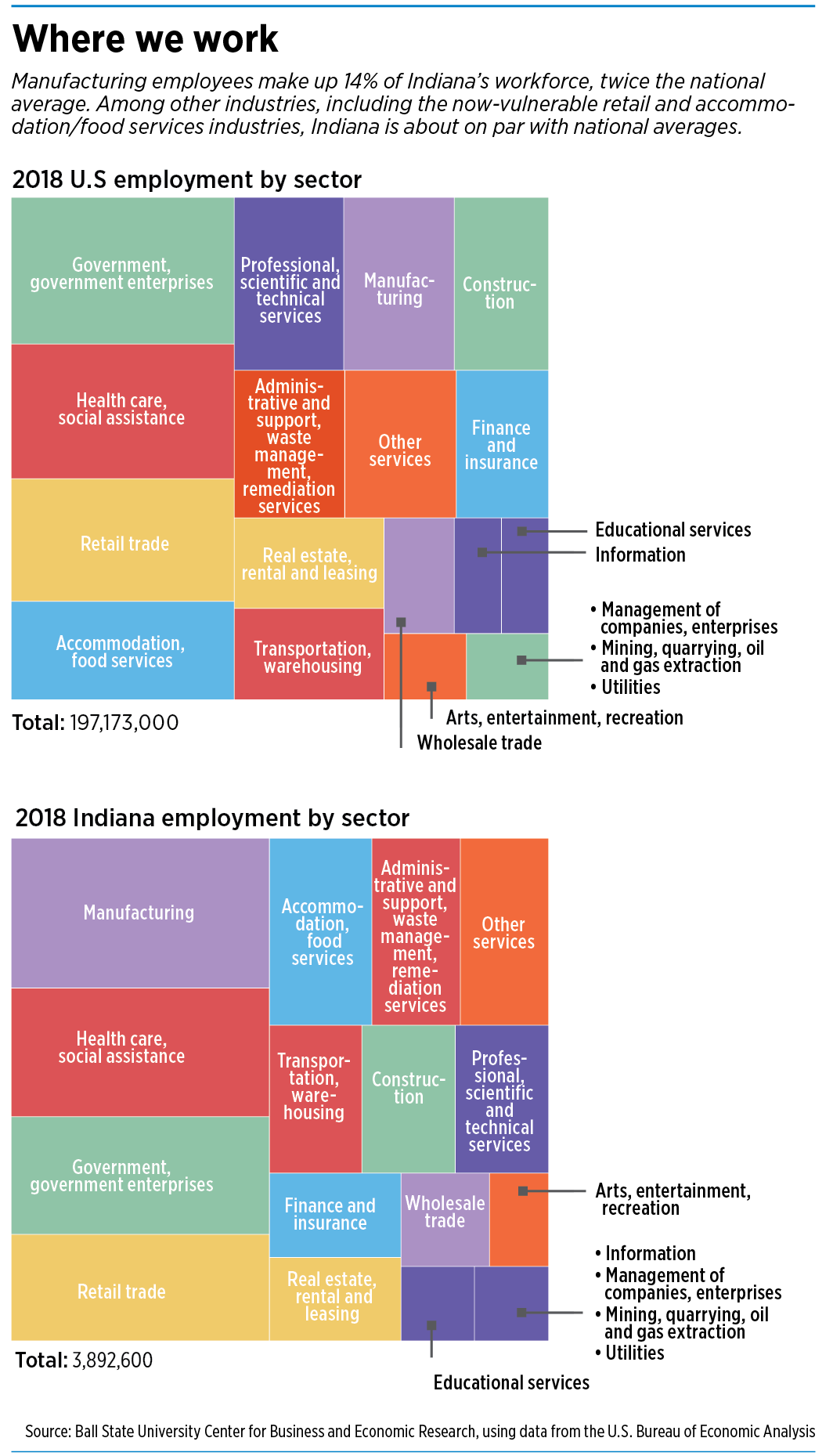 Peak six weeks out
Phil Powell, associate dean of academic programs and a clinical associate professor of business economics and public policy at Indiana University's Kelley School of Business at IUPUI, said Indiana's unemployment rate could rise to between 10% and 19%. The lower figure factors in the mitigating effects of federal stimulus packages for workers and businesses, while the higher figure does not.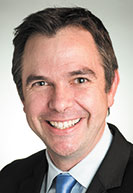 If the unemployment rate were to rise from February's 3.1% to 10%, Powell said, that would translate to a loss of 60,000 to 70,000 jobs in the Indianapolis metro area.
Powell said his projection is based on his estimate that overall consumer spending has dropped 15% in recent weeks as people spend less on entertainment, gas, restaurant meals and "anything that requires leaving the house."
He said he expects to see unemployment peak in six to eight weeks. The first wave, which is hitting now, includes restaurant workers, hotel employees and other service-industry personnel who are losing their jobs because of coronavirus-mandated shutdowns of public places. The next wave will include businesses caught up in the ripple effect of these closures.
Gov. Eric Holcomb directed the state's restaurants to cease dine-in service on March 16, though carryout and delivery service is still allowed.
Holcomb then issued a stay-at-home order that took effect at 11:59 p.m. March 24, requiring all non-essential businesses to close unless employees were able to work from home. Hotels are considered an essential business, though their occupancy rates have plummeted.
The hospitality industry suffered immediate damage.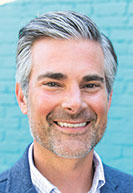 Typically at this time of year, local hotels are at 74% to 75% occupancy, said Visit Indy Senior Vice President Chris Gahl. Last week, occupancy was 2% to 3%. Several local hotels have temporarily shut their doors, including the city's two largest—the 1,005-room JW Marriott Indianapolis and the 650-room Indianapolis Marriott Downtown.
Hotel occupancy tanked after the Indiana Convention Center shut its doors on March 17, Gahl said.
Such a low occupancy rate is "a devastating sign of the state of our tourism industry in central Indiana," he said, because hotel guests also eat at restaurants, shop and visit local attractions. "If the hotels are empty, tourism is not happening."
Like Powell, Ball State's Hicks predicted that the unemployment rate will ramp up relatively quickly—perhaps hitting 6% to 8% in March, 10% in April and 15% in May.
On March 19, Hicks and colleagues Dagney Faulk and Srikant Devaraj published a report that examines how pandemic-related social distancing might affect Indiana's economy.
The report predicts an 80% reduction in demand for arts, entertainment and recreation; accommodation and food services; and other services, excluding those provided by government. It also predicts 10% demand reductions for manufacturing and retail.
Several other industries are expected to see no impact, while the health care and social assistance industry is expected to see a 10% increase in demand.
"Most of the effect is going to come right away," Hicks said, and once those effects are felt, the unemployment rate should level off, even if mandatory social distancing remains in effect.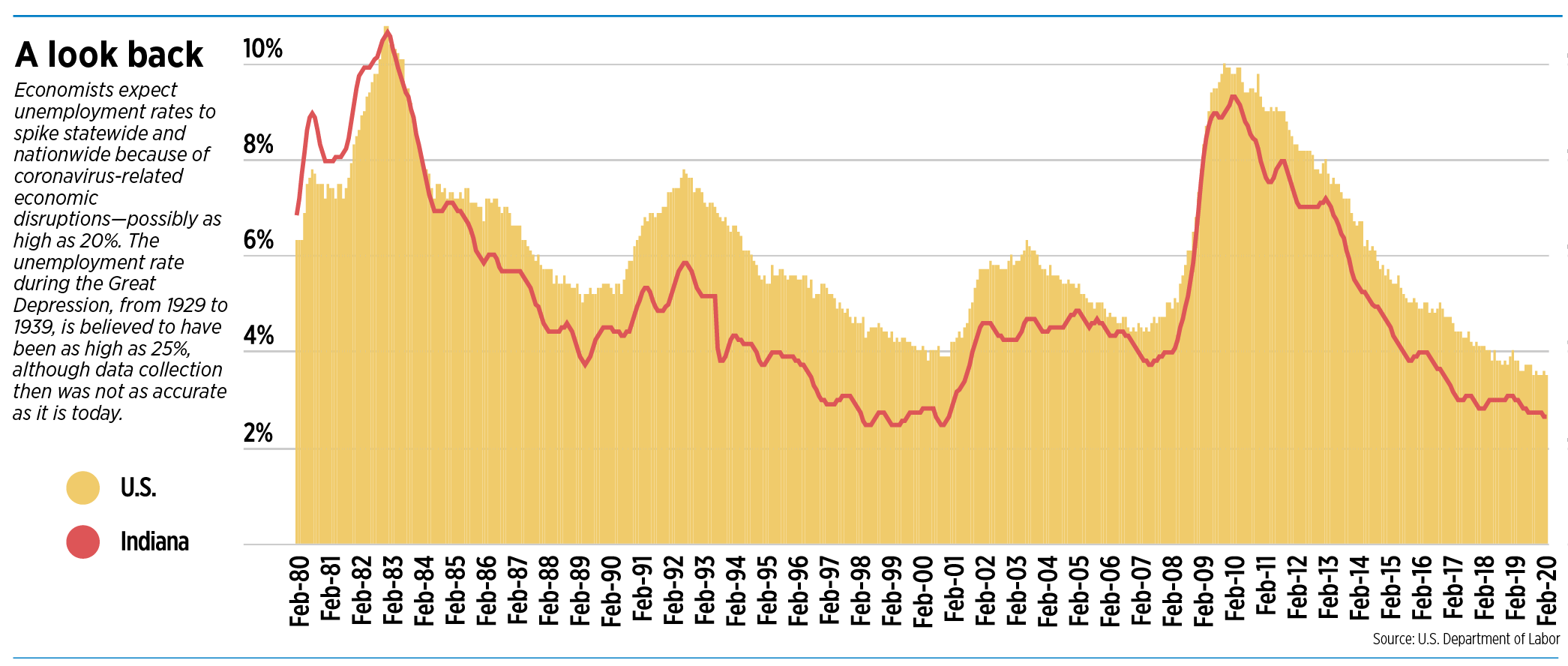 Manufacturing hit
If there's a bright spot, Hicks said, it's that the industries that are hardest hit—restaurant, retail and hospitality—employ a lot of part-time, younger and low-wage workers, which mitigates the overall effect to the economy.
The workforces are typically older at manufacturers, some of which also have suspended operations.
Subaru of Indiana Automotive in Lafayette has been shut down since March 23. On Tuesday, the automaker said that will continue through April 17 because of supply-chain interruptions and "rapidly declining global demand as a result of COVID-19."
Subaru said it would continue to pay most employees through April 10, though, as of Tuesday, it hadn't announced what will happen the week of April 13-17.
Indianapolis-based Allison Transmission Holdings Inc. put some of its production employees on temporary layoff status beginning this week, suspending pay but continuing benefits.
In Greenfield, auto-parts maker BWI Group, also known as BeijingWest Industries Co., shut down production and temporarily laid off 336 employees on March 26.
But "factories aren't closing down because the restaurants are closing down," Hicks said. "The closure of a restaurant is probably not going to affect the demand for cars very much."
Economists have differing views on how the economy will respond once social distancing falls by the wayside.
Purdue's Bond is skeptical that the economy will bounce back quickly. Even when things return to normal, he said, people might still feel uncertain and reluctant to spend money. "Can we snap our fingers and turn the economy back on? We've never had an experience like this, so it's difficult to say."
Hicks anticipates pent-up demand will help boost the economy once people are able to eat out and take vacations. "We're going to be anxious to be outside the house, so that's going to, for most of us, trigger a burst of spending at a later date."
Powell is using China and South Korea as a guide because their economies are beginning to come back following coronavirus-related shutdowns. Likewise, he's watching Washington and New York, two states that were affected early, to see how their economies react as coronavirus cases subside.
He said he believes recovery will come more quickly than in a traditional recession—maybe 12 to 18 months, as compared to several years.
And he doesn't think the coronavirus will plunge the United States into another Great Depression, even if unemployment reaches 1930s levels.
"It could hit that same point, but it's going to come faster and it's going to leave faster—and that's the important difference," he said.•
Please enable JavaScript to view this content.