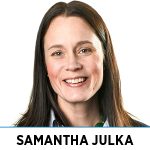 I'm a formally trained researcher specializing in qualitative research. What that means, and how the job is different from other types of researchers, fills many a book. In the following few hundred words, I'm not going to bother talking about the nuances of researchers because, well, boring. Instead, I'm going to talk about an approach to gathering qualitative data, and there certainly isn't an app for that.
The small niche of design research that we conduct at DORIS centers mainly around understanding people's experiences at work. We then tell their stories using a combination of quantitative and qualitative data.
Oftentimes, decision makers love to rely solely on quantitative data. They want to know how many or how much of something is happening as a way to obtain better or more efficient outcomes. Quantitative data is great—we love it and use it at DORIS enough that we have a full-time statistician on staff to keep us in check. All of us qualitative researchers lovingly call our statistician, named Meghan, "Math Meghan" because, you know, math is hard and we worship her skills.
In the rest of this piece, I'm going to talk about qualitative data. If it is collected and used correctly, qualitative data can be one of the most powerful decision-making tools and change agents for an organization. Qualitative data can be scary, sticky and confusing if one is not used to working with it.
To begin, let's talk about collecting qualitative data. There are many ways to do this, and one of our favorites is to conduct one-on-one interviews using an engaging and interactive protocol. Doing so enables the people in the interviews to feel delighted, as well as empowered, to think critically. The people we interview often tell us how much fun they had and that they appreciated the interactive tools we used.
I want to take a quick moment to explain why we love interviews and seldom use a survey in its place. The shortest answer to why we do this is the word "why" itself. In a survey, we never have the opportunity to listen to someone's answer and then ask, "Why?" We are not always asking, "Why?" about their verbal answers. Sometimes we are asking, "Why?" about their body language.
A few years ago, we were working with a large group of ultra-smart folks doing amazing work in the health care field. One question we asked these big-brained people was, "Where do you regularly eat lunch?" They simply responded that they ate at their desk. While giving us that answer, they always looked down, rubbed their faces with their hands, or said it in an unfavorable tone.
By paying attention to their body language and tone, we were able to dig in more deeply. We realized they were stressed out and wanted a short release at lunch, yet their current building had no place to take a lunch break. On top of that, there was deep-seated cultural pressure to avoid being seen "not working," i.e. taking a break to eat.
When we presented this to company leaders, they were shocked. The leadership team knew this pressure and unhealthy habit would damage its workforce both physically and mentally. To solve this problem, the company dedicated an entire wing of a floor to resting, healthy eating and socializing in its new building.
Without really meeting and understanding people through interviews, we, as researchers, wouldn't have been able to collect that vital insight. If we had relied on a survey, we might have thought people were eating lunch at their desks because they preferred to do so.
I want to make two points in favor of actually talking to the people who are subject-matter experts of any future design outcome. One is return rate, which plays into the other a bit, which is experience. Over the last seven years that we've been in business, our return rate on interviews is 87.3%. That means we've collected qualitative answers through interviews with 87.3% of the people in our stakeholder groups. (How's that for quantitative data supporting qualitative methods?) One would be lucky to gain even close to half of that return rate on a survey.
Our stakeholder groups often include several hundred people. There's a great deal of rigor in this type of data collection. As our great leader President Kennedy once said, "We don't do it because it's easy, but because it's hard." Like I said at the start, there's not an app for this and we are not looking to make this easier on ourselves as researchers.
What we are looking for illustrates my final point. When face-to-face engagement is done using an expertly crafted protocol, we can learn more than we ever expected was possible. At the same time, the personalized experience results in people feeling like they are truly heard. I think I'll leave it there.
Mic drop on qualitative data gathering methods!•
__________
Julka is founder of Indianapolis-based DORIS Research, which uses design thinking to organize workspaces.
Please enable JavaScript to view this content.