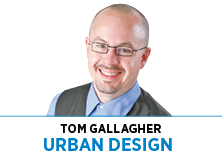 Thanksgiving should be known as the "slow movement" holiday. A three-day work week. Carefully prepared meal. Ritualized relaxation. Leisure time with family and friends without distraction or interruption. Sanctioned napping. Coffee and pie.
While slowing down might be appealing at certain times, we generally have a bad attitude about going slowly. Nowhere is this more apparent than on our streets.
As drivers, we've certainly seen cars go flying by us and then pulled up alongside them at the next traffic signal. If you've walked around town anywhere, you know the driver who can't wait 30 seconds for you to get through the crosswalk.
The fact is, in this country, a pedestrian is struck and killed every two hours—50,000 deaths over the last decade. In New York City, 25 cyclists have died in crashes with cars this year alone. The Indianapolis 2016 pedestrian plan noted that, in the decade preceding the plan, there were approximately 4,000 crashes involving pedestrians in the city, with nearly 200 resulting in deaths.
In all of this, speed is a major factor. Our reaction time is worse at high speeds. Our ability to see and comprehend our surroundings diminishes. Then there's the basic physics—the average pedestrian has only a 40% chance of surviving a crash with a vehicle traveling 45 mph. There is a steep curve from 45 down to 20 mph, where a pedestrian's chances of survival jump to 93%. Even so, the event is likely life-changing for the pedestrian.
It should be no surprise then that many cities are lowering their speed limits. Portland, Oregon, for example, last year lowered to 20 mph all 3,000 miles of its residential streets. Nevertheless, posted speed limits have little effect on actual driving habits. No matter how conscientious the driver, most of us drive the speeds at which we feel most comfortable.
Fundamentally, this is a design problem. Cars have been designed to provide comfort and protection at high speeds. In the name of safety, our streets are purposefully designed to accommodate speeds higher than the posted speed. In practice, it's not just comfortable to drive fast—it's uncomfortable to drive slowly.
Real change will require changing drivers' expectations, which means fundamentally rethinking the way we design streets. Numerous new approaches are being implemented and are turning out to have additional counterintuitive benefits.
◗ Traffic calming. Studies show that giving drivers room for error means they are more likely to make one. Rather than the 11- or 12-foot lanes that have become standard, the sweet spot between too much and too little room turns out to be about 10 feet.
This distance requires we pay more attention, a core component of a traffic-calming strategy. Paired with other tactics that act as additional physical and visual cues, such as bump-outs at intersections, narrower lanes induce slower movement and reduce comfort with multi-tasking. In some cases, the removal of lanes of traffic might be possible, all providing more room for other modes of transportation and public activity.
Surprisingly, the reduced vehicular travel-way also becomes more efficient and effective, moving as many or more vehicles per hour during peak times because there's less room for maneuvering. The reduced speed means fewer unexpected driver corrections and less gaps between cars making more proficient use of the existing road capacity.
◗ Green waves. We have all experienced that euphoria when it seems like we hit every traffic signal on the green light. Some cities are adjusting their signal timing to encourage 20- to 25-mph vehicular travel. New York City is experimenting with "green waves" that are timed for bicycle travel speeds, meaning cyclists hit all the green lights, as do cars that choose to move at that pace.
◗ Naked streets. Something interesting happens when we designate lanes. We take ownership of them and, by extension, expect that no one else will trespass. In doing so, we presume we can move along at whatever pace is suitable to our mode of travel and disregard potential interactions lurking just outside our lane.
Pushing back against that, there is a line of thinking among traffic engineers that signalization and excessive traffic signage make us less safe by making us less mindful of our surroundings. They are proponents for what have been called naked streets, where the design prioritizes instincts over signalization.
This might sound ludicrous until you consider our own naked street—Monument Circle. Pedestrians, bikes, cars, delivery trucks, horse-drawn carriages and scooters all navigate this street by agreeing to the basic rule that the pedestrian has the right of way. After that, it comes down to being civil and communicative with one another.
This was how streets functioned before the advent of the car. We would do well to remember that it wasn't the utility and convenience of automobiles that divided our streets—it was their speed.
Here's hoping you and yours will be able to embrace a slower pace this Thanksgiving.•
__________
Gallagher is a principal and urban designer with Ratio and a professor-in-practice of urban design at Ball State University. Send correspondence to TGallagher@ratiodesign.com.
Please enable JavaScript to view this content.