A boom in construction, e-commerce and other industries that rely on outdoor storage has some users and developers worried about whether they have room to grow.
There seems no end to the wave of distribution centers and warehouses being proposed for communities north of Indianapolis—but that's all focused on enclosed spaces.
In fact, Steve Schwegman, a senior managing director for Chicago-based real estate firm JLL, said 20 million square feet of enclosed industrial space is currently under construction in central Indiana.
But the number of properties focused on or allowing outdoor storage is limited—and there's little indication that that will change anytime soon.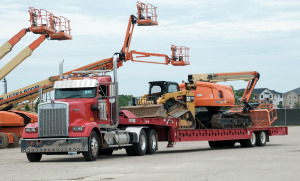 "The construction and outdoor equipment industry is a very small segment of the industrial property segment as a whole," Schwegman said. "We are the crossroads of America, and where it proves out is in more of the distribution and fulfillment side of things—not necessarily outdoor storage."
Industrial outdoor storage and industrial service facilities are property types that allow users to store—outside—equipment, bulk materials, vehicle fleets, trailers, pre-cast concrete, roofing supplies, lumber and all sorts of weather-resistant goods.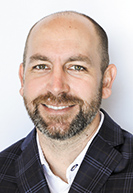 But local developers say cities are more interested in the higher taxes generated by enclosed industrial developments. Also, they tend to find multifamily, residential or commercial to be higher and better uses of their limited spaces, experts said. And then there's the fact that neighbors are often opposed to outdoor storage for its unsightly appearance, or the truck traffic it might bring.
"You just can't find any [property]," said Pat Chittenden, founder of Westfield-based Patch Development. "You have these smaller companies on the north side that want to expand, relocate or open their business and they can't find anything."
That's in part because city planning officials have constructed their land-use guidance documents based off of past demand. And planning officials in Noblesville and Fishers said they've just not seen many requests for outdoor-storage exceptions or industrial rezones.
"From our economic development side, I can count on one hand [the times] in six years that someone has contacted Fishers for outdoor storage industrial space," said Megan Baumgartner, the city's economic development director. "It's more a reflection of, we don't have a significant industrial stock of properties in Fishers."
Fishers Planning and Zoning Director Megan Schaefer said industrial properties, where outdoor storage is most prevalent, make up just 2% of the city's land use.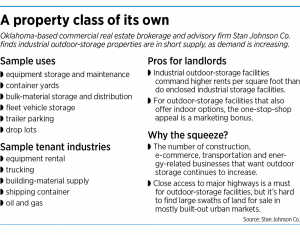 Noblesville Development Services Manager Joyceann Yelton said the market in her city is similar. Some properties in the Pleasant Street and Stony Creek industrial parks allow for industrial outdoor storage with opaque fences and other screening measures, but there's just not been much interest.
"We've not had a lot of inquiries regarding industrial outdoor storage," Yelton said.
Noblesville updated its comprehensive plan about a year ago, and Yelton said there's no indication that it needs to dedicate more land or change its process for allowing such a use.
An upcoming need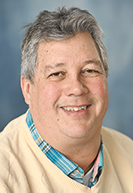 But the need might be on the horizon.
Rich Potosnak, director of facilities and real estate for Indianapolis-based MacAllister Machinery, doesn't contest concerns about industrial outdoor storage's unseemly appearance or the land's potential "higher" use.
He does, however, have to contend with those concerns as the compact construction equipment supplier tries to find three to four new rental-store locations and add land for two to three existing-store expansions in a given year.
"One of my biggest challenges when I'm looking for a new location is getting the correctly zoned property, and outdoor storage is always the big challenge. I don't think I've done a project where I didn't have to get a property rezoned," Potosnak said. "Even if it's the right zoning, I'll have to get a special land use for the outdoor storage."
MacAllister is the family-owned franchise dealer for Caterpillar, with 12 dealerships in Indiana and another 10 in Michigan. The company's rental storage business for compact construction equipment geared toward contractors—including lifts, backhoes and the like—has 26 locations between the two states.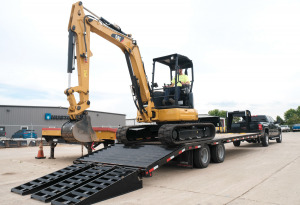 Potosnak said MacAllister's typical model for medium-size locations is to identify 12-15 acres of land where it might be able to get approval for outdoor storage. Unlike enclosed industrial where a building often takes up most of the property, MacAllister's storefront and office operations are usually contained within 25,000 to 35,000 square feet. But the recycled asphalt millings MacAllister uses for parking equipment adds to the property's runoff, so a portion of the usable acreage is eaten up by retention ponds.
That's not a problem if a business can locate in a rural area, but Potosnak said it's MacAllister's strategy to open within 30 minutes of its customers' job sites. That makes locating near a highway crucial, and that often comes with neighbors.
"I will not spend a lot of time looking at a property that has significant residential neighborhood by it because it's not worth fighting that battle," he said. "It's primarily aesthetics, and the noise can be a factor or an issue for a residential neighborhood. We deliver our equipment to the customers on large semis, and people don't want large trucks running through their neighborhood."
Chittenden recently had a few variances approved by the Westfield Board of Zoning Appeals for two proposed industrial buildings on an infill property north of East 169th Street, between Oak Ridge Road and Westfield Park Road.
The open industrial district already houses businesses with industrial outdoor storage, including Custom Cast Stone Inc.
"There's zero inventory in Hamilton County for this [type of property]," Chittenden said. "It's about 1% vacancy. … We need to find some solutions to that, I think, to be a healthy community."
Chittenden said companies like MacAllister, and smaller companies on the north side, want to expand, relocate or open a business.
"They need outdoor storage; they need storage outside in lots to store this stuff to ship it around. Especially with how booming construction is right now, you've got to find ways to supply this stuff right now," he said.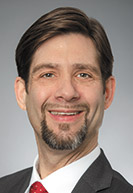 Jonathan Hardy, senior managing director for the Indianapolis office of South Bend-based Bradley Co., agreed that it's extremely difficult to find land for outside storage in central Indiana.
"You can do outside storage, but there's a number of barriers to entry. There's all this other work, that, by the time you've done the other work, you've priced yourself out," he said.
"Great Lakes Capital has land under contract in Hamilton County that's agricultural, and we want to do industrial, and I could tell you we wouldn't even ask for outdoor storage. … Even if you and I were storing Lamborghinis outside, we're still going to get some pushback."
Hardy said that's because some companies have flaunted outside storage rules in the past, angering neighbors and local officials. And if communities have insufficient standards for how items are stored, the sites will undoubtedly stir pushback.
"Most of the outside storage requirements can be met and remain aesthetically pleasing by the utilization of mounding, screening, fir trees, stuff like that," Hardy said.
Still, that makes leasing land tough and is part of the reason Schwegman estimated so many industrial-storage users end up as landowners—which can further constrain the market to limit growth or new players.
"I would venture to guess that the majority, I would go so far as to say three-fourths, of this property is owned and not leased," Schwegman said. "What you get is, you don't get a lot of velocity of people moving around."
Hamilton County has pockets of grandfathered industrial outdoor-storage properties, Hardy said, but none of it is large enough to meet current demand.
"Once something becomes industrial outdoor storage, unless there's a mechanism to take it away, it stays that way, because there's such high demand for it," Hardy said.
Finding space
Potosnak said there are strategies for users like MacAllister to enter a market. When MacAllister has opened near residential neighborhoods, he said, the company makes an effort to screen its site with landscaping or hardscaping. He's also certain to forecast his intentions to the host city, including some of the economic benefits.
"We try to quantify the economic impact we can provide to a location or area, in terms of jobs or taxable revenue that's going to be generated from a location. That's a positive thing a lot of municipalities are looking for," he said.
But it's hard for a medium-size location with 15-20 employees to compete for local officials' approval with enclosed industrial facility that might employ a hundred or more.
What's happening at MacAllister's headquarters on West Washington Street might also be a strategy for expansion. Potosnak said that headquarters opened in 2003 and the business's growth over the years has limited its outdoor storage space.
When the Kmart next door closed, MacAllister decided to renovate its headquarters and expand onto that neighboring property. Doing so will triple the size of MacAllister's operations there.
"It wasn't easy," Potosnak said. "It didn't happen overnight. It was about a six- to nine-month process to get the whole deal put together and approved. But it's clearly a strong area for an organization like ours to look at, redeveloping these former retail big-box stores."
Hardy said he recognizes that such uses aren't always welcome and he doesn't want municipalities to completely relax their standards. But he said there must be some wiggle room for these essential businesses to locate where they're viable.
"It's about working together," Chittenden said. "It's about dedicating the time to play catch-up."•
Please enable JavaScript to view this content.