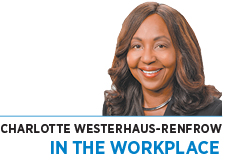 A few weeks into the pandemic, the catchphrase "the new normal" streaked into our common vernacular. It reflected how people were adapting to and coping with an economic slowdown, shrinking revenue and employees working remotely.
Shortly thereafter, resilient businesses defied the odds by bouncing back and nudging "the new normal" into the sphere of opportunity and revitalization: "the new now."
However, it's possible that labeling the current business environment "the new now" does not adequately reflect the fluidity of these opportunities and their ability to improve in the future. For example, within the realm of workplace diversity, it appears attitudes are changing for the better, even during a pandemic. A Clutch survey of human resources professionals in May found that 79% believe their company is diverse. This is good news.
Yet, a growing belief that diversity is on the rise in the workplace is not enough to proactively and successfully create the ultimate competitive advantages that help businesses pivot, adapt and thrive in "the new future." After the shocking death of George Floyd and the nationwide emergence of a social justice movement that quickly spread from protests in the streets to strategic planning in the corporate boardrooms, "the new future" workplace has advanced to greater inclusivity.
A positive example of local efforts to foster enhanced inclusivity is the recent formation of a coalition of Indianapolis business and civic leaders who signed the Indy Racial Equity Pledge, committing their organizations "to take meaningful action to address the issues of racial equity and justice in central Indiana."
In addition to these grassroots initiatives, a Deloitte study uncovered five critical traits that can further foster, support and strengthen this new future of inclusive leadership: commitment, courage, cognizance of bias, cultural intelligence and collaboration.
Commitment
Inclusive leaders are committed to demonstrating the direction the organization is headed for all its members. This commitment is strengthened by inclusive leaders who recognize and value diversity and speak truth to power, which means standing up for what is right. These are effective ways to find real value and long-term success in diversity initiatives.
Courage
Inclusive leaders have the courage to focus on getting it right, not on being right. They understand that the true measure of the power and influence of diversity is in recognizing that the journey to inclusion is often awkward and, as a result, mistakes will occur. That is why inclusive and trusted leaders acknowledge that they are in it for the long haul. They realize that, when they accept advice, admit their failures and offer genuine apologies, it creates a safe and inclusive environment for others to do the same.
Cognizance of bias
The Deloitte report stressed that self-awareness is a vital trait for inclusive leaders "because bias is a leader's Achilles' heel." Inclusive leaders are aware of their "personal blind spots as well as flaws in the system and work hard to ensure a meritocracy," the report said. Inclusive leaders also strive to demonstrate humility while tackling their biases and offer empathy in understanding the viewpoints of their employees.
Deloitte research revealed that, "when cognizance of bias is combined with high levels of humility, it can increase raters' feelings of inclusion by up to 25%." Moreover, they found that, when cognizance of bias is combined with high levels of empathy or perspective-taking, this approach can increase employees' feelings of inclusion up to 33%.
Cultural intelligence
Inclusive leaders are inquisitive about cultural differences and similarities. They are not afraid to ask for help to improve understanding. Inclusive leaders are also aware of how local, regional and national diversity-related contexts, challenges and opportunities could influence their daily leadership decisions.
Collaboration
Inclusive leaders are mindful of the adage, "Take care of your people, and they'll take care of you." Empowering and listening to employees can lead to diversity of thought and team cohesion. While working in and leading diverse teams can be both rewarding and challenging, inclusive leaders recognize the value of diverse perspectives. These leaders strive to make a safe space for individuals within the organization to propose new and unique ideas.
Ultimately, diversity provides the ingredients, inclusion is the recipe, and an inclusive leader is the chef. Inclusive leadership is a critical component that can propel the success in "the new future" of businesses and within our communities. Once an organization earns a reputation for having inclusive leadership, achieving this new future of successful and innovative workplaces is doable and sustainable.•
__________
Charlotte Westerhaus-Renfrow is a clinical assistant professor of business law and management at the Indiana University Kelley School of Business at IUPUI.
Please enable JavaScript to view this content.