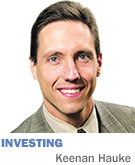 Whoever invented the map was a genius. Imagine going through life without the ability to look and see where you are
or maybe how to get someplace else. Throw in other handy devices like road signs and GPS systems and we have no excuse for
not knowing how to get where we want to go.
It's too bad the stock market is not like that. For most investors,
it's like being adrift in the ocean in a rowboat with no oars, at night. The rowboat gets knocked around in a scary
fashion, and investors stay in the boat because experts tell them not to worry, that over time every boat finds land.
What they don't mention is that you could be dead by then.
There are tools, however, for the investor that
can serve the purpose of giving you another oar and perhaps placing you into a current that really will find land.
Over the last 100-plus years, bull and bear markets in the United States have broken down into different stages.
Stage one of a new bull market is something I call a lockout phase. Prices keep marching higher and the market does not
pull back to let you in. Look at a chart of the market in 2003 and 2009. Similar stuff.
After a strong initial
run-up, investors begin taking a little profit and corrections finally show up. This is stage two. The profit-taking here
is not sufficient to swamp the market, but it is enough to create pullbacks. It is during stage two, however, that the public
is slowly taking an interest.
The current climate is a perfect example. Most people I talk to are still vastly
under-invested in stocks, but there is a slow movement toward increasing equity exposure. We believe the sell-off of the last
few weeks has transitioned the market from stage one to stage two.
Stage two is not when the final highs of the
market are seen, despite some scary short-term corrections. This is an area of the bull market evolution where investors can
still make a lot of money, but this requires a strategy shift. During the first stage of a bull market, investors can buy
stocks at almost any time and realize a profit in short order. Stage two is not so forgiving. Buying stocks after a several-day
run-up will usually end up costing you money. At the same time, you have to be willing to buy on the dips.
During
corrections, it is a good idea to gather a watch list of ideas and be ready to do some buying after the market has been selling
off for several days. One way to identify purchase ideas is to find stocks that did well until recently and were sold off
the least during the correction.
Stage three is when profit-taking is starting to swamp the market, which makes
this area the most dangerous. Stage three means no new buying at all. You simply feed positions into any rally until you are
100 percent in cash. This phase can last two to four months, so there is plenty of time to get out.
Stage three
is typically recognized as the period where only a handful of large-cap stocks are advancing. The technology bull market in
the 1990s paints a great picture of the way bull markets typically end. From the middle of 1999 until the top in March 2000,
there were 20 to 30 tech stocks that were marching higher every day, and they dragged the rest of the market with them. It
is spectacular, but very dangerous.
From my rowboat, it feels like a current has picked me up. The run that began
last March is most likely not over and the ultimate highs have yet to be seen. Buy the dips, sell some after rallies, and
repeat until we start to see the rough waters that will inevitably come.•
__________
Hauke
is the CEO of Samex Capital Advisors, a locally based money manager. His column appears every other week. Views expressed
here are the writer's. Hauke can be reached at 203-3365 or at keenan@samexcapital.com.
Please enable JavaScript to view this content.