Brizzi
denies special treatment.
Marion County Prosecutor Carl Brizzi last year intervened in a major drug case to offer a reduced sentence over objections
from both law enforcement officers and his own deputy prosecutors.
He insisted on a plea deal for accused drug dealer Joseph Mobareki that would be acceptable to defense attorney Paul J. Page,
Brizzi's friend and business partner, law enforcement sources said. Brizzi also directed his staff—in a highly
unusual move—to return $10,000 in cash seized from Mobareki. The money was routed through Page.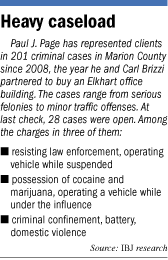 A year earlier, Page had arranged for Brizzi to own 50 percent of an Elkhart office building
worth $900,000 without investing any cash or co-signing a loan. Brizzi also had collected at least $5,000 in campaign contributions
from Page associates at the law firm Baker Pittman & Page and Page Development, which built the Villagio at Page Pointe
condos.
Brizzi had taken a mostly hands-off approach to individual cases after he became Marion County prosecutor in 2003. But in
recent years, he was more active in select matters brought by certain attorneys, including Page, raising concerns among deputy
prosecutors and Indianapolis Metropolitan Police Department detectives.
In fact, those in the law enforcement community who resisted offering Page a lenient plea deal in the Mobareki case figured
Brizzi might eventually overrule them, Prosecutor's Office sources said on condition of anonymity since they were not
authorized to talk with the newspaper.
Internal Prosecutor's Office e-mails, court files and civil forfeiture documents obtained by IBJ support the
claims.
"We knew there was a quid," said a Prosecutor's Office source familiar with the Mobareki case. "We
just weren't sure about the pro quo."
Brizzi, 41, did not respond to repeated requests for comment, but he said in a March letter that "proper checks and
balances have been built within the prosecutor's office to prevent favoritism influenced by either campaign contributions,
friendships or outside business dealings."
In a statement, a Prosecutor's Office spokeswoman said most of the 40,000 cases it files each year result in plea deals.
She said Brizzi was on spring break the week of March 29.
"It has never been and never will be the practice of the Marion County Prosecutor's Office to give preferential
treatment to defense attorneys for any reason," wrote Susan Decker, who took over for spokesman Mario Massillamany after
his March 27 DUI arrest and subsequent resignation. "If anything, the defense attorneys that Prosecutor Brizzi has a
personal connection with face greater scrutiny than most others."
Page said in March his decision to co-invest with Brizzi had nothing to do with Brizzi's elected position. He said
Brizzi earned his stake in the Elkhart building—an interest he has valued at $50,000 to $100,000—because he found
the deal and asked Page to participate.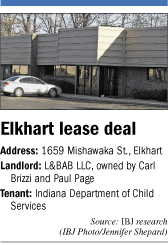 In an e-mail statement, Page said "evidentiary issues" in the Mobareki
case justified the plea deal. He declined to elaborate, citing attorney-client privilege.
"I can assure you that my co-investment with Carl Brizzi never earned me any preferential treatment from his office,"
Page wrote.
A plea for justice
Since 2008, the year Brizzi and Page partnered to buy the building, Page has represented clients in 201 criminal
cases in Marion County, records show. IBJ reviewed dozens of Page cases. One in particular stands out.
Mobareki, a bodybuilder and personal trainer, was caught with anabolic steroids valued at more than $100,000, five unlicensed
firearms and more than $17,000 in cash, records show. He was charged with seven felony counts of possession and dealing controlled
substances and marijuana, for which he could expect six to 10 years in prison based on state sentencing guidelines.
The Prosecutor's Office narcotics unit—in exchange for a plea deal—had hoped to extract Mobareki's
cooperation in tracking down his customers and suppliers by translating a cryptic roster of partial names, e-mail addresses
and phone numbers.
But as deputy prosecutors worked the case, Page informed them he had reached a deal with Brizzi for a single count of possession
of a controlled substance, a Class D felony and the lowest of the seven charges.
Deputy Prosecutor Larry Brodeur, the narcotics chief, practically begged Brizzi in an e-mail to reconsider his decision to
allow for the possibility of an eventual reduction of Mobareki's remaining felony charge to a misdemeanor.
Brodeur took exception in particular to the way he learned of the plea deal, through Page directly after a conversation between
Brizzi and Page.
"I do not take directions on my cases from defense lawyers," Brodeur wrote to Brizzi on May 20, 2009.
Brodeur made his case for taking a tougher position on Mobareki: He'd been caught with hundreds of steroid pills and
bottles of liquid steroids, 700 Xanax pills, almost four pounds of marijuana, and log books listing his customers, including
a local high school coach.
"Paul Page has contended, throughout the pendency of this case, the [sic] Mobareki is nothing more than a body builder
who foolishly uses steroids," Brodeur wrote. "That is completely incorrect."
'Ill-gotten gains'
The investigation began in February 2008 when IMPD narcotics detectives, acting on a tip from a UPS employee, intercepted
a package of steroids bound for Mobareki. They trailed Mobareki after he left the Center Grove Health Club on State Road 135
in Greenwood and later obtained search warrants for his home, car and a storage unit.
Police reports show they found steroids hidden inside an exercise ball, cereal box and jar of protein powder at his home,
and seized five unlicensed guns including an SKS assault rifle. Detectives also confiscated $17,550 in cash—most of
it hidden inside a bag of chicken in Mobareki's freezer.
"It is drug money and neither Mobareki nor Paul Page should profit from it," Brodeur wrote. "I have been
working hard to convince police agencies that the [Marion County Prosecutor's Office] has both the ability and the motivation
to strip drug dealers of their ill-gotten gains. Returning the money to Mobareki would certainly undercut that effort."
Mobareki, 35, spent two days in jail and paid $365 in fines, records show. He got $10,000 of the seized cash back, with the
rest going to cover law enforcement expenses in a nod to those who had fought the release of the money. He has the right after
a year on probation to request a misdemeanor sentence modification.
The handling of the Mobareki case veered from normal Prosecutor's Office procedure in at least three ways, said Henry
C. Karlson, an Indiana University emeritus professor of law.
Typically, plea deals in drug cases keep the most serious felony charge, not the least. Defense attorneys usually deal with
trial attorneys and not the elected prosecutor. And most major drug cases lead to substantial forfeiture actions—including
cars, homes and cash.
"That appears to be a very good plea bargain—the kind of plea bargain lawyers dream about," Karlson said.
"It appears to be a very unusual case with a very unusual plea bargain carried out in a very unusual manner."
'A disturbing pattern'
Cases where the prosecutor's business deals and campaign contributions could have influenced the outcome should
be reviewed by an outside investigator, said former Marion Superior Court Judge Gary L. Miller.
The mere appearance of impropriety could damage the credibility of the Prosecutor's Office, he said.
"It seems like, if you have one incident, someone could stand up and explain it away," said Miller, now a partner
in Miller Meyer LLP who teaches legal ethics at the IU School of Law at Indianapolis. "If you have two or three or more,
it becomes more difficult to say this was just an error in judgment. It appears to be a pattern, and it's a disturbing
pattern."
Another case that concerns Miller is one he presided over in 1991—that of Paula Epperly Willoughby, who got a 110-year
sentence for hiring someone to kill her husband.
In 2006 and 2007, Brizzi collected $28,500 in campaign contributions from Epperly Willoughby's father, millionaire
businessman Harrison Epperly, and a company he runs called EMSP LLC. Brizzi accepted the cash at the same time attorney Jennifer
Lukemeyer of locally based Voyles Zahn Paul Hogan & Merriman was seeking Epperly Willoughby's early release from
prison.
Brizzi's office supported the sentence modification, and Paula Epperly Willoughby was freed in July 2009. The prosecutor
later returned the contributions and said they were not a factor in his decision.
Lukemeyer and partner James H. Voyles Jr. also have been regular Brizzi donors, giving more than $6,000 since 2004, records
show.
Case by case
IBJ found two other criminal cases where the Prosecutor's Office supported modifications of felony
charges for well-connected attorneys, including Page. But there was nothing in court files that suggests the changes were
out of line from standard operating procedure.
One of the cases involves Rob Odendahl, the sales and property manager for Page Development. He was charged with rape, battery
and criminal confinement for an incident involving an ex-girlfriend in June 2005. In November 2006, Odendahl pleaded guilty
to criminal confinement, a Class D felony, and got 365 days of home detention and two years of probation.
The following year, Odendahl hired a new attorney, Paul Page, to pursue a sentence modification. In May 2008, the Prosecutor's
Office and a judge agreed to end Odendahl's probation term early and change his conviction to a misdemeanor, citing
good behavior, a stable job and custody of his son.
The deputy prosecuting attorney on the case, Courtney Curtis, said she didn't find the victim's story credible
and figured a jury would have doubts as well, so she offered the initial plea deal. She did not object to the modification—and
says she did not feel any pressure from her bosses.
"It was just a really crappy case," said Curtis, who now handles intellectual property cases for Overhauser &
Lindman.
In another case, Prosecutor's Office Chief Deputy David Wyser supported modification of a 1999 felony murder conviction
the Indiana Supreme Court had upheld on appeal in 2001.
Defendant Guilford Forney, then 19, had been involved in a drug deal in which his cousin wound up dead of a gunshot wound.
Forney, who had not fired the gun, was sentenced initially to 55 years before winning a reduction to 45 years supported by
former Prosecutor Scott Newman.
Defense attorney Bruce D. Donaldson, of locally based Barnes & Thornburg LLP, last year persuaded Wyser to support a
modification of the murder conviction justified by good behavior and an impressive educational track record while in prison.
Forney was released on April 4, 2009, and is slated to serve two years on work release, followed by one year on probation.
Miller, who handled the case, said he doesn't remember enough details to know whether an early release was appropriate.
Records show Barnes & Thornburg has given Brizzi at least $12,000 since 2004, and the firm's partners have given
thousands more individually. The firm also has served as registered agent for at least two LLCs on real estate deals in which
Brizzi is a partner.
Wyser said in an e-mail that an IMPD deputy chief suggested he review the Forney case, but he could not recall the details.
"I don't show preferential treatment to any defense attorneys," Wyser wrote. "Every case is determined
on its own merits."
Damage done?
Allegations about Brizzi's influence peddling may already have damaged the reputation of the Prosecutor's
Office.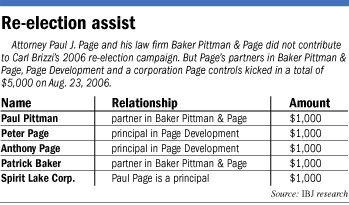 During jury selection for a robbery case in February, defense attorney Patrick Stern
brought up the Epperly case, telling potential jurors that those who donate to Brizzi can get a break on sentencing. He compared
the donor-prosecutor relationships to that of a witness who had agreed to testify against his client in exchange for a lighter
sentence.
On Stern's next case, the Prosecutor's Office asked Judge Bob Altice to ban Stern from discussing Brizzi's
political contributions. Altice sided with Stern.
"Their whole conduct is disrespectful to everyone who works in the court profession," said Stern, who said no
one will listen when he wants felonies dropped to misdemeanors. "A lot of people think you can hire the go-to guys and
get a good result. If you came to me and said your son was in jail and had a 70-year sentence and you wanted me to get a modification,
I'd charge at most $500 and after the prosecutor told me to go screw myself, I'd say there's nothing I can
do."
Repairing the reputation of the Prosecutor's Office first would require "absolute and complete disclosure"
of outside business dealings involving the prosecutor and staff, said Miller, the former judge and prosecuting attorney.
The second step would be strict avoidance of any appearance of impropriety—recognizing that even one violation of the
public trust taints both the office and the elected official.
"Prosecutors have a legitimate amount of discretion they can exercise and, if they use it improperly, it just taints
everything else they do," Miller said. "Unfortunately, you can't read someone's mind to tell if they
were doing things for the right reasons. That's the whole problem with one bad act."
The FBI has been asking questions about Brizzi's real estate and other business dealings while in office and how they
might have influenced his official actions.
Areas of interest include Brizzi's investment ventures with businessman Tim Durham, the target of a separate securities
fraud investigation and a $108,000 donor to the prosecutor's 2006 re-election campaign. Brizzi's real estate investments,
including stakes in the site of a Broad Ripple bank branch and the restaurant Harry & Izzy's—a portfolio he
has built without much in the way of cash or obvious assets—also have raised questions.
Many of the real estate deals were in partnership with John M. Bales, a principal in locally based Venture Real Estate who
gave more than $10,000 for Brizzi's 2006 campaign and represented the Prosecutor's Office in its lease deal at
251 E. Ohio St.
Not stepping down
Brizzi has resisted calls from former supporters to resign, and he has a personal interest in sticking around: Brizzi
will be eligible for a public pension if he finishes his second term, which ends in December. With eight years of service,
he will be entitled to earn 24 percent of his highest annual salary of $125,000, or about $30,000 per year once he reaches
retirement age, by IBJ's calculation.
Top local Republicans discouraged Brizzi from seeking re-election to a third term—a decision Brizzi announced in January—and
later stepped in to push aside his chief of staff, Helen Marchal, after she announced plans to run. Marchal cited family reasons
when she said she would not seek the office.
Instead, the party recruited Mark Massa, the former general counsel to Gov. Mitch Daniels. Wyser, Brizzi's chief deputy,
is running for Hamilton County prosecutor.
A high-ranking Republican official said some have argued Brizzi should resign before his term ends so the governor can appoint
Massa. But others felt Massa would be too busy addressing ethical concerns to run a campaign.
"At some point, you tend to assume when you see icebergs you don't see all of them," said the official,
who spoke on condition of anonymity. "It's the part you don't see that gets you."
Top deputies in the Prosecutor's Office are sharpening resumes, expecting a Democrat could take the office for the
first time in 16 years. Candidates include former deputy prosecutor Terry Curry and Marion County Assessor Greg Bowes.
Expect all the candidates—including Massa—to present themselves as a more ethical alternative to Brizzi.
"If necessary," the Republican official noted, "Mark will be the first to call Brizzi's record into
question."•
Please enable JavaScript to view this content.