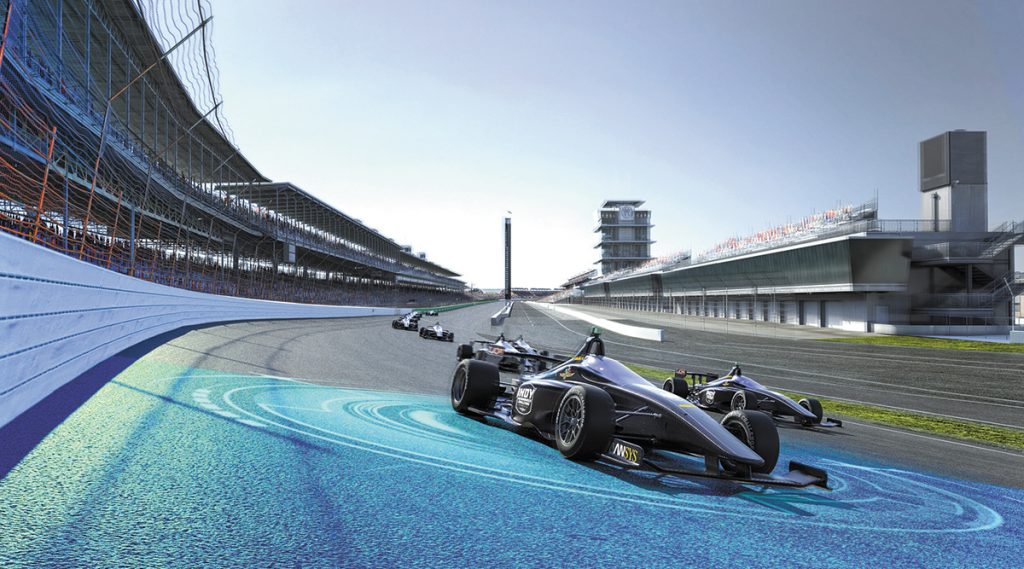 Most people have never heard of Energy Systems Network.
But they probably either know of or have been affected by one or more of the not-for-profit's forward-thinking projects.
Those familiar with Indianapolis-based ESN say it's one of the most innovative organizations in energy and transportation—not only in the state, but in the nation.
And with $4.9 million in state funding recently secured, ESN's list of accomplishments is about to grow.
ESN is the catalyst for high-profile projects and initiatives that include the recently announced 2021 autonomous car race at the Indianapolis Motor Speedway, adoption of electric buses by IndyGo, the now-shuttered BlueIndy electric car sharing program and the Battery Innovation Center outside Crane Naval Base in southern Indiana.
The organization also backed the proposed autonomous shuttle in Fishers and this year helped power up Leaper X, an on-demand micro transit system organizers call a combination of IndyGo and Uber.
"At times, we take technology innovation for granted, like it's just going to happen," said the group's CEO, Paul Mitchell. "The reality is, a lot of hard work and collaboration is required to make it happen. At ESN, we take a systematic approach to push innovation forward."
But that systematic approach pursues an aggressive mission—to use the expertise and resources of partnerships to accelerate transportation and energy innovation "for the betterment of Indiana and the broader world," Mitchell said.
"We're bleeding-edge, not just leading-edge."
With that attitude, he admitted, comes risk. "We realize there will be disruptions and challenges along the way," he said.
BlueIndy, which discontinued service this month after 4-1/2 years of light use, is one of the biggest flops ESN has been involved in.
"You never know whether the adoption of new business models [is] going to work," Mitchell said. "The key is to separate the technology from the business model. You can prove the technology without proving the business model. We have not had any technological failures."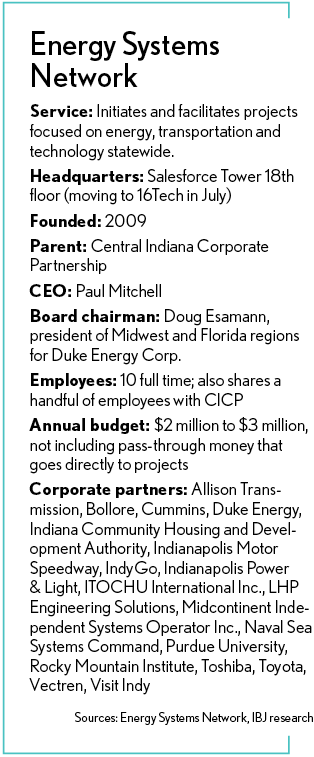 Not only was BlueIndy a technological success, Mitchell said, it is a "gateway for future developments."
ESN's track record is remarkable given its relatively small size, youth and modest budget.
It was launched by Gov. Mitch Daniels' administration in 2009. Mitchell, who served as policy director for energy, economic development and workforce for Daniels, is the only CEO the organization has known.
And even though the group was born out of the government sector, its initial funding—$1 million—came from Duke Energy Corp. Soon after, other companies—including Cummins Inc., Delphi Technologies, Ivy Tech Community College and Purdue University—followed. ESN took no state money until 2018.
The organization eventually moved out of the Governor's Office and now operates under the umbrella of the Central Indiana Corporate Partnership.
But ESN has a great deal of autonomy and its own board, Mitchell said.
Stay small, tight
Though its initiatives are big, the organization has remained lean, with a staff of just 10 full time, plus a handful of shared staffers with CICP, and an annual budget of $2 million to $3 million. The organization also deals with some pass-through dollars—money it handles but that goes directly into its initiatives.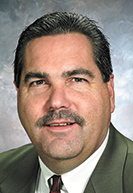 "We run a skinny budget," said Doug Esamann, ESN board chairman and president of the Midwest and Florida regions for Duke Energy.
To keep the organization focused on making tangible progress with its projects, ESN has also limited its partnerships. It has 10 primary financial backers, all of which have board seats, and 12 other companies involved in initiatives.
"We're not like a chamber of commerce that tries to get every company in that category area signed up," Mitchell said.
Keeping the group tight, he said, has helped keep everyone on the same page. The small size also ratchets up the sense of responsibility of participating members.
"There's not a lot of red tape to deal with," Esamann said. "In today's world, it's a minimal-viable-product approach. We support initiatives and get after them. And that attracts good people."
The founding companies, Mitchell said, "wanted to leverage one another's investments." ESN acts as a "neutral conveyor, consultant and coordinator."
Esamann said the organization has had bipartisan support for its funding and its projects.
Government officials in Michigan, Ohio, Illinois and Kentucky told IBJ they don't have an organization similar to ESN.
"We're definitely unique—nationally," Mitchell said. "We've not found another organization that does what ESN does in totality."
Officials in Illinois, Ohio and Kentucky said they've had discussions with ESN leaders, with an eye to replicating the model in their states. ESN officials have also had talks with local leaders in North Carolina and Colorado.
ESN—which has backers with locations in multiple states—has never sought to get involved in projects outside of Indiana, Mitchell said. "We're focused on our work here."
And despite its high-profile projects and unique nature, ESN has never sought—nor received—much publicity.
"As an organization, we don't measure our success based on the attention we get. We want the attention to go to the technology, and the companies working on that technology," Mitchell said.
Some of its projects have garnered national attention, including the $30 million Battery Innovation Center, which now has 20 employees and more than 250 customers, including many of the world's largest automakers. So has Project Plug-In, which helped usher in electric buses for IndyGo and gave rise to BlueIndy.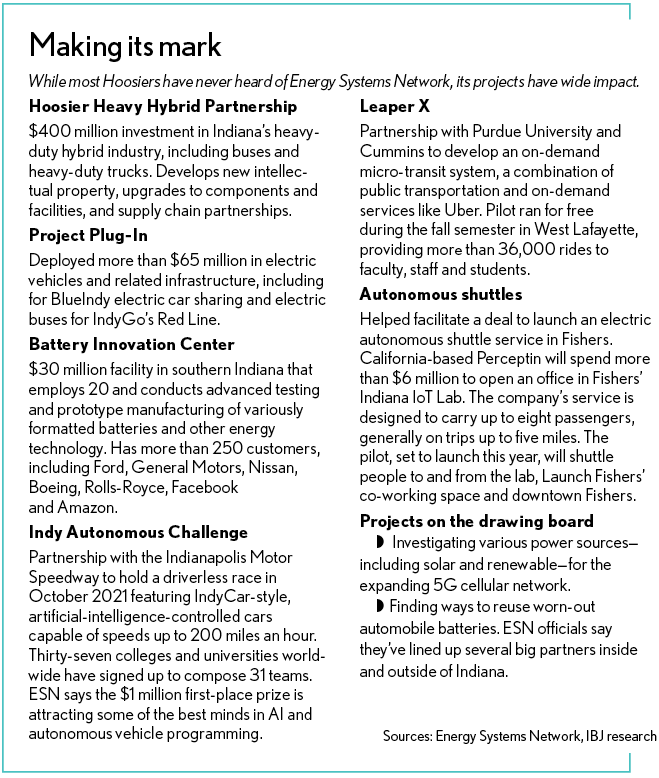 ESN-led projects have been chronicled in Forbes magazine, The New York Times and other publications. ESN, however, is seldom the centerpiece of such coverage.
Going racing
Its latest project, the Indy Autonomous Challenge, might be the event that finally shines the light on ESN.
The Challenge will be a race at the Indianapolis Motor Speedway in October 2021 with driverless open-wheel race cars powered by software that will control them without human intervention once the green flag drops. It's set to feature 31 teams from 37 universities around the world.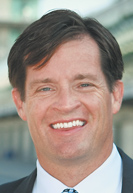 "The Indianapolis Motor Speedway has long been a place where transportation technology has been tested. So it made sense for us to partner with ESN in this event," said Speedway President Doug Boles.
"ESN understands transportation technology. They're bringing together the best minds in artificial intelligence, and I think some of the things we'll learn from this event could have wide-ranging impacts on the development of autonomous vehicles," Boles said. "I think it's going to gain a lot of attention both from the auto racing press and more general media outlets globally."
ESN has become something of an economic development tool. More than $750 million over the last decade has been invested in its initiatives and ventures, according to the organization.
"ESN has engaged with 125 companies and passed 30 leads to the IEDC," Mitchell said. "That's led to four corporate ventures launched here in the state and one corporate headquarters relocation here."
That activity, he said, has led to more than $25 million capital investment in Indiana and 200 jobs.
ESN received its first major government grant in 2018—$5.2 million from the Indiana Economic Development Corp. Earlier this year, it received its second—$4.9 million from the IEDC, although ESN must raise at least $4.9 million in matching funds.
"The companies involved in our projects are making substantial investments themselves," Mitchell said. "We pride ourselves on not being a non-profit that just relies on government money. We are not just an extension of government that is taking handouts and government money and handing it out to companies."
And ESN is just getting started, he said.
"Some of our initiatives take time to take root. We hope to do a lot more."•
Please enable JavaScript to view this content.