The compound eyes, wings, jointed legs and chitinous exoskeleton common to insects are hardly appetizing.
But the protein found in bugs—and their ability to gobble up organic waste—could be key to addressing worldwide concerns over food supplies, greenhouse gas emissions, and land and water utilization.
Still, determining the best way to farm insects for human food and animal feed will take research.
Enter IUPUI, which is part of a three-university effort funded by a $2.2 million grant from the National Science Foundation.
IUPUI's School of Science, Texas A&M Agri Life Research and Mississippi State University are working through the newly established Center for Environmental Sustainability Through Insect Farming—or CEIF—to advance new knowledge and technologies that administrators think will fill existing scientific and industry-related knowledge gaps.
The problem researchers are trying to solve is huge.
By 2050, traditional agriculture is expected to fall about 40% short of meeting the world's food supply, according to the United Nations' Food and Agriculture Organization. CEIF officials say insect farming can provide a practical, economical and sustainable path for producing high-value protein and reducing agricultural waste to address that concern.
To maximize efforts and capitalize on the strengths of all three research centers, each university will engage professional, regulatory and governmental bodies while also conducting laboratory- and field-based experiments.
The IUPUI site will focus on genetics associated with mass-produced insects, including genome generation, re-sequencing efforts and engineering. Texas A&M will look at field trials and optimization of insect production. Mississippi State will explore microbiology and quality assurance matters in insects as food and feed.
"Our expertise here is more so on the insect side," said Christine Picard, an associate professor in the IUPUI Department of Biology and one of the university's lead researchers. "We look at things on the genetic level."
To help fund its work, the center is also partnering with companies in the U.S. and abroad, including major food suppliers such as Mars and Tyson Foods, and insect farming pioneers like Protix, Enterra and InnovaFeed
"Funding for the center itself came [from the grant] in August, but the research is being funded by member companies," Picard said. "They pay an annual membership fee, which entitles them to real-time access to the research and data."
CEIF Industry Liaison Officer Cheryl Preyer, a former fast-food marketer, serves as the point person for industry members and oversees business-related administration.
"Having previously worked in the business of feeding people, I was shocked when I realized in 2013 or '14 the magnitude of food waste we create in this country," she said. "At that time, as I began to do some research and learn about insects, I was amazed at the level of nutrients that might end up in a landfill and how we could potentially use that to feed people."
CEIF researchers hope their findings will serve as the foundation for ongoing exploration into the use of insect protein, with regulatory approval, as food for humans and animals alike.
"Insects' ability to convert agricultural byproducts into protein has the potential to reduce or eliminate organic waste in farming," Picard said. "And, as we all know, insects have an amazing capacity to reproduce. There are a lot of them and that's to our advantage. So, if we're aware of the potential, why are we under-utilizing insects for this purpose?"
Many insects are protein and nutrient powerhouses. In fact, chef Joseph Yoon, founder of Brooklyn Bugs Inc. and a self-proclaimed edible insect ambassador, is working with CEIF to help advertise the benefits associated with insect consumption.
Yoon actively promotes edible insect awareness through lectures, workshops and public demonstrations.
"I recognized the need for someone to be the bridge between science and the practice of eating insects, so I became that person," Yoon said. "We need to get past the perception that insects are pests and only bite people and eat crops."
Crickets, for example, have all nine essential amino acids and they have a lot of different vitamins and minerals, too, he added.
"With cricket powder, we can provide 30 grams of protein and mask it with another dish," Yoon said. "We can integrate it with any type of food and easily make that item a lot more nutritious."
Picard has already adopted that practice in her own kitchen.
"I incorporate cricket flour into some of my baking at home," she said. "My daughter doesn't know that yet."
Anne Carlson, founder and CEO of Jiminy's, which produces sustainable dog food and treats using cricket protein, also believes in the nutritional value of insects.
"Cricket protein is pre-biotic and the cricket's exoskeleton provides fiber," she said. "This feeds the good bacteria in the gut so you get great digestion. It's also hypoallergenic, has two times more iron than spinach, three times more protein than beef and 10 times more B12 than salmon. That's a lot of bang for the buck."
Jiminy's also incorporates grubs into some of its treat and food products.
"Grubs are black soldier fly larvae and they're smaller than crickets so they're even more sustainable," Carlson said. "One acre with cattle will yield 192 pounds of protein after a year. That same acre with grubs will yield 1 million pounds of protein. There's no comparison. Insect protein is a serious solution to the serious problems of diminishing water and land resources."
According to Yoon, insects represent an almost unlimited food source.
"There are over 2,000 species of edible insects with so many different flavors and textures. And we're just at the tip of the iceberg with research on what we can do to manipulate the nutritional value of insects," he said.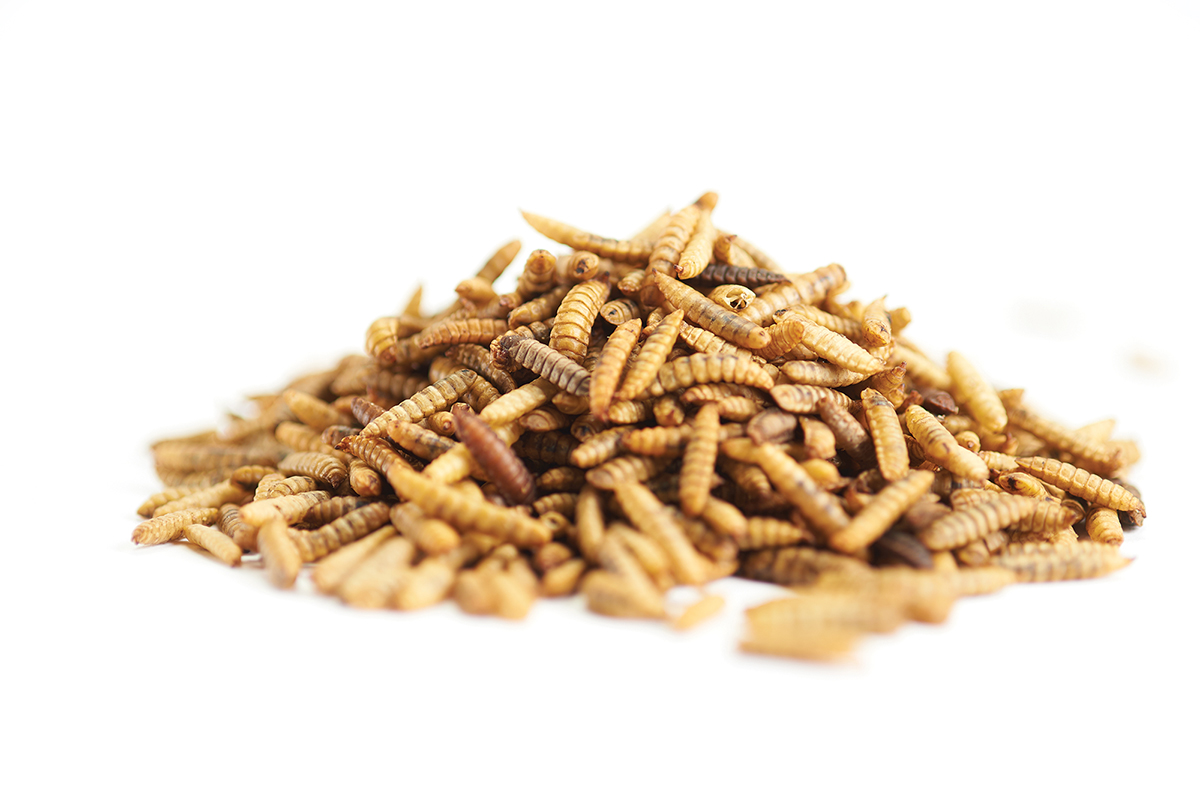 Impacting the climate
Environmental sustainability is a significant point of emphasis with CEIF researchers.
"The growing human population is a concern, but another factor is climate change," Picard said. "Many of the protein factors we currently rely on depend on a steady climate so, as the climate fluctuates, that causes problems."
As a result, the protein that much of the world relies on isn't sustainable, Picard said.
"We have issues with the production of greenhouse gases, land being used, and waste being produced," she said. "It's a vicious cycle and we need alternatives. We can't keep going the way we're going."
Preyer believes CEIF work and insect farming in general address many of the United Nations' Sustainable Development goals, including those related to poverty, hunger, good health, economic growth, climate action, life below water and life on land.
While currently working on a five-year grant that is expected to be eligible for renewal, those connected to and working with CEIF ultimately hope the center becomes self-sustaining.
"The overall process can take place over a few years, and a lot of the projects we're proposing are very modular," Picard said.
"Traditional academics would envision big experiments for big results, but we're breaking it down because we want to make sure some useful results are generated," she said. "Negative findings will also be made available because that information is equally helpful.
"We're definitely learning some stuff, and the industry is coming along as well."•
Read more Innovation Issue stories.
Correction: This story has been updated to reflect a change in the companies working with the Center for Environmental Sustainability Through Insect Farming. See IBJ corrections here.
Please enable JavaScript to view this content.