Across the state, enthusiasm for sustainable energy is growing. And the state's universities are leading the way with cutting-edge research and development projects related to solar, autonomous vehicles, nuclear power and more. Read more about some of those projects below.
Emergent completes microgrid for crop production facility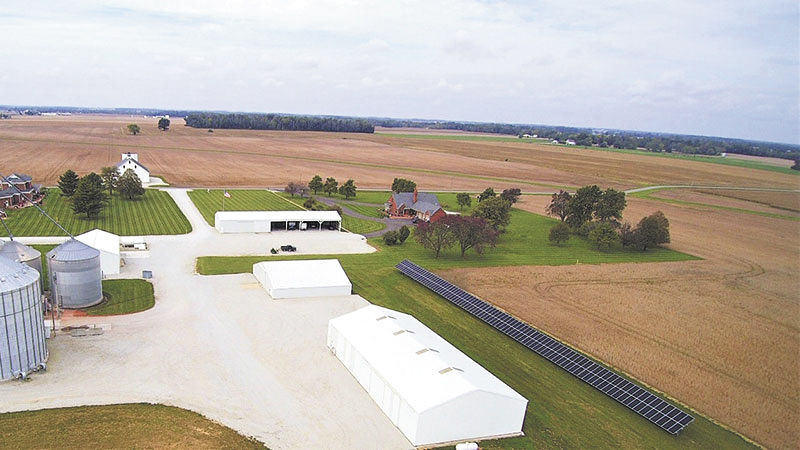 A solar microgrid system completed late last year near Greensburg is expected to generate enough emissions-free clean energy over its lifetime to offset nearly 4,000 tons of carbon dioxide—the same amount produced from driving
5 million miles.
Emergent Solar Energy, located in the Purdue Research Park of West Lafayette, created the system for the Corya System PCF crop production facility in Decatur County. It consists of a 65-kilowatt, bifacial ground-mount solar array plus 30 kilowatts of energy storage with a natural gas and propane backup generator. It also includes charging stations for electric vehicles that will replace the farm's gas-powered vehicles over time.
Jeremy Lipinski, managing partner at Emergent Solar Energy, said it is the company's first design with multiple sources of power generation and energy storage.
"This microgrid solution uses solar energy plus energy storage along with being connected to" the Rural Electric Membership Corp. utility grid, Lipinski said in a news release. "It optimizes the farm's energy use of the lowest-cost source of energy at any moment, thereby reducing the energy costs and fixing an increasing input."
For Corya System, adding solar power with energy storage was the first step in the company's long-term vision of lowering its carbon footprint and using clean energy to power its operations.
"From an economic perspective, the project offsets traditional grid usage and insulates our operation from rising energy prices, creating a significant and growing cost of production advantage, while enabling additional future cost savings from electric vehicle fleet conversion," P. David Corya, general manager of the Corya System, said.
"From a sustainability perspective, we are committed to stewardship practices that protect air, soil, water and wildlife. We use the best available technology to manage our properties and utilize management practices that protect and conserve natural resources for the benefit of future generations."
ND team develops 3D-printed, self-charging wearables
A team at the University of Notre Dame has created an innovative hybrid printing method that integrates both functional and structural materials into a single streamlined printing platform. That led to the development of all-printed, self-powered wearable devices.
Aerospace and mechanical engineering professor Yanliang Zhang and doctoral student Yipu Du created the printing method and worked with a team at Purdue University led by Wenzhou Wu to develop and print the devices.
One device attached to a human wrist and was able to accurately detect hand gestures. Another was attached to an individual's neck and able to detect his or her heartbeat.
Neither device required an external power source.
BSU students advance in Solar Decathlon competition
Students within the Ball State University's R. Wayne Estopinal College of Architecture and Planning are one step closer to building an affordable net-zero energy duplex in Indianapolis' Westminster/St. Philip Neri neighborhood on the city's near-east side.
The university is one of 14 selected to advance in the U.S. Department of Energy Solar Decathlon 2023 Build Challenge to the construction phase.
Twenty-eight collegiate institutions across the globe are participating in the challenge, which began during the fall 2021 semester.
The international competition provides participating students with unique training that prepares them for the clean energy workforce and educates students and the public about the latest technologies and materials in zero-energy design and technologies, smart home solutions and high-performance buildings.
The Department of Energy has awarded Ball State $50,000 to help with the cost of the build. The college of architecture and planning is now working to raise the additional funding needed to build the duplex, which has been named Alley House.
It will eventually house two low-income families with children.
The design employs innovative, eco-friendly and cost-effective strategies to improve resident health and well-being, reduce monthly expenses, enhance opportunities for community interaction, and promote transit-friendly development.
And it's part of a bigger plan by the Englewood Community Development Corp. of Indianapolis to build 40 new units in
the neighborhood.
Solar Decathlon participants from Ball State include interdisciplinary teams of undergraduate and graduate students from all four CAP departments: architecture, landscape architecture, urban planning, and construction management and interior design. Approximately 100 undergraduate and graduate students will be involved directly through enrollment in eight courses over five semesters at Ball State's Muncie campus and CAP: Indy location.
Charging-station cable recharges in less than five minutes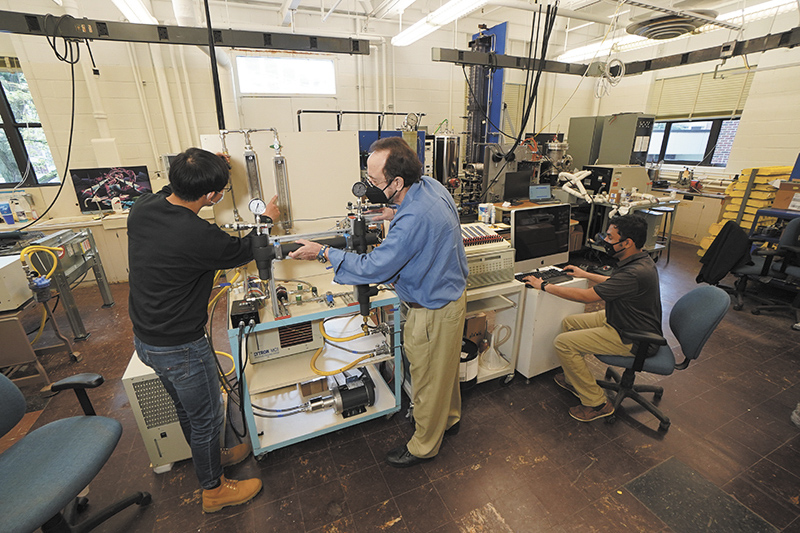 Engineers at Purdue University have invented a patent-pending charging station cable that would fully recharge certain electric vehicles in under five minutes.
Currently, electric vehicle chargers are limited in how quickly they can charge a battery because of their potential to overheat.
With that in mind, Purdue professor Issam Mudawar and his students used an alternative cooling method and designed a cable that can deliver a current 4.6 times that of the fastest available EV chargers by removing up to 24.22 kilowatts of heat.
The project was funded by a research and development alliance between Ford Motor Co. and Purdue.
Currently, electric vehicle charging time varies widely, from about 20 minutes at a public station to hours when using an at-home charging station. That can deter people from purchasing electric vehicles.
While the prototype had not yet been tested on electric vehicles, in the lab, the prototype demonstrated that it could handle a current of more than 2,400 amperes—significantly more than the 1,400-ampere minimum required to reduce charging times to five minutes for large commercial electric vehicles. Currently, chargers available to consumers largely support currents of less than 150 amperes.
Mudawar's lab intends to work with EV or charging-cable manufacturers to test the prototype on EVs within  two years.
The researchers filed a patent application for their charging-cable invention through the Purdue Research Foundation Office of Technology Commercialization.
Purdue, Duke to study nuclear reactor
Just two months after the Indiana Legislature passed a law that would allow electric utilities to build small, prefabricated nuclear reactors, Purdue University and Duke Energy Corp. jointly announced they planned to explore the feasibility of using the technology to help power the campus.
The move might be unprecedented for a college campus in the United States, the two institutions said.
It would also represent a major shift for Indiana, which has never used nuclear power, and has long relied on coal—and more recently natural gas and renewables—to power the state's factories, shops and houses.
Purdue, based in West Lafayette, is home to a nuclear engineering program, and university officials said they were qualified to evaluate what they called a "giant leap" toward a carbon-free energy future.
"No other option holds as much potential to provide reliable, adequate electric power with zero carbon emissions," Purdue President Mitch Daniels said in written remarks. "…We see enough promise in these new technologies to undertake an exploration of their practicality, and few places are better positioned to do it."
The nuclear industry has long touted its power as "clean energy," meaning it produces energy by splitting uranium atoms, but does not emit carbon dioxide, sulfur dioxide or nitrogen oxides, as traditional coal-fired power plants do.
However, nuclear plants use large amounts of water for steam production and for cooling. They also generate spent uranium fuel, which is stored in pools or steel-lined concrete vaults for decades.
The small reactors, which are a fraction of the size of traditional nuclear power plants, are still in the design and testing phase. Only one company, Oregon-based NuScale Power, has received design approval from the Nuclear Regulatory Commission.
The company is still in the early stages of building its first one for a municipal power company at the Idaho National Laboratory, a site owned by the U.S. Department of Energy.
It's unclear how quickly Purdue and Duke Energy could install small modular reactors, called SMRs, even if they decided to move in that direction.
IUPUI lands $300,000 for autonomous mobility program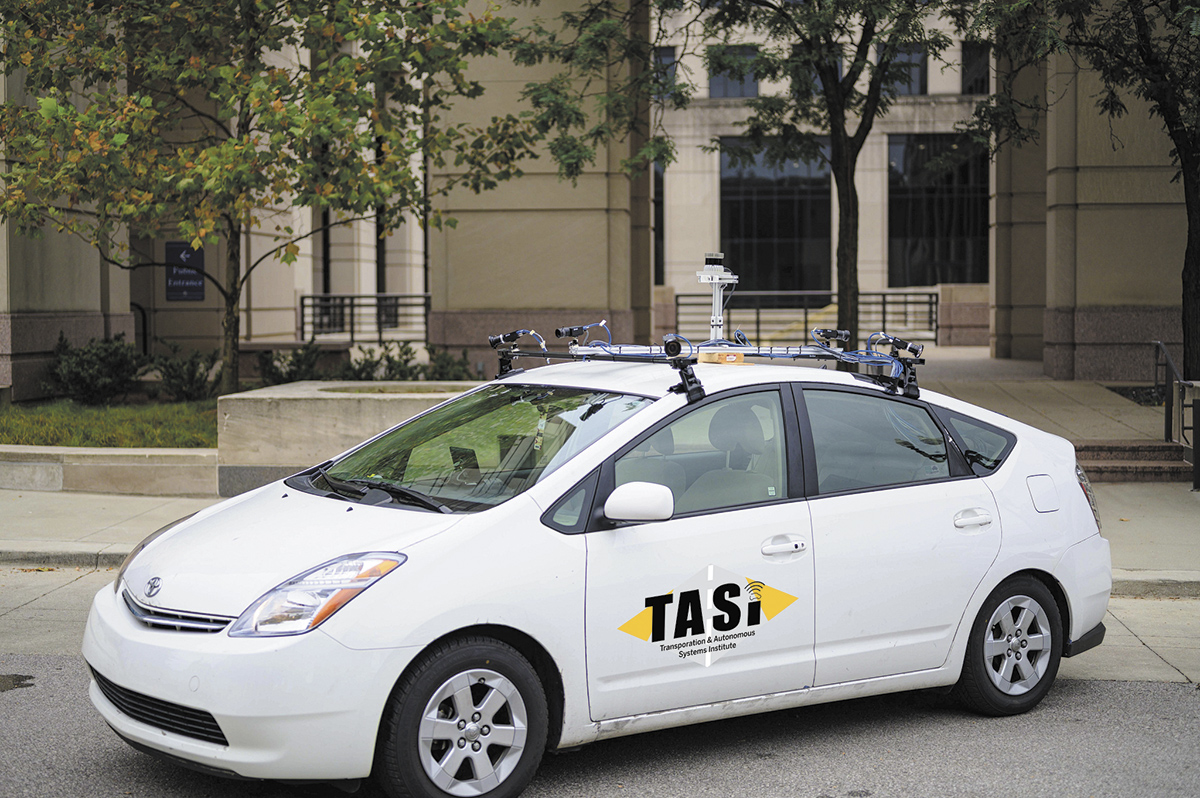 The U.S. Economic Development Administration has awarded $300,000 to IUPUI's School of Engineering and Technology to help fund a program that aims to help prepare communities for electric and autonomous vehicles.
The grant is part of the federal 2021 University Center Economic Development Program Competition and will fund the Initiative for Electrified and Autonomous Mobility University Center, a regional gateway that is intended to serve as a portal for government, industry, the public and academia to prepare for the next generation of electrified and autonomous vehicles.
The initiative builds on the knowledge and expertise of the Transportation and Autonomous Systems Institute at the Purdue School of Engineering and Technology at IUPUI.
"IEAM will help Indiana advance to the forefront of autonomous and electrified mobility technologies, which will vastly transform human and freight mobility, providing new economic opportunities as intelligent transportation systems evolve," said Razi Nalim, associate dean for research, in written comments.
"Adoption of digital control and communication technologies that assist drivers or support autonomous operation will help improve Indiana's manufacturing and logistics, and protect vulnerable road users, while electric vehicles can help improve the environment globally," he said.
Among other activities, the Initiative for Electrified and Autonomous Mobility will develop a strategic plan for the state to provide a vision for electrified and autonomous vehicle transportation systems, convene discussions, and extend applications to develop more inclusive and agile supply chains, IUPUI said.
"Mobility is as important to the low income as it is to the affluent, to the elderly as it is to the young, or whether you reside in a city or rural area," said Clayton Nicholas, industry research development specialist at the School of Engineering and Technology, in written comments.
"Electrified and autonomous technologies have the potential to disrupt the status quo, alter how people live and work, rearrange value pools, and lead to entirely new products and services," he said. "This requires decisions on how to invest in new forms of education, workforce development and infrastructure, by discerning how disruptive economic change will affect various regions."•
Please enable JavaScript to view this content.