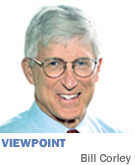 High school junior Markeith Jones wasn't quite sure what to expect
when he landed an internship with an advanced manufacturing company.
But in short order, he learned not only that Bowers Envelope Co. ships 60 million envelopes a month nationwide, but also
about the values that build strong companies: Treat people with respect, praise them when they do well, and trust them to
do their work.
His internship was organized by Indiana INTERNnet for the Greater Indianapolis Chamber of Commerce's Common Goal Initiative,
which seeks to increase the Marion County high school graduation rate from 69 percent in 2008 to 80 percent by 2012. Markeith
and 58 other students are interning with 40 organizations and companies throughout the city, learning lessons that can't
be learned in a classroom and experiencing how education applies to the real world.
After Markeith's first day, he said he felt like an adult, even though the work he did was just assembling benefit
packets.
"The people here are nice and welcoming and they make you feel like a superstar because of the way they greet you,"
Markeith wrote in his daily journal, a task that will earn him a credit at Indianapolis Public Schools' Thomas Carr
Howe Community High School.
He has learned about family-owned businesses and succession planning. He was impressed that a firm in Indianapolis could
have clients such as Walt Disney Co. and National Geographic.
"I felt like my head advanced 20 percent because I learned so much in only one day," Markeith wrote. "This
has changed me some because I feel more mature and confident in myself."
Markeith next learned about pride in his work. On a slow day, he picked up trash around the building "to make it look
nice because they don't have that many people that work there.
"It made me feel good to be a big help to them," he wrote. "When I am working, they make me feel good because
they acknowledge every little thing I do and tell me what a wonderful job I did."
And he learned about trust. Bowers assigned tasks to Markeith and left him alone to accomplish them, trusting that he would
rise to the occasion.
"It made me feel more responsible because every job they had me do," he wrote, "they left and came back
and it was always done and that showed them that they can trust me to be responsible."
Markeith also said he has learned valuable human-relationship skills. He now plans to go to college to study business management.
Bowers CEO Tom Marshall reports that the experience has been highly satisfying for him and his team, allowing them to renew
their commitment as they witnessed Markeith learning about important values.
Consider these alarming statistics: More than 6,700 Marion County students drop out of school every single year. Dropouts
earn $9,200 less per year than high school graduates, and earn $1 million less over a lifetime than college graduates.
It is estimated that the state loses $42 million a year in earnings from those 6,700 students who fail to graduate from high
school—and this doesn't include the cost of social services for those without high school diplomas.
Ask yourself, what is your business doing to help kids like Markeith, who need positive work experiences, guidance and role
models to build motivation and confidence? Internships like Markeith's make a difference in young people's lives.
Granted, having interns can be time-consuming. You must have employees willing to coach and mentor a student, and to provide
training and daily scheduling of tasks and projects.
But, as Markeith can tell you, it is worth the effort.•
__________
Corley is chairman of Common Goal Initiative, an educational initiative of the Greater Indianapolis Chamber of Commerce,
and president emeritus of the Community Health Network.
Please enable JavaScript to view this content.