Motorsports insiders think the Brickyard 400's declining fortunes will hasten the Hulman-George family's decision
on the future of the Indy Racing League, which the NASCAR race has helped subsidize.
IMS CEO Jeff Belskus, who replaced Tony George in June 2009, said the Brickyard 400 remains "very profitable."
"It's a strong event for us," he said.
Few dispute that, but racing analysts now think the IRL's losses exceed the Brickyard 400's profit, and that
could be a major rub for the board that controls the Indianapolis Motor Speedway and IRL.
Belskus
Since the IRL's inception in 1996, the board, which is four-fifths Hulman-George family members, has used Brickyard
400 profits to support the open-wheel series. But now the Brickyard's raging revenue stream has slowed considerably.
A feud among board members over money following the 2009 Indianapolis 500 led to the departure of former IMS and IRL boss
Tony George. Now there's speculation the diminished financial firepower of the Brickyard 400 could lead to other changes.
"The balance sheet is what led to Tony George's ouster, so you know the balance sheet has [the board's] attention,"
said Zak Brown, president of Just Marketing International, a local firm that represents some of the biggest sponsors in motorsports.
"All the money goes in the same bank account, and they're writing a lot of checks for IndyCar. You have to believe
they've set a firm amount on what they're willing to spend on the open-wheel series."
Most with knowledge of Speedway finances think that amount is directly related to what the Brickyard 400 generates in profit.
Belskus said the Brickyard 400 and IRL are "evaluated separately," but, he added, "a healthy Indianapolis
Motor Speedway is good for the Indy Racing League."
The Indianapolis 500's hefty profit is a big component of the track's health, but the Speedway's flagship
race doesn't throw off enough money to underwrite the IRL.
It's not clear how the Brickyard's diminished profit could affect the league and, by extension, the Indy 500.
"The problem is, now that Champ Car is gone, what's the prospect for the Indianapolis 500 without the Indy Racing
League?" said Larry DeGaris, director of academic sports marketing programs at the University of Indianapolis, who has
conducted several studies for motorsports business enterprises. "It's difficult to imagine they could just abandon
the [IRL]. But who knows?"
IRL CEO Randy Bernard, who took his post on March 1, is hopeful the open-wheel series can break even in 2011 and reach profitability
in 2012.
"I'd like to believe that, but it sounds optimistic," said Tim Frost, president of Frost Motorsports,
a Chicago-based motorsports business consultancy. "I like what Randy is doing, but he has a steep hill to climb."
George, before his ouster, said the series must be profitable by 2013 or there would be no 2013.
Though the tight-lipped Hulman-George clan has never divulged financial information, motorsports business experts have estimated
the IRL has lost more than $400 million since its inception in 1996.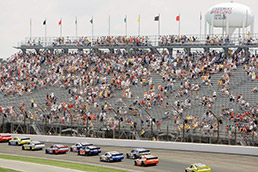 NASCAR estimated attendance at this year's Brickyard 400 at 140,000. That's down from 270,000 in 2007.(AP photo)
Sources close to the IRL said the series lost $22 million in 2009 and is headed for another eight-figure loss this year.
IRL officials have cut $2 million in overhead in the last year, have raised $3 million in cash annually with a new title sponsorship
deal with Izod, and tallied $2 million in profits from the series' popular Brazil race, said motorsports business experts.
That still leaves a $15 million hole to close.
Bernard is busy trying to find new markets and raise sanctioning fees to keep the series above water.
The Speedway board, meanwhile, is dedicated to continuing with all current enterprises, including the Brickyard 400 and IRL,
Belskus said.
And Belskus is bent on reversing the Brickyard 400 decline that has seen attendance spiral from 270,000 in 2007 to 140,000
this year. While the Speedway won't spend more on marketing, he said, most ticket prices will be dropped $10 to $20
and features will be added to next year's race weekend in an attempt to draw more fans.
"We're going to invest money into enhancing the experience at the track for people," Belskus said, "and
making this more of a destination."
The local NASCAR race certainly isn't the only one losing traction, but it's leading the field in its rate of
decline. Fourteen of NASCAR's first 19 races have seen attendance declines, with an average drop near 20 percent.
Though Brickyard 400 attendance has been halved since its inception in 1994, it's still one of the biggest races on
the NASCAR circuit, with its 140,000 attendance far outpacing NASCAR's 2010 average of 99,853.
The Speedway reaps $7 million to $10 million in TV revenue from the race—second in NASCAR only to Daytona. That allows
most revenue from ticket sales, sponsorships, corporate hospitality and concession sales to fall to the bottom line.
Motorsports business experts estimate the profitability of the race for the IMS is still around $10 million to $13 million.
But less than five years ago, it was more than double that.
Ticket revenue has declined more than $10 million and the loss of All-State as title sponsor cost the IMS another $2 million
annually, motorsports business experts said. Factor in revenue declines in concessions, parking and other ancillary revenue
and the drop is approaching $20 million.
Recent comments made by NASCAR CEO Brian France, who said Kentucky Speedway's desire for a race could affect Indianapolis'
future, certainly haven't soothed IMS officials' nerves. For now, NASCAR is dedicated to having a race here in
2011, but since the contract is year-to-year, the long-term prospects are uncertain.
NASCAR officials could be using Kentucky as a threat to leverage a better deal in Indianapolis, but Brown said IMS officials
should be concerned, nonetheless.
"Even if [NASCAR] decides to schedule Kentucky on another weekend, that would have a big impact on the Brickyard 400's
profits," Brown said. "I'm sure the race here gets a big draw from Kentucky, and NASCAR is risking oversaturating
the market."•
Please enable JavaScript to view this content.