Question: Which issue facing the General Assembly has potential to make the greatest impact on student success?
Answer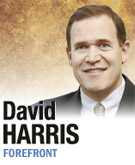 r: Education reform promises to be central in the upcoming legislative session and many important reforms are on the agenda. Strengthening the state's charter schools law is one reform that could pay enormous dividends.
The reason is not that charter schools are a panacea; some have struggled, and as we grow charter schools we need to be vigilant that only the most promising schools get approved to open and that ineffective schools are closed.
But charters offer the best conditions for launching great new schools. Charters also give parents choice and introduce competition into the system; any entity will do better if it has to work to keep its customers.
As a result, there are charter schools that are achieving outstanding results with some of our country's most economically disadvantaged students—proving that kids from all backgrounds can excel.
For example, the nationally heralded Knowledge Is Power Program (KIPP) operates 99 charter schools in 20 states and Washington, D.C.; 84 percent of students qualify for free or reduced price lunch, yet 95 percent of eighth-grade students graduate from high school and 88 percent of KIPP eighth-graders have gone on to college. At the MATCH charter school in Boston, 78 percent of students qualify for free or reduced-price lunch, yet 99 percent are proficient in reading and 99 percent of graduates have gone on to college.
These stunning successes are one reason charters enjoy bipartisan support from presidents Bill Clinton, George W. Bush and Barack Obama. Mayors Bart Peterson and Greg Ballard have authorized charter schools for Indianapolis.
Charters succeed in part because they operate with an ideal balance between freedom and accountability.
Charters have autonomy to hire and fire their own staff and reward teachers based on performance. District schools lack this freedom because of collective bargaining agreements and state law.
Charter schools' freedom from collective bargaining agreements also allows them to offer students more time to learn. Successful charter schools like KIPP and MATCH invariably extend schools' days, weeks and years, a critical advantage over districts whose contracts restrict such flexibility.
And charter schools are held accountable for high performance. If a charter school doesn't perform well, it will be forced to close. That's what happened when Indianapolis Mayor Bart Peterson closed a charter school in 2005. It is that high level of accountability that gives charter schools incentive to use their freedoms to achieve results.
Despite their benefits, charter schools have yet to fulfill their potential in Indiana. That's in part because charters are underfunded relative to district schools and do not have access to state startup, transportation or facilities funding.
Any new legislation needs to fix these problems to create market conditions that make Indiana more attractive to high-quality charter school providers.
The bottom line is that we need to create more equity between district schools and charters. The state's current charter funding is approximately $9,000 per pupil (it varies by school). In contrast, IPS budgets about $18,000 per student. IPS has legacy costs (facilities, pensions, etc.) that must be met, but we need to substantially reduce this disparity in funding levels.
We also need to make underused public school facilities available for charters. These are buildings that the public has already purchased and that are, in many cases, sitting empty. Districts should be required to lease or sell vacant buildings to charter school operators at favorable rates to ensure that the public gets full value from these properties.
If the Legislature strengthens the state's charter law and creates the optimal conditions for new charters to emerge, Indiana can attract significantly greater numbers of top-notch school operators to the state. With more charters will come more competition, more choices for parents, and a greater concentration of excellent schools.•
____________
Harris is CEO of The Mind Trust, a think tank focused on empowering educational entrepreneurs. Previously, he was charter schools director for former Indianapolis Mayor Bart Peterson, building an office that received Harvard University's Innovations in American Government Award. He practiced law with Baker & Daniels. Harris received his bachelor's degree from Northwestern University and law degree from Indiana University School of Law.•
Please enable JavaScript to view this content.