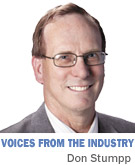 Employers are paying a steep price for the continuing shift of physicians from the private-practice model to hospital employment.
The fact is that hospitals are paid three to four times for physician ancillary services. Reimbursement policies are driving the lower-cost providers out of the market as independent physicians join hospitals. Without immediate changes, doctors will continue to join hospitals and costs will increase.
The question is whether this trend should continue, or do reimbursement policies by payers need to be changed?
Nationally, Medical Group Management Association has reported that hospitals own 55 percent of physician practices compared with 30 percent five years ago. In Indianapolis, the physicians of The Care Group are now part of St. Vincent. Indiana University Health acquired two Bloomington practices with 28 physicians and, most recently, Central Indiana Cancer Centers. Nine physicians of American Health Network will soon be part of Riverview Hospital. Franciscan Alliance now owns Hammond Clinic. The list goes on and on without any sign of stopping.
This evolution in medical practice is happening for various reasons. Running a medical practice is becoming more complex. Newer physicians are eager to accept the defined employment role offered by hospitals, and established physicians want to maximize their earning potential and avoid the newest administrative and legal burdens health care reform brings.
Hospitals need patients, and doctors bring patients. So hospitals employ doctors to fill beds and keep medical equipment running.
The hospitals can employ physicians at higher salaries than a doctor can earn in private practice because many procedures are paid higher if done in a hospital rather than in a doctor-owned office.
This final bit of information is the main reason for the shift. Anyone who has had an MRI, CT scan, sleep study, lab work or other ancillary procedure recently has probably figured this out.
The other secret is that you don't need to have the test done "in the hospital." The laboratory or X-ray machine down the hall from the doctor's office is "the hospital," and magically your bill is now tripled.
Texas-based consulting firm Merritt Hawkins estimates the average primary care physician generates $1.6 million in hospital revenue per year. Hospitals fear that, without the employment model, doctors might start referring to the hospital's competitors, or even worse, be hired by them.
Once one hospital started down the path, the defensive position was to follow suit. The death spiral seems to be the death of private practice, and the collateral damage is increased costs for employers and patients.
Is there value in the independent practitioner? I believe there is. Besides the immediate value of providing services for less than hospital-based reimbursement, physicians can affect health care costs and quality on a larger scale.
A family doctor can advise you on the best specialist to see. An independent specialist can take care of you in the best health system for your situation.
I don't question the quality of care rendered by a physician employed by a health system, but do we really believe all the health systems are the best in everything? Where will your hospital-employed physician send you for care or procedures?
My family's recent encounter with an independent specialist included a discussion of three possible hospital choices for where the surgery could happen. Many factors went into our decision, but it was a joint decision with the surgeon.
I'm not sure if that would have happened without the specialist's independence.
Physicians are not able to own hospitals because of the fear of overutilization, yet a hospital can employ physicians. It seems to me the same would hold true.
Ultimately, the new payment models like accountable care organizations won't motivate physicians to use hospital services. Transitioning from fee for service to a value-based payment will mitigate the issue, but I still question why the health systems need to employ physicians rather than work within some type of clinically integrated model.
I would rather see hospitals compete for volume based on quality, access, patient satisfaction and clinical outcomes, rather than simply get the business because they employ a physician who feels obligated to keep care within the health system's walls.
When health insurance premiums for 2012 are announced, employers may want to question how much of that increase was due to increases in ancillary services simply because the doctor has changed tax identification numbers. It's only going to get worse.•
__________
Stumpp is president of Indiana Medical Group Management Association. Views expressed here are the writer's.
Please enable JavaScript to view this content.