The people in the Spencer County town of Chrisney, population 481 as of the 2010 census, wanted something to call their own. They didn't have a local high school or even a decent highway through town any longer, since U.S. 231 had been redirected away from them.
They wanted a library.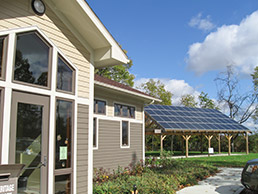 Chrisney's library is tightly constructed and takes advantage of cheap supplemental energy. (Photo Courtesy Lincoln Heritage Public Library )
But they didn't just need a structure. They had to have a building they could afford to operate. So they turned to Bill Brown, then an architect with Browning Day Mullins Dierdorf in Indianapolis. The Spencer County native and his team designed the first net-zero-energy library in the United States, a 2,400-square-foot building that uses a combination of natural daylight and ventilation, passive solar design, active solar hot water, photovoltaic electricity, and geothermal heating and cooling.
These features produce 100 percent of the net power for the building, which opened in April 2009. To rewrite a Beatles lyric, the energy the library takes is equal to the energy it makes.
"It's not rocket science to do a net-zero-energy building," said Brown, the director of sustainability at Indiana University-Bloomington since 2009. "You just have to have a big enough solar array that you can power everything in the building with it. To make that affordable, you have to make sure everything in the building is very energy-efficient."
The Chrisney library, about 14 miles southwest of Santa Claus, would seem to be a perfect model for future construction projects. After all, who wants to pay for utilities?
That didn't happen, though, for a variety of reasons, including upfront costs that can take five or more years to recoup, Indiana's tax structure (adding solar panels results in increased property taxes), state policies that are unfavorable toward renewable energy, relatively cheap energy that's currently available, architects' decisions on the kinds of structures they design, and more.

It doesn't appear to be happening elsewhere, either, although no one seems to know for sure. The U.S. Department of Energy doesn't track net-zero – sometimes called zero-net – construction and right now there are at least four different definitions of what constitutes net zero, which adds to the confusion.
Indeed, although countless buildings contain elements of net-zero energy construction, the Chrisney library is thought to be the only pure non-residential version in the state.
Brandon Seitz, director of the Indiana Office of Energy Development, said the state promotes energy efficiency through a program called Conserving Hoosier Industrial Power, which provides grants of $100,000 to $500,000 to help pay for large-scale energy-efficiency upgrades or retrofits. But the money comes from the U.S. Department of Energy, which prohibits using those grants for construction.
Michel Mounayar, associate dean of the College of Architecture and Planning at Ball State University, said Indiana is "just starting" to see the benefits of adding renewable-energy options in construction.
"When you're designing and building a building, I have encountered situations where we say, 'You can do this and it would save energy' and, of course, the next question is, 'What's the payback? What's the break-even point?'" he said. "And if that happens to be beyond seven years, it's not very attractive at that point."
But this could change, and soon.
"As the cost of energy starts to go up and the price of solar continues to go down, eventually there's going to be a tipping point here in Indiana," said Daniel Overby, director of sustainable design at Browning Day Mullins Dierdorf, who also worked on the Chrisney library. "And when it tips and the payback period for solar panels goes from 31 years to something like 15 or even lower than that, I think it's really going to take off."
Last year, Evansville-based Morton Solar & Wind LLC—which handled the solar installation in Chrisney—won a $2 million-plus contract to build the first net-zero energy elementary school in the U.S.
Morton said Indiana has been slow to embrace net-zero energy construction for many reasons. One is simple: People are surprised that solar power is possible here, considering the lack of relentless sunshine.
"We get that funny look: 'You can do that here in Indiana?'" he said.
But among the more serious issues is that state policies have been unfavorable toward renewable energy production.
That is changing. In March 2010, the Indiana Utility Regulatory Commission authorized Indianapolis Power & Light Co. to purchase renewable energy produced by wind, solar and biomass generated by its customers' projects.
NIPSCO started a similar "feed-in tariff" program in September 2010. So companies that want to reduce or eliminate some energy costs—and perhaps make some additional money—now have that incentive.
"When you're designing a building from the ground up, net-zero is not that difficult to do," Morton said. "You just have to take the right steps to utilize whatever natural efficiencies you can."
Nick Melloh said that's exactly right. He's the president of locally based Johnson-Melloh Inc., which is doing two of the biggest solar energy projects in Indiana. One is the installation of a solar farm at Indianapolis International Airport, which will generate 10 megawatts of power, enough to provide about a third of the energy needed at the airport. The installation of 41,000 solar panels over 60 acres is scheduled to be operating by the end of 2012.
The other is running now. It's two installations at his company's headquarters, across Interstate 465 from FedEx at 5925 Stockberger Place. The solar arrays there—440 panels that lay on a diagonal frame on the south side of their building and a small 27-panel installation on the north side—generate enough electricity to power their building and create additional electricity that they sell to IPL.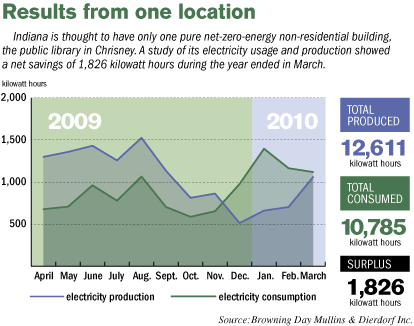 Kurt Schneider, his vice president and partner, said this not only saves the company $1,200 to $1,500 a month in electric bills but earns it roughly $33,000 a year from selling the excess power. (It's not technically net-zero—they incur other energy costs in operating the building.)
The project cost about $500,000—$190,000 after federal and other tax breaks—and will be paid off in five years, Schneider said.
The installation has a residual benefit, too: Columbus, Ind.-based NuSun Solar built the solar panels. The aluminum frame that holds the panels was built by Tuttle Railing Systems in Fishers.
Down in Chrisney, they weren't sure what to expect when Brown proposed constructing a building with no energy bills. But they're delighted by results].
"We're so proud of having the first net-zero library in the United States in our small community," Town Clerk-Treasurer Kim Litkenhus said. "I've had businesses and schools actually call us and try to find out more about it. Everybody's trying to cut operating costs. This is a perfect example of what can happen if you do that."•
Please enable JavaScript to view this content.