Forget the corner office. Think about running a business from a picnic table in the South Dakota Badlands. Or conducting a conference call from the car being towed behind an RV following Lewis and Clark's route west.
It's just another workday for Jon Arnold, owner of Indianapolis-based Tuitive LLC. He is answering e-mails at 3 a.m. while his wife and daughters sleep off a day spent exploring the Boeing plant in Washington state.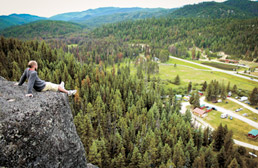 Jon Arnold pauses to take in the view during an early morning walk in Lolo Hot Springs, Mont., in mid-July. (Photo courtesy Jon Arnold)
Arnold, 38, is an extreme example of a business owner who believes in flexible work arrangements. About a year ago, he shuttered the tech firm's office in Irvington after what was supposed to be a one-week "virtual" work experiment. Arnold and his two employees returned only to move out.
Now they rely on technology to keep the company thriving. And Arnold's view from the president's chair changes weekly as he and his family spend a year traveling the country in a recreational vehicle—an odyssey they began in June.
"Three years ago, I had a nice, fancy office, a [bigger] staff—everything a business owner 'should' want," he said. "But I was professionally miserable. I felt trapped."
The Web design firm Arnold founded in 1998 had grown to a half-dozen employees and as many interns, creating "constant pressure" to keep new business coming in. Arnold spent more time putting out fires than writing code.
So he began plotting his escape, developing the processes that would allow the firm to run without him. Then "the wheels started falling off." A couple of key employees departed, and some customers followed.
"I knew that if I left then, the business was done," Arnold said. "That didn't feel like the right thing to do."
He rededicated himself to the business. Rather than filling the vacancies with full-time workers, he found contractors to help out when needed. He trimmed the remaining staff to the bone and got back to doing design himself.
The lower overhead allowed Arnold to be choosier about the projects Tuitive takes on, which eliminated many of his administrative headaches.
Now, he said, the company has a "razor sharp focus" on making Web and mobile apps easier to use. Annual revenue, which had dropped from a peak of about $600,000 in 2009, rebounded to more than $400,000 in the last 12 months. And more customers hail from outside Indiana, making Arnold's location more of a curiosity than anything else.
IBJ.COM EXTRA
For more photos from the Arnolds' adventure,
click here
.
"These clients simply don't know or care whether I'm in an office in Indianapolis or in a rainforest in Washington," he wrote in an e-mail.
Maybe not, but Arnold hasn't exactly advertised his unusual working conditions. Some clients have no idea his headquarters is a Coachman Leprechaun. And those who are in the loop can't tell from the quality of the work Tuitive delivers.
"To us, there's really been no change," said Jason O'Brien, chief technology officer at locally based digital textbook company CourseLoad, which has been working with Arnold since March. "We've never had a problem getting anything done."
'Never felt so free'
Arnold doesn't remember the genesis of the RV idea, but said it gained momentum after a three-week road trip around Lake Superior last summer proved he could get the job done without being tied to a desk.
"I loved it, loved everything about it," he said. "I loved how we operated as a family—we were so confined, but I'd never felt so free. I didn't want to come home."
They did, but Arnold and his wife, Amy—the company's part-time chief financial officer—began talking seriously about taking a year-long trip with their three daughters (Carrie, 12; Emily, 9; and Natalie, 7). The conversation quickly turned from, "Can we do this?" to, "What is it going to take to make it happen?" he said.
First up was establishing the virtual office. He pitched the idea to his project manager and lead designer as an experiment in working remotely. They all headed home, using technology to keep one another and clients updated. It went well, and a week became two—then longer. Eventually, Tuitive gave up its lease.
Such arrangements are increasingly popular, if far from widespread. National advocacy group Telework Research Network estimates that 20 million to 30 million people work outside the office at least once a week, but just 2 percent of U.S. employees consider home their primary workplace.
Business owners who opt for a remote work environment often gain clarity by eliminating many of the distractions that come with an office setting, said local consultant Robby Slaughter. Rather than focusing on when and where tasks are accomplished, he said, the focus shifts to what matters: results.
"Work is what happens when no one is watching," he said.
Encouraged by the early results, the Arnolds approached the trip like any other project. They began thinning out their belongings, selling and giving away about half and storing what they couldn't take. They rented out their house and found an online home-school curriculum for the girls.
"It was hard work," Jon Arnold said. "It took every bit of five or six months to do it all."
They set out for St. Louis on June 14, following the Lewis & Clark Trail west.
Arnold took the first week off as vacation, then found a comfortable routine. The family travels on weekends, going as far as a tank of gas will take them (about 300 to 500 miles at 8-1/2 mpg). On Sunday nights, they settle into a campground with Internet access.
Come Monday, Jon fires up the laptop and gets to work while Amy, 39, leads the girls' lessons. When they need a break, their playground is far more interesting than a patch of urban concrete. In the evenings, the family often takes side trips in the car they tow behind the RV.
They reached the Pacific after about a month on the road. Arnold caught his family's spontaneous sprint to the water on camera and posted the photo on a blog he updates regularly—one of the countless memories they're creating.
"As I'm driving, it always strikes me what a metaphor the RV is," he said. "It's my world, my family's world. And we're driving down the road trying to figure out where we're going."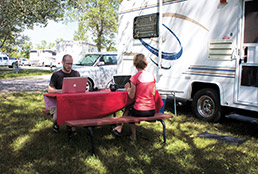 Jon and Amy Arnold work at a picnic table at Sunrise Campground in Montana. The Arnold family is traveling the country in an RV. (Photo courtesy Jon Arnold)
Flashes of self-doubt
It hasn't all been smooth, however. Not long after the Arnolds hit the coast, Jon's father died suddenly. The family found somewhere to store their vehicles in Oregon and hopped on a plane back to Indianapolis. They stayed about two months.
That abrupt return to reality showed them how much they already have changed—and how easy it is to fall back into old habits.
On the road, they must be what Arnold calls "responsible consumers," buying only what they need. Water doesn't run continuously when they're brushing their teeth or taking showers. Extras like cable TV and gym memberships just aren't practical.
"It's liberating how little you can live on," Arnold said.
Still, "after my dad died, we got sloppy real quick."
Arnold admits to having a few flashes of self-doubt on the professional front in the months leading up to the trip, wondering if he was setting himself up for financial ruin. He says the reality has been the exact opposite.
"Since we left, business has continued to grow," he said. "We turn work away on a regular basis."
He recalls only one glitch, a weak Internet connection that faded out during his first on-the-road business call with clients. That didn't help his initial anxiety, but the customers didn't seem to mind.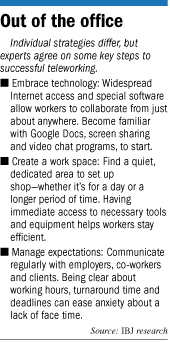 "I wanted the first call to go perfectly," Arnold said. "But in hindsight, it seemed like I cared more than they did."
Connectivity is a challenge for any remote worker, said Tom Harnish, a researcher, consultant and co-author of work-at-home book "Undress For Success." But it is one that is not difficult to overcome given advances in consumer technology.
Maintaining good internal and external communications is key to successful business relationships, experts said, no matter where the parties are located.
Tuitive has regular staff meetings via conference call, using screen-sharing programs and other collaborative software. A wireless card and Arnold's iPhone provide Internet access in between WiFi zones.
"Mobility shouldn't be a hindrance," said entrepreneur Sara Sutton Fell, who runs flexjobs.com, a website that screens remote-work openings. "It is more widespread than people think."
Even so, Arnold hasn't told all his clients about his trip. It's not a secret, he said, but why rock a boat that hasn't drifted off course?
One unexpected bonus of the streamlined operation was Tuitive's move to a four-day client work week. On Fridays, employees concentrate on internal projects, including two software startups the company is bankrolling.
These days, Arnold enjoys his job. After hitting his professional low-water mark, he's back in the driver's seat—quite literally. So what happens when he and his family hit the end of the road?
"The only thing I can say for sure is I don't know," he said. "I have no idea how this trip is going to change us and what we're going to want to do at the end of it.
"I had to do something drastic to take my life back. This was it."
He hopes others find similar resolve, in whatever form it takes.
"If there's anything you want to do in life, do it now," Arnold advised. "Because 'someday' might never come."•
Please enable JavaScript to view this content.